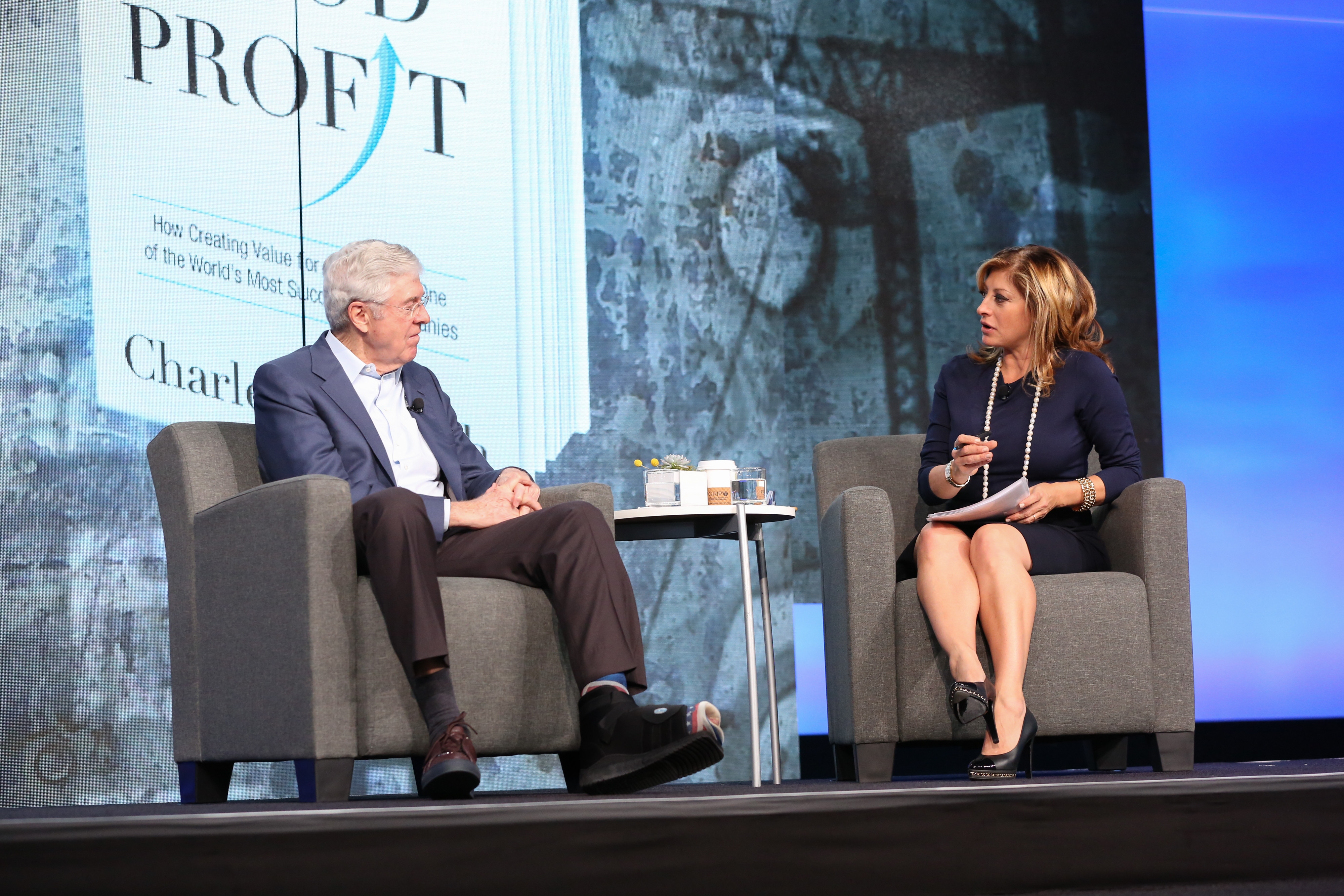 Charles Koch: GOP Presidential Candidates Too Mum on Corporate Welfare
Koch Industries chairman and CEO says 'misguided policies' are stifling the U.S. economy.
Koch Industries chairman and CEO Charles G. Koch, who told USA Today this week that he's unlikely to endorse a candidate in the Republican presidential primary, says he hasn't heard "nearly enough" ideas from those candidates for reforming a political system he considers to be corrupt.
"I don't hear them talking about all this corporate welfare," the conservative Koch said Friday at the EY Strategic Growth Forum 2015 in Palm Springs, California. "Some have more gimmicks for the tax code—credits for this and credits for that. … The American people are obviously dissatisfied, on both the left and the right," he went on. "The problem is if people don't see a third way."
The dissatisfaction makes socialism attractive to the left, but that would crush the private business economy, Koch said. On the right, it makes a "strong man or woman" appealing in order to straighten everything out.
Pressed by interviewer Maria Bartiromo of FOX Business Network to comment on GOP presidential hopeful Donald Trump, Koch declined to discuss the billionaire businessman by name. But he said, "Do we not remember the Great Depression, when Hoover and the gang put in increased tariffs? There didn't need to be a Great Depression."
Koch, who argues in a new book that businesses above all should create value for themselves and others, told the EY forum that the country is in the midst of "an enormous tragedy. With developments in technology [that] can improve everything—everyone's life—we have the potential to have the greatest society for everyone," he said. "But, because of misguided policies, we're stifling a good part of that and slowing that down."
As examples, the 80-year-old industrialist cited the nation's "$100 trillion" debt, as well as the "corporate welfare" via tariffs, tax incentives, and loan guarantees. "Everything is infected" by corporate welfare, Koch said. "It is everywhere. It is crippling our economy and corrupting the business system."
Asked by Bartiromo whether he's "hurt" that the Democratic Party has made him "enemy No. 1," Koch replied, "That doesn't hurt my feelings. What hurts my feelings is if I don't do a good job."