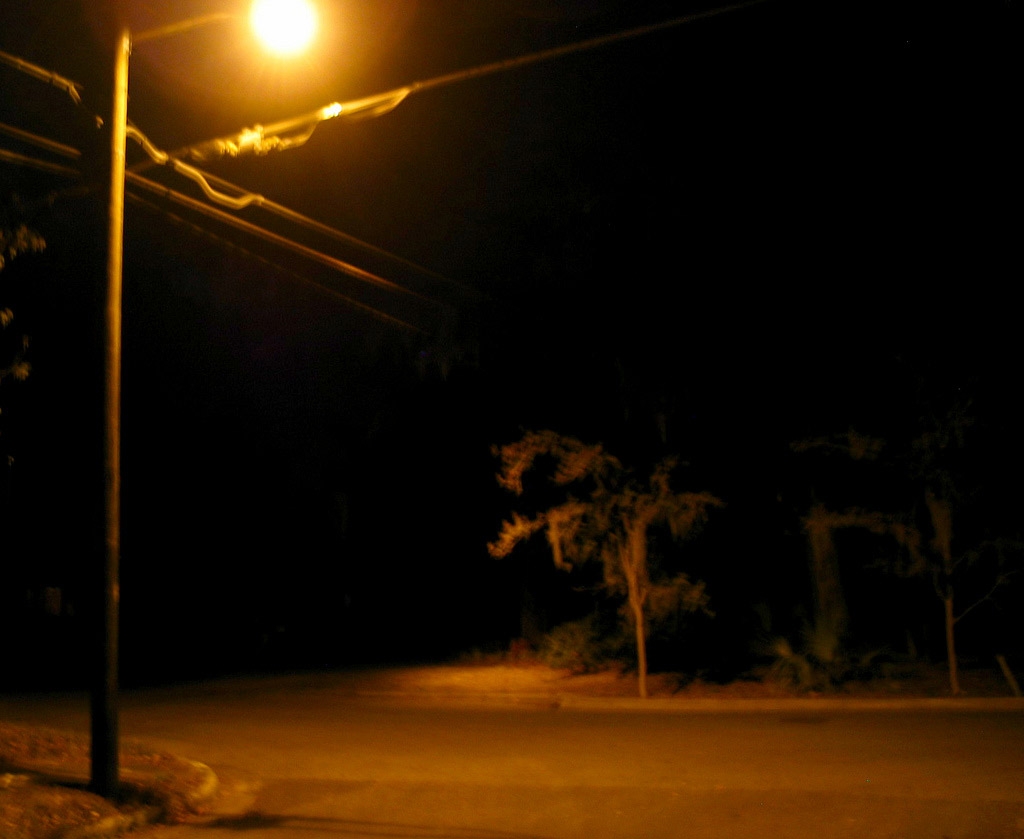 Ask John Neely Bryan: How Do I Get a New Street Light in Dallas?
He'll give you the 411. Wait, make that the 311.
Question: One portion of my street gets disconcertingly dark at night. How can I get a new street light installed? — Roberta H.
Let us first consider the double-edged sword that was Edison's electric bulb. You know what we used to do when it got dark? We went to sleep, and we didn't feel much inclined to arise until the sun peeked out again across the eastern horizon. Even a gentleman of my much-accomplished verbal dexterity is hard-pressed to communicate the fantastic mode of living this engendered.
Don't misunderstand. Fire had been invented by the 19th century. We had access to torches and candles and lanterns, et cetera, and you would be amazed at how brightly the moon and the vast array of stars themselves can illuminate the landscape when their luminosity hasn't been subsumed within the visual pollution cast skyward by your modern cities.
We could see our way around at night. It simply took a mite bit more effort than that to which you're accustomed, and thus bed — or whatever reasonable facsimile was readily available — soon enough cast forth its siren call.
I'll not argue that no benefits have been gained by the ease with which an electric light can be turned on. But it's a little too easy, isn't it? It creates an obligation, does it not? Much as the mobile computing devices to which roughly 80 per-cent of the world's population have been tethered have created a veritable requirement for one and all to be accessible at any time, the simplicity of turning night into day via the flip of a switch burdens 21st-century man with the unnatural urge to stay up much later than is advisable, burning through episode after episode of Love It or List It.
Therefore, I urge you, before you proceed further, ask yourself: Is that darkened corner of your street, in point of fact, a blessing? Perhaps driving home along a well-lit avenue will disrupt the pre-somnial preparations of your body's Circadian rhythms? Bet you didn't think of that.
I am certain that I have convincingly laid forth my case and that you have no use for the guidance that you initially requested. However, since I already find myself in possession of said information, I suppose there is little harm in its revelation.
You failed to specify whether your home is located in one of the sub-urbs, but for the time being I shall assume not, so that I might continue to think relatively well of you. In the city of Dallas, the electric delivery company Oncor is charged with the installation and maintenance of street lighting. If a street light is malfunctioning, it's Oncor that should be contacted.
However, the municipal government has to pay Oncor for these services. That being the case, it falls to the city to decide where and when a new street light will or will not be installed. You can file your application by calling 311, or filling out a virtual form, or merely by picking up the telephony and calling the city's street lighting section at 214-670-6904. What happens from that point threatens to devolve into a bureaucratic quagmire if one doesn't step lively and plot each subsequent move with the greatest of care.
All such inquiries wend their way to but a single engineer on the city payroll — a fella named Brad Moss. It is his duty to visit the locations at which all street lights have been requested in order to determine the feasibility of each. Is there a spot available for placement? Is it far enough distant from neighboring lights?
While the volume of cases ebbs and flows, this poor man Moss recently informed my sources that in one recent two-day period he received 45 sites to investigate. He estimates that roughly half of those might end up with new lights.
The percentage isn't higher because of the gauntlet that must be run by the citizen who lodges the original complaint in order to see the process through to fruition — that would be you. If Moss grants his approval, you must then collect the signatures of eight residents on the stretch of street that would be affected by the new light. Plus any homeowners across whose property Oncor would have to run lines to feed this installation must sign off permission for that intrusion, as well as trim any of their trees that might interfere with the endeavor. All that accomplished, the city will see to it that your selected location is brightened up.
You will have to hope, therefore, that your neighbors are not pigheaded and recalcitrant when it comes to agreeing to your scheme. Good luck with that. Sounds like an awful lot of effort. Tires you out just considering it, does it not?
Better that you settle down to sleep, cozied within the embrace of your neighborhood's darkness.
Blinded by the light,


John Neely Bryan is founder of the city of Dallas and an expert on all matters. For advice, to have a dispute adjudicated, or seeking wisdom on any of a myriad of topics, [email protected].