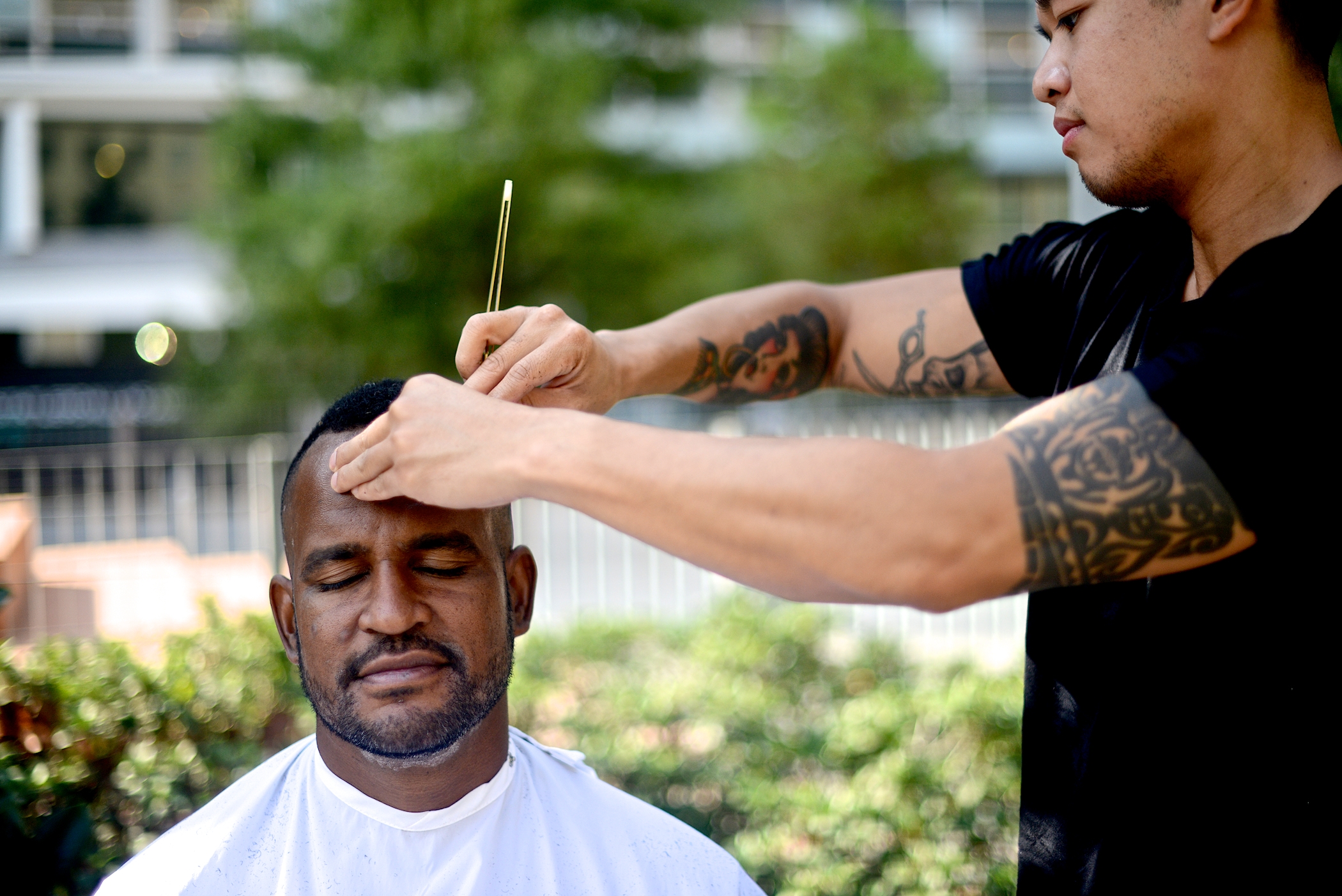 Celeb Hairstylist Mark Bustos Spent a Morning in Dallas Giving Cuts to the Homeless
The hospital ID bracelet remained on Brian Gray's wrist Thursday morning as he sat against a bench in Downtown Dallas' Main Street Garden. A seizure had landed him in an area hospital three days earlier, an idling effect from his brief NFL career with the Detroit Lions.
Despite past successes, a lost telemarketing job and poor timing left 39-year-old Gray on Dallas' streets six months ago after he'd moved from Los Angeles to help his then-pregnant sister. Gray, searching for normalcy, decided to start his day in the park Thursday when a young couple approached him, asking if they could do something nice for him.
The couple was New York-based colorist Lucille Javier and Mark Bustos, a hairstylist with a robust list of celebrity clientele that includes North Texas' own Norah Jones. Javier and Bustos, who spend their Sundays on the streets of New York providing would-be-$175 haircuts to the homeless, left the city Sept. 21 for a cross-country trip–the sole purpose being to share their livelihood with those in need.
"No matter what, if you're a billionaire or you have a negative bank account, we all grow hair the same way, lose hair the same way, and when we get our hair done, we know automatically when we stand up we're going to feel better about ourselves," Bustos says. "That's the bottom line.
Along the way, the couple has made stops in Cincinnati, Nashville, Houston, and New Orleans. After spending Thursday morning in Dallas, Bustos and Javier headed to Oklahoma City and will make stops in Santa Fe, Sedona, and Las Vegas before ending in Los Angeles, where they will fly back to New York.
Although he works with limited time, Bustos never turns anyone down, sometimes working with up to 15 clients in a day, demand pending.
"It's not about me," he says. "It's about the whole picture."
A
trip to the Philippines
three years ago inspired Bustos to start this service. Bustos, who had been looking for a way to give back to an area in which he and Javier have family, rented a chair for a day in the small salon Javier's father once frequented. As the day progressed, Bustos' clientele grew younger–and homeless.
"You know, in America, you don't see that many homeless kids," Bustos says. "Sometimes you may, but in developing countries like the Philippines, it's all over the place. From that moment, we were like, 'How are we ever going to stop doing this?'"
Despite his impressive celebrity clientele that includes Marc Jacobs, Bustos doesn't disclose his prominence within his industry. When cutting hair on the street, he rarely glances up, focusing on his clients.
"It's not about me," he says. "It's about the whole picture."
Last week, Bustos received certification making his service a fully functioning nonprofit, named #BeAwesomeToSomebody Inc. The moniker morphed from a hashtag Bustos created to showcase his experiences through Instagram.
Although he's worked with hundreds throughout the past three years, Bustos acknowledges his hesitance to approach people sometimes.
"But something inside pulls me toward them," Bustos says. "I don't know what it is […]. The second I start speaking to these people I would pre-judge, they're the coolest people I've ever met on the street."
Once finished, Bustos gives Gray a black hand-held mirror. Bustos quietly looks on as a smile slowly spreads across Gray's newly shaven face.
"I'm a whole new person," Gray says. "I like it, brother."
Follow Bustos' journey through Instagram.