Would a Downtown Dallas Rangers Stadium Just Be Another Boondoggle?
It wouldn't be terribly wild speculation to suppose that the Texas Rangers downtown ballpark is already part of a giant secret plan for the southwest corner of downtown.
Here's one thing we learned yesterday: mixing sports with urban planning sure gets people's attention. There was a huge response to my post that argued that slagging attendance at Globe Life Park in Arlington should push Dallas city officials to woo the team to a new downtown Dallas. Why? Well, because that's the way baseball go.
The conversation in the comments and on Facebook and Twitter brought up a number of interesting points and counterpoints, and I wanted to touch on a few of them.
1. It wouldn't be terribly wild speculation to suppose that the Texas Rangers downtown ballpark is already part of a giant secret plan for the southwest corner of downtown. In fact, maybe a Dallas Rangers proposal was one of the things that was driving the ferocious debate over the Trinity Toll Road over the past year — that land owners and city officials pushing the plan need the second tolled access road to the suburbs to sweeten the pot for the relocation. Maybe a Rangers ballpark is also a quiet part of the pitch for the location of the high-speed rail line terminal.
If that's the case, then I think another conversation needs to focus on what factors make for successful downtown ballpark, and to what extent it should be allowed to impact the Trinity River. Is that corner of downtown the best spot? Maybe. It is at the heart of a lot of transit intersections, and if the pedestrian connection between downtown and the Reunion site is re-imagined, perhaps it could help enliven that side of the city. But does it justify a Trinity Toll Road? I don't think it does. Regardless of how fun it would be to have baseball downtown, the Trinity remains our greatest, irreplaceable natural asset. No urban city in the world has anything like the wild nature preserve that strings through our downtown and most of southern Dallas. That land needs to be preserved and restored. Also, while it would very much be the "Dallas Way" to have a secret plan for the Rangers already in works with the Hunts who own the Reunion site, multiple locations should be studied before any ballpark relocation. Why? That brings me to my second point.
2. Dallas ISD board member Miguel Solis shared a good article on Twitter yesterday after reading the post. In 2012, CityLab's Eric Jaffe wrote about a study that compared Denver and Phoenix's two new downtown ballparks. In Denver, the stadium worked. Attendance is up, and it has attracted new development downtown. In Phoenix, not so much. In the study cited by Jaffe, the blame is laid on the urban mechanics of the region. Denver's footprint is not as spread out as Phoenix's. Phoenix's economy is multi-nodal, like Dallas's, a sprawling urban mega-zone with multiple population hubs. According to the authors of the paper, success and failure is related to the city's failure to consider historical patterns of urban growth and the existing urban forms of the cities:
Perhaps the most important shortcoming of this project that remains unrecognized in the literature is the impact of Phoenix's polycentric urban form on the outcome of the project. This oversight is not only important in the context of stadium redevelopment projects but downtown redevelopment efforts in general. Recognition of the suburban inertia exerted by sprawling polycentric areas is just the first step for development efforts in these types of urban areas. Only after awareness of the impacts urban form can have on these projects is created can comprehensive plans be formulated that effectively combat this inertia.
Dallas-Fort Worth does have greater land mass and lower density than Phoenix, but this brings me to the point I tried to make yesterday, namely, that a stadium would be most successful located as closely to the densest area of population as possible. Dallas is different than Phoenix, and I do think a stadium in downtown or central core Dallas would draw more than Arlington. And, given the pace of development in the city center, done right, it could spur increased development and investment.  That said, the takeaway from the City Lab piece is that a stadium project is not an automatic win. Any potential location would have to be carefully studied, especially before throwing in with the Hunt/Belo-controlled southwest corner of downtown.
3. As Jason pointed out in the comments, attendance isn't merely a function of urban economics and design. The product, after all, is the play on the field, and stadium attendance is often dictated by the previous season's success. Then there's the local sports culture to consider, as well as other factors, like price of tickets, the overall population size, etc. But let's keep with our Phoenix and Denver comparison for a second. I took a few minutes to try to come up with something like a "fair weather fan index." Basically I compared the percentage increase or decrease in the number of wins season-over-season with the increase or decrease in attendance the following year. Here are the results: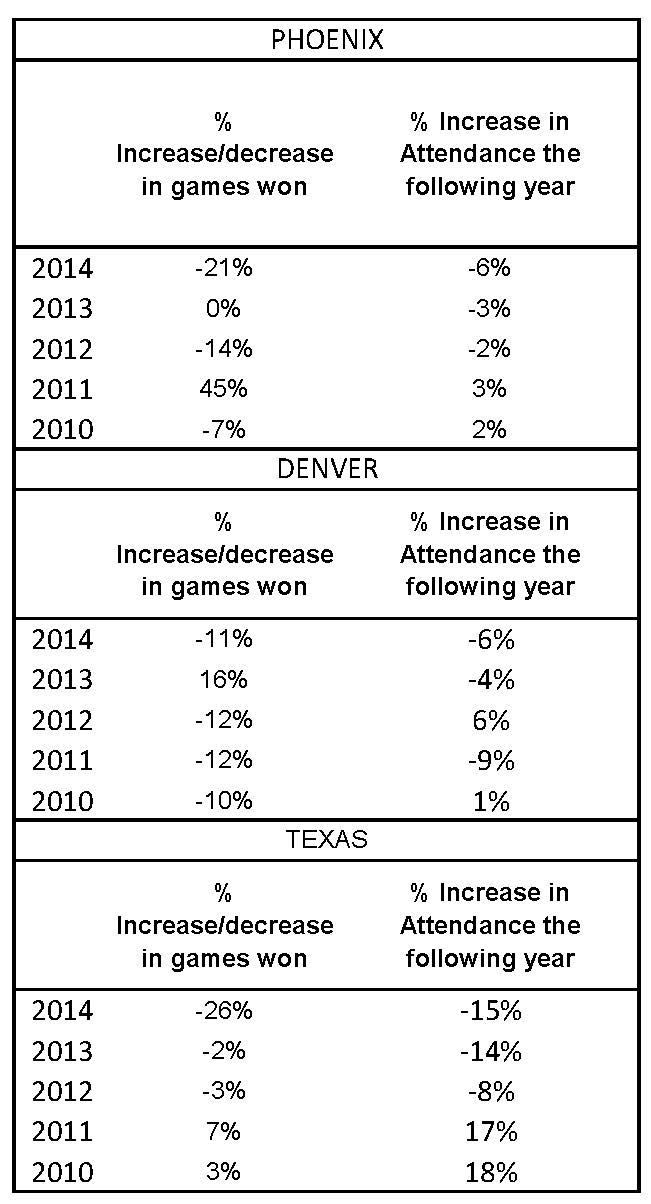 What I found interesting is that drops in attendance don't necessarily follow drop-offs in wins, and Rangers attendance seems to fluctuate more widely than Phoenix and Denver's attendance. One hypothesis – and it is by no means conclusive given this small a data sampling – is the more inconvenient the stadium is, the wilder the attendance swings in year-to-year attendance. Or it may have to do with the fan culture. Or any number of other factors. If anyone feels like attacking or suggesting revisions to my methodology (I probably should have noted playoff appearances, for example), or crunching these numbers for a wider number of teams and stadium locations, feel free. Could be interesting.
4. The problem of tax subsidies. This is worth an entire article, but judging from many of the comments in yesterday's post, there are a lot of people with little appetite for ponying up public dollars to subsidize the profits of billionaire owners. The problem is that that is how the stadium game is played, and owners will follow the public money trail. But numerous studies show that stadiums are not very good community investments. Al Jazeera America looked at the issue last year and concluded that municipalities should demand economic guarantees if they invest public dollars in stadiums because too often those economic benefits don't occur:
Studies show that massive stadium subsidies like these never pay off for taxpayers. As Harvard University professor of urban planning Judith Grant has argued, "Most economic analyses demonstrate that sports facilities produce very few or no net new economic benefits relative to construction costs." Economists John Siegfried and Andrew Zimbalist write, "there is no statistically significant positive correlation between sports facility construction and economic development."
That said, what I was arguing in my article yesterday is that sports team owners need to recognize the non-quantifiable or residual quantifiable benefits — like, perhaps, softer swings in year-to-year attendance or the promotion of a stronger baseball-loving and attending culture — that comes with locating a stadium in an urban setting in lieu of massive subsidies.
4. Are the Rangers just going to move to Fort Worth anyway? Perhaps. Co-owner Bob Simpson lives in Fort Worth and that city is the home of his company, XTO Energy. Co-owner Ray Davis is a Dallas guy. That could set the stage for a curious tug of war.
5. The Valley View wildcard: Some people suggested placing the new stadium in the Valley View development off I-635 in North Dallas. The Valley View development is the Las Colinas of the 2010s – a ground-up new urban center development strategically located at what is just about the true economic center point of the greater Dallas area. It is also completely isolated from public transit and accessible primarily via the ever-congested 635 corridor. Putting a stadium there would be a very 1980s thing to do. I don't like the idea for the same reason I don't like the Valley View development as a whole – it works against all the in place transit planning, ignoring decades of public investment while placing new pressures on the existing transportation infrastructure.