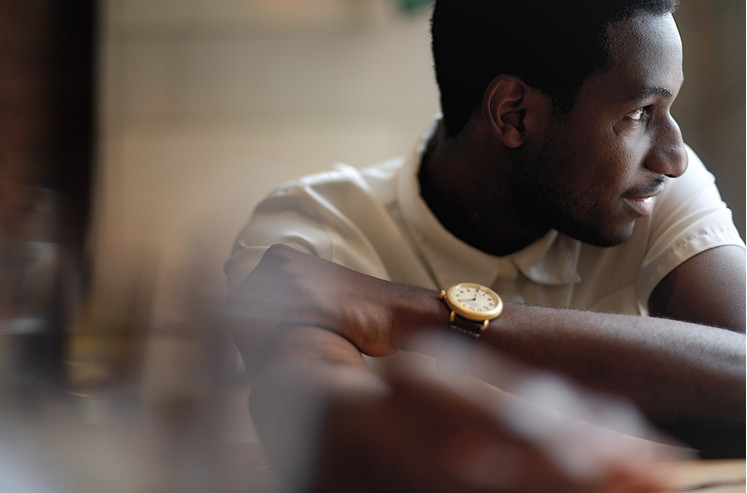 This NPR Piece About Leon Bridges Makes No Sense
As I was scrolling through my various social media feeds this morning, I happened upon this piece from a few days ago, titled "A Rational Conversation: Do We Need New Old Soul Music?" Which is a bit of a dodge, because a more accurate title would be "A Rational Conversation: These Two People Think Leon Bridges Is Garbage."
What follows is a conversation between writer Eric Drucker and Emily Lordi, an author and assistant English professor at the University of Massachusetts at Amherst. After a bit of setup, the talk turns to Bridges and Lordi says, "I haven't listened to the whole album, but I have many thoughts." OK, as someone familiar in the art of faking my way through a musical conversation every now and again, here is my analysis: Lordi has listened to one song from Coming Home, the title track. Which is pretty alarming, since she accuses Bridges' soul music of having no soul and, essentially, the singer of not being black enough.
Coming Home has 10 songs, and clocks in at a trim 34 minutes. So it's kind of ridiculous and irresponsible that Lordi didn't listen to the whole thing. You're telling me you don't have 34 minutes? Everyone has 34 minutes. Put it on during dinner. Listen to it at the gym. Whatever. But set that aside for a moment. When someone admits they "haven't listened to the whole album," it's pretty easy to ballpark how many songs they've actually listened to. It's definitely seven or less, because otherwise you would just say you'd heard it all and would feel safe that you wouldn't be found out. It's definitely less than five, because otherwise you would say you "listened to most of it" and, again, probably be OK. So Lordi had at the time of the interview, at most, listened to four songs.
From there, you just have to look at her comments. Even when Drucker tries to steer the conversation to other songs, Lordi will only talk about "Coming Home." And not the song "Coming Home," just the video for it. It almost doesn't matter what follows. Admitting you have not listened to something you are critiquing, to me, stops the conversation right there.
But we do need to talk about what Lordi says. Here is her commentary on the "Coming Home" video:
I wanted to mention his video for the song "Coming Home." When I first saw that video, I just felt sad. There are no people in the video. There's him and there's the white lover and there's the barber, but it seems like the only way that his feel-good vintage nostalgia can work is by absenting all the people from this urban landscape of the Jim Crow South. The video literally absents the social component from the music by depopulating that landscape. Especially at a time where Selma is released and we're seeing our own version of this brutal, state-sanctioned anti-black violence, it's hard to see this image of a black man moving through the Jim Crow South without thinking of some of these other scenes of violence. Even the shot of him sitting at the lunch counter, it kind of evokes and erases the history of the sit-in. The history of anti-miscegenation laws are also there and not there at the same time with the white lover — they are in private, but they also come out into public spaces. You wonder, "Where are the people who might have been upset about that relationship?" Even the barbershop, which is a traditional space of black male camaraderie, we only see Leon Bridges there. His barber is white, for some reason. It's a very curious representation.
If I'm reading this correctly, Bridges is allowed to make retro music, but only if he appears in videos where everyone openly hates him? He can bring to mind Sam Cooke, but only if, at some point, a racist cop shows up in a clip and hits him over the head with a nightstick for "recklessly eyeballing" a white woman? You are only allowed to evoke an era musically if you are willing to accept all the bad things that happened in that era, too? That's like a dumb Twilight Zone episode.
Maybe there are no people in the video because it was cheaper. Or because that's the spare aesthetic they were going for. Or because it's a love song. I don't know. And neither does Lordi. (UPDATE: Read this.)
Lordi and Drucker hold Bridges to an insanely high standard, while giving high marks to Raphael Saadiq's 2008 album The Way I See It, which also pays tribute to older soul music and is never meant to do more than entertain. (The clip they embedded in the piece is just a whatever love song.) Lordi and Drucker hold Bridges to an insanely high standard when he is a 25-year-old kid just getting his start.