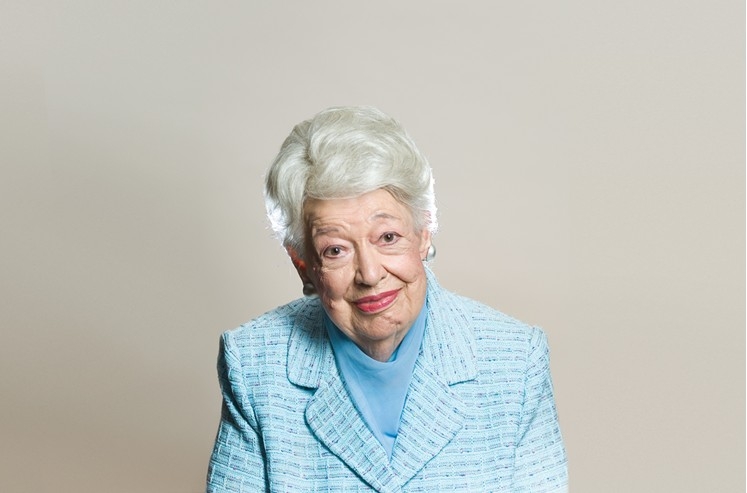 Saying Goodbye to Ebby, the 'First First Lady of Dallas'
Speakers at Park Cities Baptist Church service recall the realty doyenne's big heart, generous spirit.
They lit up downtown and wrapped burgundy bows around the trees in her honor and, at her memorial service Thursday, asked a former First Lady to speak and gave Ebby Halliday Acers more than one standing ovation. Thousands of people in North Texas, it seemed, couldn't do enough to say good-bye to the woman Laura Bush called "the first First Lady of Dallas." Maybe that's because they didn't really want to say good-bye at all.
Bush was one of several speakers at a packed, Park Cities Baptist Church service paying tribute to Ebby, the remarkable realty doyenne who died September 8 at the age of 104. The former First Lady conveyed regards from her husband W, the ex-president, who wasn't there, but was "honored," she said, "to read in Ebby's obituary that she kept a photo of  W taped to her icebox." W said "that was a lot better than most people who keep my photo in a shoebox," Mrs. Bush recalled with a smile.
In addition to Ebby's accomplishments building a mammoth residential real estate company—and inspiring her many female employees through her example—the theme of the service was Ebby's big heart and generous spirit. Her successor as the company's leader, Mary Frances Burleson, told how Ebby "looked you right in the eye and gave you her undivided attention." She also wrote countless thank-you notes over the years—sometimes even thank-you notes thanking someone for writing a thank-you note! Said Burleson: "We'll never know how many people she touched."
Ebby's philanthropic impact on Dallas can't be overstated either, speaker after speaker agreed. Facilities at the YWCA of Metropolitan Dallas and Juliette Fowler Communities, for example, bear her name. Attorney Don Glendenning, an old friend of the businesswoman, waxed eloquently about her distinctive first name: "A single name that has communicated for decades to a vast metropolitan area a singular identity. And more than an identity: an ideal … the concept that a person of goodwill, integrity, insight, and industry can achieve greatness no matter how modest his or her beginnings and, in the personification of 'Ebby,' do so through a living embodiment of the Golden Rule, always putting the well-being of others first, and coming to do well only after, and as a by-product of, doing good."
Ebby's niece, Joan Patmore, who called her aunt "graciousness personified," said there were "about 3,000 people in this beautiful church [today] who felt like they had lost their best friend." Ron Burgert, who said he worked with Ebby at the realty company for 39 years, added that Ebby "had a deep, deep love for people in general"—and a credo urging everyone to "do something for somebody every day." Park Cities Baptist's Dr. Jeff Warren agreed, saying that Ebby's life exemplified the concepts of "grace" and "gratitude," thanks to her deep Christian faith. Then he concluded: "I've never been to a funeral where there were two standing ovations!"
Technically, though, this one had three. The last came after the guests stood for the postlude ("Symphony No. 5: Toccata"), and a huge screen rolled down and a video was played showing Ebby, bigger than life before us, strumming her trademark ukelele and singing her trademark song, "Happy Days Are Here Again." When the grand First Lady's performance was finished and she beamed her broad smile, there was that third ovation–and, in all likelihood, not all that many dry eyes in the house.