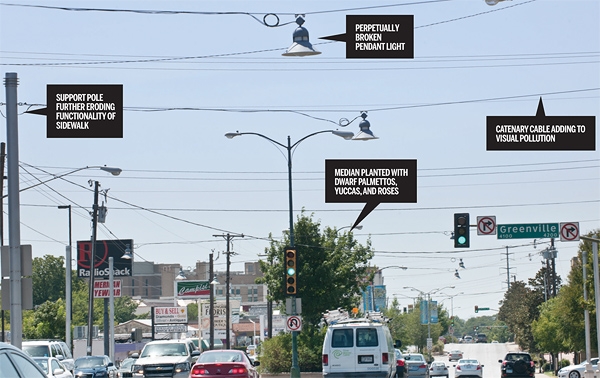 Ask John Neely Bryan: Decluttering Mockingbird, the Ugliest Street in Dallas
There's a simple explanation that may or may not involve mutant beavers.
Question: What the holy heck happened with those pendant lights on Mockingbird? A few years ago, Patrick Kennedy wrote about the eyesores. A few months later, most of the broken lights were fixed. But then they started going out again. And now most of the poles have been removed — but not all of them. So did the city just give up or what? — Joe C.
Whoa there, boy. I can read the barely disguised resentment hidden between the lines of your message. You're right to feel angry, embarrassed, even a little ashamed, about how deeply hurt you were that last week I didn't see fit to communicate with my public in this space as per usual.
Were I of a Freudian bent, I would surmise that your reaction's ultimate cause was the long-simmering, latent emotions borne of that time, when you were but a child of 6, that your mother disappeared from sight outside the J.C. Penney entrance — even though it's plain enough that was your own damn fault, you having let go of her hand and wandered off in pursuit of an Orange Julius sample.
Thankfully I'm more of a Jung man and so I appreciate that your subtle criticisms are but a lonely cry for guidance along your personal journey to realize your whole self. Therefore I pardon your insolence and apologize to my readers for leaving you high and dry last week. The truth is I received a rather disturbing dispatch from a former minor television personality stating that he had located eccentric New Mexico millionaire Forrest Fenn's treasure. Since the discovery of that cache is key to my own plans for saving the city of Dallas, I had no choice but to skip town temporarily so as to ascertain the truth of the man's claim. The executive summary of my findings: That fella is a liar.
Anyhoo, I'm willing to pretend to consider your message at face value and to address the subject of your inquiry. My first inclination was to suspect that these poles along Mockingbird Lane — installed originally as privately funded streetscaping in conjunction with the construction of the Mockingbird Station transit-oriented development project in the early 20-Aughts — fell victim to a gang of mutant beavers which had cultivated a taste for metal.
However, I reached out to a few of my contacts at Dallas City Hall, including city traffic engineer Auro Majumdar. If these bureaucrats are to be believed, the poles — many of which held up catenary cables on which were strung lights that never did work properly — had fallen into disrepair. There was no money to fix them, so they were removed.
It's all for the best anyway, seeing as that stretch of Mockingbird between Greenville Avenue and Central Expressway is about to get far more visually cluttered. The construction of the long-awaited Mockingbird pedestrian bridge to connect the Katy Trail to the trails of East Dallas is set to get under way within the next month, I am told.
Rest assured, I have implored city leadership to beaver-proof the structure.
Watching the watchers,

John Neely Bryan is founder of the city of Dallas and an expert on all matters. For advice, to have a dispute adjudicated, or seeking wisdom on any of a myriad of topics, ask@dmagazine.com.