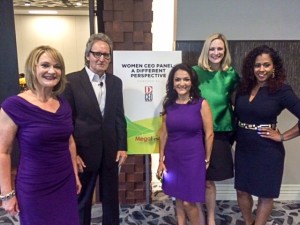 For Gabriella Draney Zielke, the big obstacle was dealing with people. Craig J. Lewis's was convincing his family and friends to "take the leap of faith" with him to start a business. And Jennifer Sampson overcame hers after hearing from one of the most prominent CEOs in North Texas. These chief executives were among several who bared their souls about the challenges of starting or running a business at Bishop T.D. Jakes' MegaFest event last week in Dallas. D CEO sponsored and moderated their discussions during two of the festival's "empowerment" sessions.
Draney Zielke, of the Tech Wildcatters accelerator, said that while obstacles are always numerous in business, "people issues" can be constant. "I'll be honest, 90 percent of starting and managing a company is managing people, and I am not excluded from that group—I'm the biggest challenge," she said. "People are constantly judging you. It hurts a lot. You have to be really resilient when they say, 'You're awful at this,' or whatever. People have different personalities, and you have to get to the bottom of why they are reacting as they are."
Lewis, who started the online Visage Payroll service for startups and small businesses, said leaving a good job and striking out on his own wasn't easy. "It's not necessarily money—though that's big—it's the personal pressure that you get from family and friends: 'Why would you do this? You've got a mortgage!' " Lewis said. "To be able to process that internally, and to have faith and work through the personal issues, was really, really tough."
Sampson, who heads United Way of Metropolitan Dallas, recalled struggling after she took over the nonprofit four years ago and quickly was tasked with implementing some tough changes. Up until that time, she explained, the venerable organization had invested in community groups without much accountability for "outcomes." So, a new business model was launched involving an open and competitive grant process—and measurable goals.
As a result, though, groups that had been funded in the past failed to receive awards, causing many people to be unhappy. Among them: AT&T CEO Randall Stephenson, who was chairing the UW annual campaign and also sat on the board of a group that missed out having its United Way funding renewed.
"He said it felt like whiplash when he learned about particular decisions …" Sampson told the MegaFest audience. "What we learned was, we had not communicated as broadly as we thought we had, and so we made some missteps. Even though some people in the companies knew some changes were about to take place, the CEOs of those companies did not know. I took responsibility for the missteps—and learned a lot about the importance of apologizing [for the lack of communication] when apologizing is necessary, and the importance of listening to people."
Other CEOs participating in the sessions agreed, adding their own advice for overcoming obstacles. Nina Vaca of Pinnacle Group, who said she ran into problems like Sampson's when Vaca tried to challenge the status quo at a large Hispanic business organization, advised always "doing right, putting your head down, and staying focused." Cathi Coan of Techway Services, an IT firm, counseled an "attitude of gratitude," as well as surrounding yourself with like-minded—not negative—people.
And Mahisha Dellinger of Curls, a natural-hair-care products company, said, "When your back is against the wall, you find a way." It's also important to "know your industry inside and out—better than the competition," she advised. Other participants in the MegaFest empowerment sessions were Daniel Black of Glass Media, a digital marketing company, and Matt Alexander of The Edition Collective, an online retailer.
Get the D CEO Newsletter
Stay up to speed on DFW's fast-moving business community with weekly news reports, interviews, and insights.