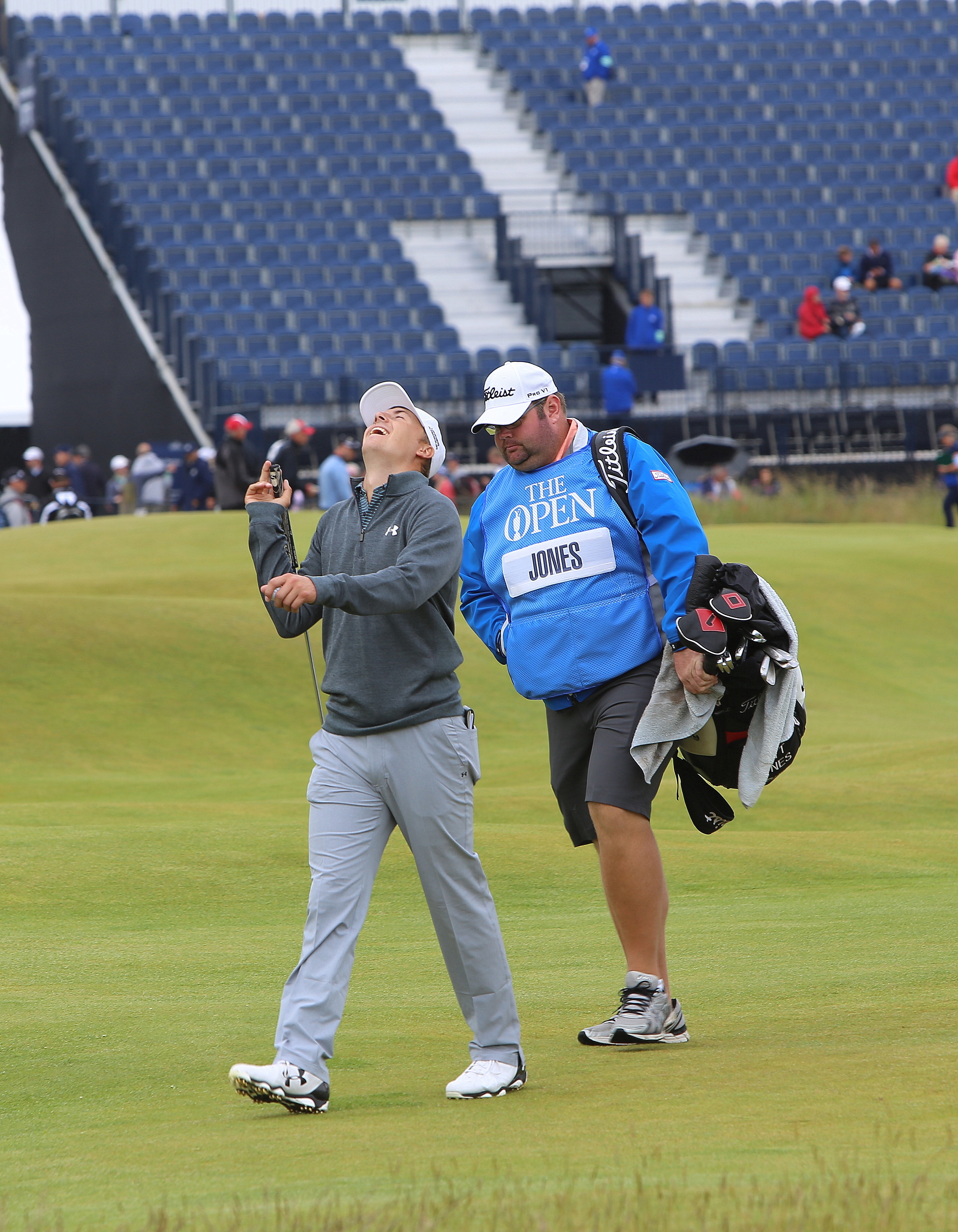 Special Report from The Open: Jordan Spieth is Having a Blast
See the golfer in action.
ST. ANDREWS, Scotland — Greetings from the home of golf. I spent the last nine hours walking the historic Old Course in St. Andrews where The Open 2015 begins tomorrow. The majority of the time I followed Jordan Spieth during his last practice round.
The crowds appear to love Jordy (too soon?), but the five random fans I interviewed all felt he wouldn't win. One lady from New Zealand gave me some attitude. "I don't think he has a chance," she said. "He's not an interesting person. There is no drama to him. He doesn't come from broken home or faced any real challenges in his life."
I guess she missed The Masters, U.S. Open, and the John Deere Classic, for starters. I could say something snotty about New Zealanders, but I don't want to waste my time.
Instead, I want to tell you the biggest gossip from the press tent. Yesterday, Tiger Woods, who is currently ranked No. 241, shocked the media by talking some crazy talk. He stood up and said he knew everybody thinks he has lost his game, but he was emphatic that he was back.
He actually said: "I was able to turn things around and I had a chance to win the Masters this year." According to the history books, he was 10 strokes behind Jordan going into the final round. According to my pal and columnist for the Washington Post, Sally Jenkins, Woods "missed all nine fairways on the front nine and hit just two for the day to shoot his second 73 of the week and finish tied for 17th." But Tiger thinks he had a chance to win. For the rest of his press conference, he continued to spew inaccurate facts about his own reality.
As for Jordan Spieth, he seems to be one man in front of the crowds and another away from them. During his round today, on the remote parts of the course, he was loose as a goose. He threw balls at his caddy. He flipped balls up from his club face and juggled them in his hands. He laughed. He acted like a 21-year-old guy without a care in the world.
But when the crowds were around, he was different. There is some concern that the fame and the mounting wins are causing a change in the Spieth camp. He signed fewer autographs. He was obviously coached not to look at the spectators along the undulating fairways, which has not been his nature in the past. He walked with his head down and was followed by a team of coaches, agents, and equipment reps. On Monday night, he was out on Swilcan Bridge posing for pictures with all kinds of corporate people, but it looked like a pre-arranged agreement. He's a tad cockier than he was at both The Masters and the U.S. Open. Several people I spoke with who have known Spieth for a while agree he's been different the last two days.
Earlier in the afternoon, Spieth addressed the media. Many of them wanted to know why Spieth stayed and played the John Deere Classic. He didn't arrive in St. Andrews until Monday. (Tiger arrived three days earlier. That is, if he arrived at all.) "I don't think anyone is going to argue with a win," Spieth says. "And that was what we set out to do last week. To feel pressure over the weekend and try and perform my best so I could adjust for major championship pressure."
But playing the John Deere didn't give a chance to adjust to his environment. Today the weather was finicky. It rained sideways. The wind swirled. The sun came out. It's Scotland, and it's really going to be Scotland-y on Friday. "I think it's fun," Spieth says. "We don't come over here to get good weather. If we wanted good weather, we'd go to California." Bam.
Tomorrow, the real games begin. Will Spieth bring the Claret Jug to Dallas? Or will he fall on his face in the heather and gorse? I placed a $50 bet on Tiger. Anything can happen in St. Andrews and sometimes it takes someone out of their mind to win.