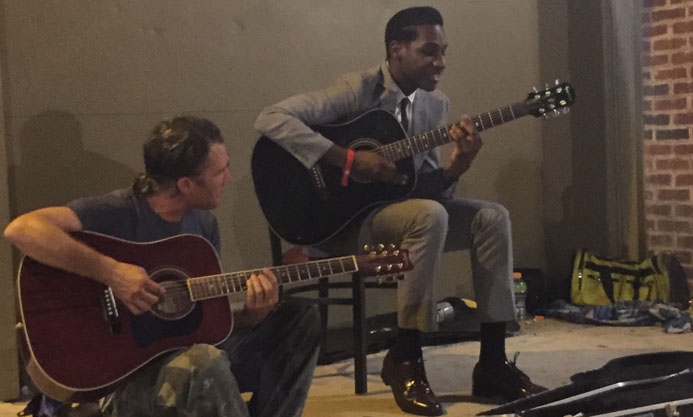 Leon Bridges is a good person. He was the surprise guest at last night's best of Big D party at the Bomb Factory. After Tim Rogers got on stage to thank sponsors, crack Philip Kingston jokes, and say all the things you have to say when you're the tux-toting editor of the city magazine hosting the party, he asked Bridges to join him. Spinderella's birthday is this week, and before the DJ brought the evening to its finale, Bridges was to surprise her by singing happy birthday.
Bridges looked sharp, of course. He wore a crisp grey suit, a white collared shirt with a skinny black tie, and black patent leather shoes. He took the mic, led the crowd in a brief acapella rendition of "Happy Birthday," waved to his fans, and exited stage right. He was a good sport to make an appearance for us, especially in light of his ever-busy schedule, which saw him performing in the UK last week and will bring him to the West Coast later on this week.
But that's not why Bridges is a good person.
I haven't spoken to Bridges since I wrote this profile of him in the June edition of D Magazine. I typically don't seek out subjects after I've written about them. If I've done my job well, there's usually something in the piece that would make any post-publication meeting uncomfortable. But Bridges is different. My favorite thing about writing that piece was meeting Leon Bridge's mother, and, for some reason, I really wanted to tell him how much I loved his mom.
I found Bridges in the green room above the stage where he was dancing by himself on the balcony. We chatted for bit. I said I liked his mom; he said he liked the story. We fumbled through some more conversation, and I remembered why I don't seek out the subjects after I write about them. Then Bridges headed downstairs to dance in the audience. I saw him again at the end of the event as we were heading out the door. A few of us from D were headed to Black Swan on Elm St., and we asked Leon to tag along. He did. At the bar he ordered a water, chatted with everyone for a bit, and then disappeared into the night. We would run into him one more time.
It was around midnight when we stumbled out of Black Swan. Looking west down Elm St. we saw a crowd gathered just outside the Anvil Pub. We approached it and found at its center a man in clean grey suit propped up on a chair with a guitar on his knee and a black guitar case opened at his feet. Bridges was singing "Brown Skinned Girls." Two men in their 20s, who looked like they had been spending their nights sleeping in cars or outside, sat next to him, one trying to follow along on another guitar. Apparently they had been out busking on Elm, and Bridges had asked to join in.
Some people in the crowd didn't know who Bridges was. In between one of the songs, a homeless man told him he had a really good voice. Other people who stumbled by stopped, stared in disbelief, and started whispering to each other and hurriedly reaching for their cell phones. In the guitar case at Bridges' feet, a small mound of dollar bills had formed. As more people wandered up, and Bridges kept rolling through songs – "Better Man," "Coming Home," and a handful of new songs – the pile of bills swelled. There were twenties and fives poking out from under all the ones. Someone had even laid a hundred dollar bill on the neck of the open guitar case.
It's been a dizzying year for Leon Bridges. This time last summer, Leon Bridges' world was singing on street corners, in coffee shops, and at open mics. It was just about this time last year that he went into the makeshift studio at Shipping and Receiving in Fort Worth with a few musician friends and recorded one of the best albums in recent memory. And what is remarkable about Bridges is that while those songs can blow away Jimmy Fallon, in this raw setting – on Elm St., accompanied by a cheap guitar, sung for a few lucky bar-hoppers, a couple of wandering buskers, and the ghosts of Blind Lemon Jefferson and Robert Johnson – they are just as beautiful and powerful.
When he was done, Bridges politely thanked the two young men for letting him use the guitar. He shook hands with some fans, smiled generously, and then wandered off into the Deep Ellum night. He left behind him a memorable evening and a guitar case full of money for two grateful buskers.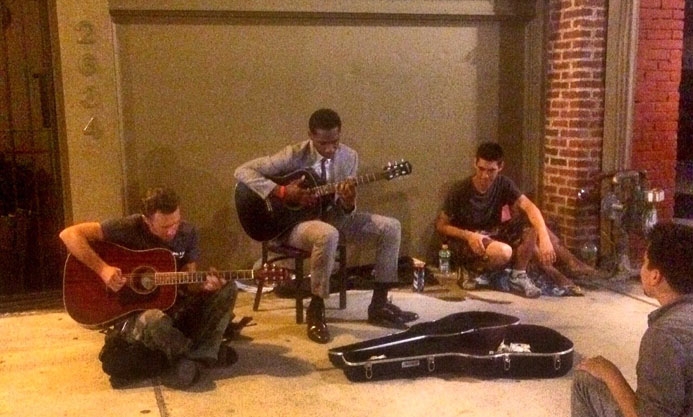 Get the FrontRow Newsletter
Get a front row seat to the best shows, arts, and things to do across North Texas. Never miss a beat.