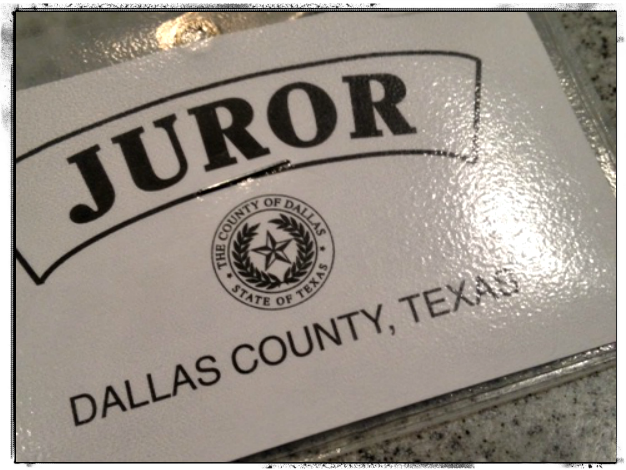 Reporting for Jury Duty in Dallas: Do it or Move
Are you one of those people who avoids jury duty? If so, I'd like to have a word, or 700, with you.
I have been addicted to courtroom drama since I was a kid. I begged my parents to let me stay up for Perry Mason. I rarely go a year without replaying my To Kill a Mockingbird DVD. Jimmy Stewart "let me cut to the apple" line in Anatomy of a Murder was a common saying in my home. Over the years, I've scored fixes with Law & Order, The Good Wife, The Wire, Boston Legal, and Better Call Saul. When the official summons for jury duty hit my mailbox, my heart raced. I love jury duty.
Yesterday I learned I am "one of the few." My source? State District Judge Teresa Hawthorne. I spent Tuesday and Wednesday in Judge Hawthorne's courtroom. The first day was exhilarating for me, and pure hell for the majority of the initial jury pool subjected to voir dire. The attorneys for the state and defense questioned potential jurors. The defendant, a felon, was indicted on the charge of felony possession of a firearm. For an hour and a half, I listened to people swear under their breath, try to get excused, and play Words With Friends on their phones. Several tried to pull a Liz Lemon.
During a break, I talked to several people who were pissed off that they had to be there. Back in the courtroom, the guy to my left murmured "dumb ass" and "stupid shit" when someone asked a question. At 2:00pm, a middle-aged woman from Bangladesh raised her hand and said, "Okay, I have to go to work now." I wish I had a picture of Judge Hawthorne's face.
Sitting on a jury is a privilege. Everyone risks ending up as a civil or criminal defendant. Wouldn't you feel better about a jury trial if you felt confident the 12 people judging you were there because they wanted to be there?
You learn a lot about yourself and your peers serving on a jury. Yesterday, during deliberations, I found myself in the minority. The man on trial had multiple felonies. He was fighting to stay out of jail (again). He ended up taking the stand and spewing gang-speak.  Most of the deliberators had to ask for translations. He admitted he bought the "strap" for a "bill fifty." But he claimed he didn't have possession when the cops showed up. We all knew he was a bad guy, but we gave him the benefit of the doubt. For most of the jurors, it was an easy guilty verdict. We chewed on the timeline of the crime and the reread the conditions of what constitutes possession at least ten times until we reached a unanimous decision. At one point, I was full of reasonable doubt even though I'd listened to the prosecutor cut to the apple and read the specifics of the 24-year old defendant's previous 15 arrests and years he's already spent in jail.
Once we delivered our guilty verdict to the court, we returned to the jury room. Judge Hawthorne opened the door, sat down, and said, "What took you guys so long? This case was so obvious." I told her it wasn't so obvious to me. After the other 11 jurors high-tailed it to their cars, I stayed and chatted with Judge Hawthorne and the lawyers for both sides. I had questions, and they wanted feedback. I could have stayed in that hallway for hours.
I know I'm a geek. I came home and spent two hours on the Dallas County website reading the guy's lengthy rap sheet. He's a bad person. He'll probably be in and out of jail for the rest of his life. One could take the negative slant and say he's the kind of person that sucks our tax dollars by exercising his right to a trial by jury. Did he waste our time? No. We assumed him to be innocent until the state proved him guilty.
I urge you to embrace jury duty as hard as the right to vote. And if you are "lucky" enough to sit on a jury, take the time to talk to the people you are paying or voting for to conduct those trials. The brain cells you gain could come in handy.