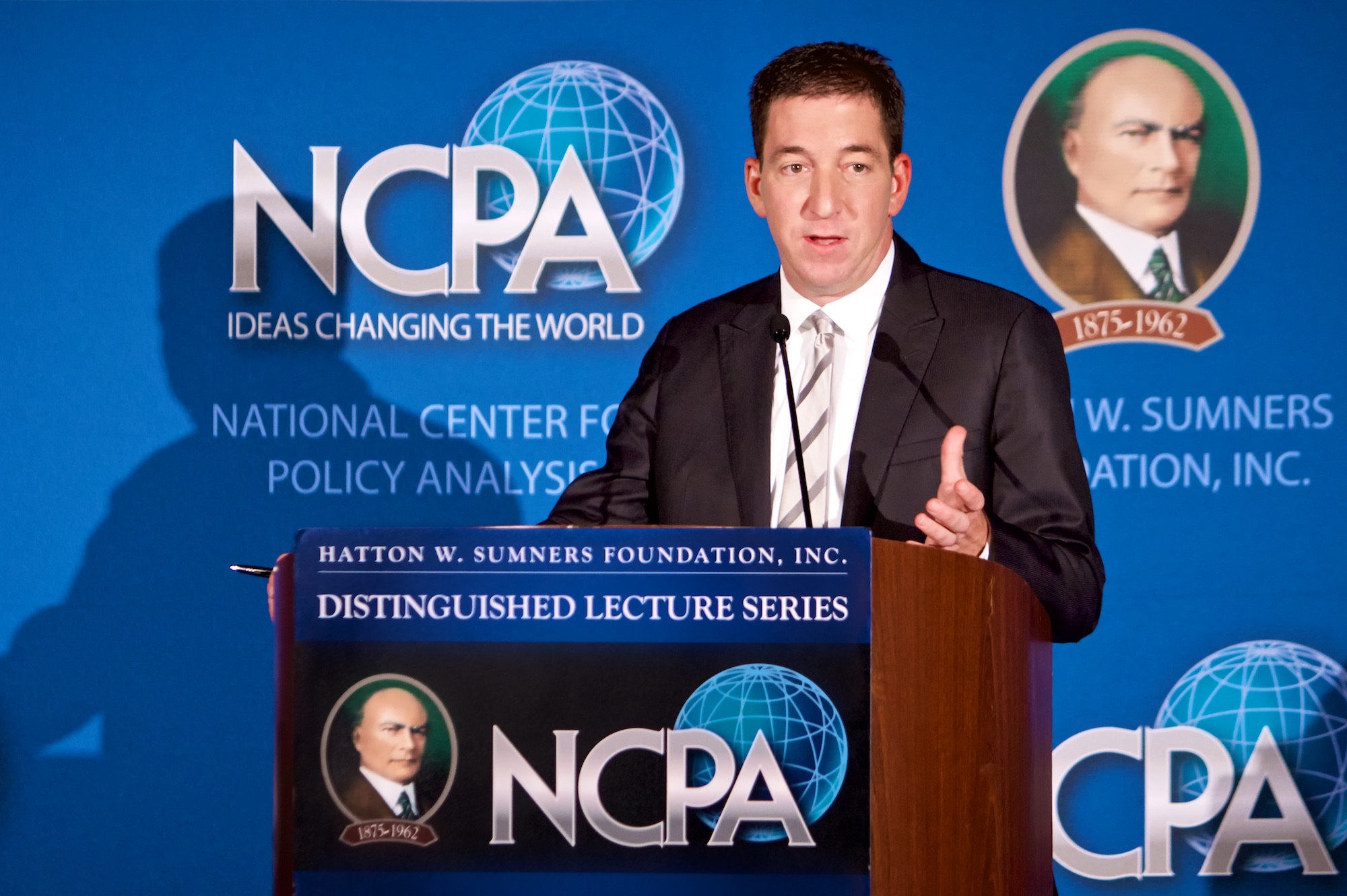 Glenn Greenwald in North Texas: NSA Surveillance Program is 'Antithesis' of Fourth Amendment
Journalist draws flak for appearing on Glenn Beck show and at NCPA event.
Glenn Greenwald, the lawyer and journalist who became a left-wing celebrity for his articles helping whistle-blower Edward Snowden expose the NSA's mass-surveillance program, admits enjoying the reaction when critics discovered he would be in North Texas to appear on Glenn Beck's right-wing radio show—and then to address the conservative National Center for Policy Analysis.
Talking Friday to about 250 people at a luncheon meeting of the NCPA, a Dallas think tank that's headed now by tea party hero Allen West, Greenwald said of the kerfuffle that was particularly created by his Beck appearance: "I love it." He recalled trading barbs with "people on Twitter who thought it was a terrible thing to do." But, he added, "I've made it a point to find common ground. I find that's a healthy thing to do."
In his talk to the NCPA, the former columnist for The Guardian newspaper said free speech and government transparency aren't conservative or liberal ideals, but ones that citizen-activists on both sides—right-wing tea partiers as well as Occupy Wall Street leftists—basically support. The "split is not so much between conservative and liberal, but between insiders in Washington and outsiders in Washington," he said. And as Newt Gingrich noted back in the 1990s, Greenwald said, "The mainstream view in the United States is that people do not trust the federal government."
Greenwald called the NSA's anti-terror surveillance program, which has collected and stored American phone-call records on a massive scale under the Patriot Act, the "exact antithesis" of the U.S. Constitution's Fourth Amendment, which protects citizens against unreasonable searches and seizures. He added that tyrants historically have favored surveillance by the state "without probable cause," in part because it helps control dissent, creativity, and individuality in the private realm, leading to conformist societies.
While there's a need for government to monitor legitimate wrongdoing, Greenwald said, the current "balance is non-existent. It's important to keep the risks in perspective. The risk of [an American] dying in a terrorism attack is less than getting struck by lightning, or slipping in the bathroom and hitting your head on ceramic tile."
Unless it's reauthorized by Congress, the provision under the Patriot Act that allows the NSA's bulk collection of data will expire on June 1.