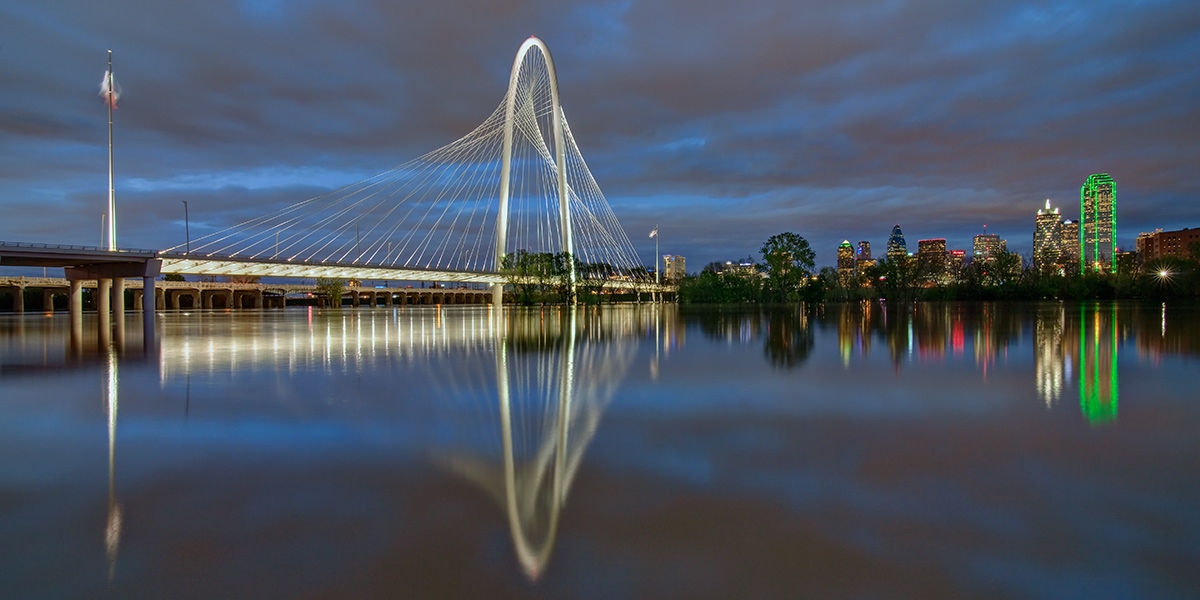 Ask John Neely Bryan: How the Trinity River Made Dallas
Time for a bit of a history lesson.
Question: Being a non-native of Dallas, I was wondering whether the "Trinity River" was ever an actual river? Or just a river basin (read that as a dried-up ditch)? — Pedro A.
Tarnation, boy, what variety of ignoramus do you take me for? You have the temerity to come to my (virtual) place of business and imply that I — the founder of the greatest city this world has as yet seen and will likely ever see — was dumb enough to stake my claim on useless acreage in the middle of nowhere?
The Trinity is indeed a river. Furthermore, it is why the Dallas you cherish today exists. I know, I know, you've been sold that old saw about how our city has no reason to be — that it was forged from unremarkable ingredients by the unrivaled will-power and stick-to-itiveness of its people. Horse pucky.
Truth is my urban-planning genius might have gone for naught had I not expertly selected an area predisposed to greatness. I set up shop near the only good ford of the Trinity for miles around. I planned to make a fortune with a trading post there, taking advantage of this useful crossroads for nearby trails. However, I had to run back to Arkansas to settle some business first, and by the time I returned to Texas the dad-gummit government had struck a deal to move the Indians out. I'd lost the bulk of my potential customers, so I refocused my ambitions on establishing a settlement instead.
Anyhoo, you might almost could be forgiven your imbecility, considering how used and abused the Trinity has been since I first set eyes upon its banks. A hundred years ago the river ran considerably closer to what is today considered downtown. But after that horrific flood in 1908 that forced thousands to flee their homes as the river rose and swelled to 2 miles wide — Hord's Ridge was reachable only by boat — the city fathers were determined to tame nature.
They also wouldn't let go of the longstanding dream of transforming Dallas into a seaport. (Watch the quite satisfactory KERA moving picture Living With the Trinity for much more.) That's why, in 1928, an army of mechanical contraptions pushed the river about a half-mile west, straightened its flow, and confined it between the levees that keep it out of sight and out of mind of the likes of you. We have indeed taken our city's headwaters and treated them like an undignified drainage ditch.
It's only in recent years that the citizens of Dallas have been encouraged once again to engage with the Trinity in ways that don't involve pig's blood. The Continental Avenue Bridge seems like a hit, and I've been known myself to enjoy an afternoon constitutional along Trinity Skyline Trail. In the midst of the toll road debate, I hear a lot of fretting that we'll never get the park we were promised way back at the end of the 20th century. Could be, but I tell you what: We already have got a sort of park, minus jugglers-under-the-overpasses and other minor accouterments that I can't imagine would prove terribly costly. Certainly they'd run us far less than either Large Marge or the McBridge.
Which is what makes it so dispiriting — a dangerous proposition for an entity of pure spirit, like myself — that you fools are still aiming to plop a giant stretch of concrete along there to accommodate your mobile pollution machines. The tide may finally have turned against the zombie toll road (even George Dealey's rag has seen the light), but your weak mayor seems to have let his hair curlers melt his gray matter. Vigilance, friends. My Your river deserves better.
Drafting a Dream Team,

John Neely Bryan is the founder of the city of Dallas and an expert on all matters. Email him for advice, to have a dispute adjudicated, or to seek his wisdom on any of a myriad of topics, at [email protected].