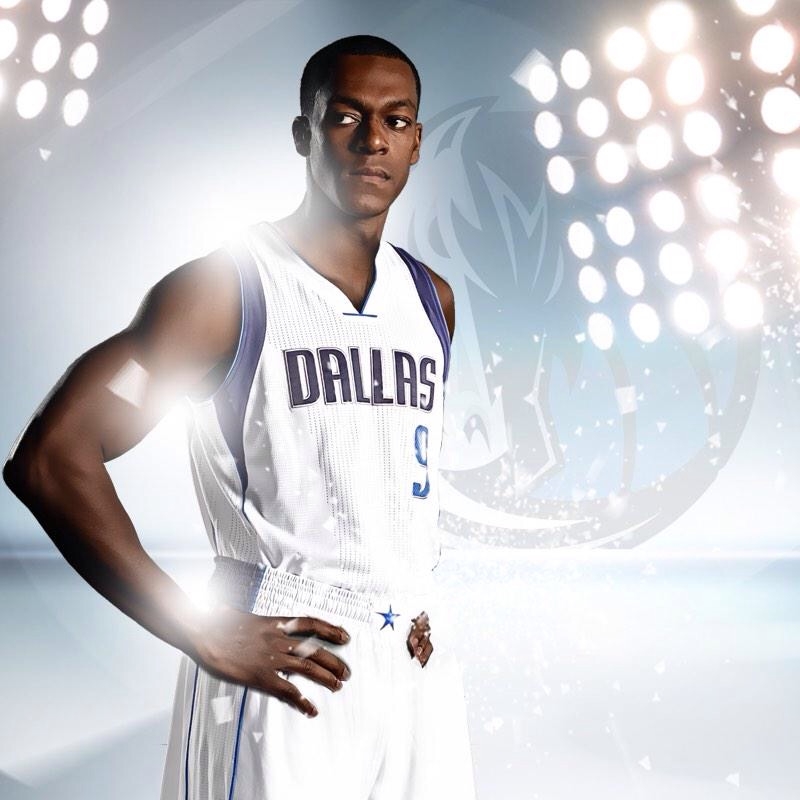 What It Means Now That Rajon Rondo Is In Dallas
First off, read this fantastic Sports Illustrated profile of Rajon Rondo by the great Lee Jenkins. This is the guy you're getting, Dallas, a player so competitive that he said this after a 12-year-old kid at a Boys & Girls Club in Dorcester, Massachusetts, beat him at Connect Four:
"But did you notice I played the guy five more times and won them all? I had to show him, 'You beat me, but I'll beat the s— out of you.'"
I, for one, am excited. So is my friend and fellow Mavs fan Rondo Estrello. Now, on to what this all means.
As I was walking into the office just now, I saw the front page of the Dallas Morning News, and a story on the Rajon Rondo deal was teased as such: "Mavs acquire Rondo in deal with hefty price." Brandan Wright is the only player the team will really miss. He has arguably the best hands of any big man in basketball, he improved every year, and he once made Dirk do this. He will be missed, even if rumored target Jermaine O'Neal can still play a little.
But everything else in the deal? Jameer Nelson (replaced by Rondo), Jae Crowder (fell in and out of the rotation), a protected first-round pick (never highly valued here), and a second-round pick? I don't think that could be described as a hefty price. I mean, it's a lot of things. You traded five items and only got one in return. I'm not saying it's like trading five $1 bills for a $10, but it's closer to that than the other way around.
And, really, it's better to view the trade in terms of who's still here than who's gone. Yes, depth will probably be an issue in the short term. But it will get sorted out over the coming months, and depth doesn't matter as much in the playoffs, when everyone plays more minutes. But look at that starting lineup: Rajon Rondo, Monta Ellis, Chandler Parsons, Dirk Nowitzki, and Tyson Chandler. That might be, top to bottom, the strongest starting five in the league. It is at very least in the conversation. It's ridiculous, like the kind of team my kid puts together when he's playing NBA 2K14. (He also never puts much emphasis on a deep bench.)
But does it all fit together? I've seen some compare this to the Mavs trading for Jason Kidd, which ultimately led to the 2011 NBA title. And it is kind of like that trade. Like Kidd, Rondo is a basketball genius who makes passes many players wouldn't even see, a great rebounder for his position, big enough to compensate for a diminutive backcourt mate and to guard opposing shooting guards (Rondo's only 6-foot-1 but has crazy-long arms), and a great quarterback either in transition or the half court. But when Kidd came to Dallas, he'd developed a pretty reliable three-point shot that only got better. Rondo doesn't have that. Not even close. He's not a great shooter and though his free throw percentage is an anomaly (only 33 percent this year), his three-point percentage is not: 25 percent this year vs. 25 percent for his career.
Because of that, Monta Ellis will lose some of the space that came from playing alongside deep threats like Jose Calderon and Jameer Nelson over the past two seasons. But just some, and Ellis will likely benefit in many other ways by playing with someone like Rondo, even if they both like having the ball in their hands. Here, again, is a bit from that Lee Jenkins profile:
Rondo is a strategist, turning down open layups for more-open three-pointers, repositioning one teammate to make room for another, taking an extra glide step on a pick-and-roll so an older big man can work free. He cradles the ball in his suction-cup palms, pointing it left and right, wrapping it around his head and waist, shifting the defense with every sleight of hand. Each pump fake and sideways glance is designed to create an extra inch of space. Rondo passes with flamboyance and disdain, spiking the ball off the floor or firing it through a mob, and he finishes with more English than a pool shark. His floaters are high enough to hit the shot clock. "If you're not careful," says former Bucks coach Scott Skiles, "you get paralyzed watching him."

Rondo will call a play early in a game that produces an easy basket and refuse to run it for the next three quarters. "I'm saving that one," he reasons. When he thinks back on a pass — like his alltime favorite, the spin move and behind-the-back bullet he threaded through two hands in midair to Ray Allen for a corner three last year at Golden State — he closes his eyes. "It was a risky play," he says, "but I'm a risky player." Young Celtics joke about times they've been hit in the head with Rondo no-looks. "I don't hit them in the head," Rondo clarifies. "I hit them in the face."
Putting a player like that with a coach like Rick Carlisle — how can you not be excited by that? Like, insanely excited by that, if you're a Mavs fan. Maybe Rondo has lost some of his luster in the past couple of years, playing on crappy, rebuilding Celtics teams. But would you really expect a player who hates — hates — losing to a 12-year-old at Connect Four to be at his best on a team of misfits and youngsters that have no shot of doing anything? Now Rondo (who is still only 28) is on a team of veterans playing for an organization that, by trading for him, has proved it believes this could be its year. Don't you think he will respond positively to that?
TL;DR The Mavs are going for a title this year, and it's gonna be fun as hell watching them try.