On Monday, we invited 100 businesswomen (and a few good men) to D's office to hear from three of D CEO's Wonder Women. On hand were Elaine Agather, chairwoman of Dallas Region, JP Morgan Chase; Matrice Ellis-Kirk, managing director, RSR Partners; and Melissa Reiff, president, COO, and director, The Container Store. The goal for the evening was to get some frank, honest assessments of women in leadership. The panelists did not disappoint.
Elaine Agather, hysterically blunt, shared some of the advice she gives women in her office: "If you cry, I will kill you," she said. "I don't mean for it to sound flip, but if you don't get honest feedback early, you never know, and then you never move up and probably leave because you didn't get the promotion." She recounted the time when she had just been promoted at a bank in Fort Worth, and she showed up for a sales call in a pink Escada suit. "I was going to make some calls with a cowboy over there," she said. "I walk in, and he goes, 'Ohmygod, what do you have on?'" The man (who worked under her) informed her she looked like she was wearing Pepto-Bismol. She thanked him, ran home, and changed.
Matrice Ellis-Kirk also got a lesson in fashion when her husband, Ron, was first elected Mayor. "I went to the grocery store after working out, and to tell you I looked a hot mess was…I didn't even have a hat on. It was that bad," she said. An elderly woman walked up to her and said, "Honey, you cannot come out looking like that. You represent this city." Ellis-Kirk heeded the woman's advice.
While fashion faux pas were a part of the discussion, so was discussing how to find balance. "Life is all about the mixing and the folding of everything that's important to you on a daily basis," Melissa Reiff said. "It's a choice to be positive. It's a choice to look at the glass half full. I think that really makes a difference in just making your life happy and full and centered."
The women also discussed key strategies for success, how to handle change, and how to get more women to serve on boards.
(For more photos, go here.)
On key strategies for success.
Ellis-Kirk: "What is it that I really enjoy? What jazzes me? And then from there, it's simple to build a strategy. I find it easier to create my own vision, mission, values, and then my outcomes from that," Ellis-Kirk said. "From a strategy standpoint, it's really for me. What is it I want to accomplish? And then thinking about the three to five things than I can do to impact that goal and really stay focused on those things and making some hard choices."
For Reiff, her strategy is a branch off of The Container Store's seven foundation principles. The one she works on daily is communications leadership. "It's not easy," she said. "At the end of the day, you are certainly tired and exhausted. I come home and my husband wants to talk, and I'm like, "Let's just have one hour of silence." You know? Because we have been communicating so much with our strategies. I think, as individuals, we have a responsibility to try to always be secure, and sweet, and to have really strong communication skills."
For Agather, it's all about competing (against herself). She prefers to hole up in her office and make calls to clients all day. "If that is more fun for me then that is what I should be doing," she said. "It's very easy to get caught, whatever you're doing in the industry, with the minutia, and you have to force yourself to be disciplined on what's really important."
On something surprising they've learned from their careers.
Agather is just surprised she's at this point in her career. "I'm from Sherman, Texas," she says. "I was a Sherman Bearcat cheerleader and my father was a bulldozer operator and he had an eighth-grade education. I just needed a j-o-b. I really thought I'd just get a job at the bank…I think if you are really in the moment and loving what you are doing, you are the one that usually gets picked to do the next thing," she said.
Ellis-Kirk is surprised by how women don't take credit for their work. "I wasn't prepared to be surprised by this in 2014, but men still sit on the edge of their seats ready to tell you everything they've done and done well. Women, I have to pull their teeth out to get them to tell me what they've done and done well."
On ensuring the organization's culture stays strong and consistent.
Reiff: "We work on it every single day, every single moment of every single day. First of all, you have to have the correct structure. You have to keep tweaking it and evaluating it and making sure that it's in place. You can't have good communication flow if you don't have structure."
Ellis-Kirk: "Our culture is us. We are the culture. So you cannot take yourself out of the culture. And you have to live it. You have to breath it. And you have to write it down."
On effectively handling change.
Agather: "I've learned that that is one thing that really stalls people's careers, and it's not an age thing. People get afraid of change and it scares them to death and they become territorial. For some reason, I was never afraid of it, and I learned to be even more open about it and sort of encourage people. That put me in a leadership position."
Reiff: One of the big changes Reiff has had to deal with was in 2007 when a majority of The Container Store was sold to a private equity firm. "So that was a huge change for our company. There are many reasons it was successful, but I know a lot of it had to do with communication and making everyone feel safe, secure, and warm."
Ellis-Kirk: Ellis-Kirk recently made a change in her career, and she admitted that it took her a year and a half to do. "I think that change is very good. I think that change is important. But for me, it's still is a deliberate process. And I don't think I'm any less fierce for taking the time I needed to make it happen and to make it happen the right way. So what I say is change is good, and change can be fast in some instances, but not always."
On how we can create an environment that's more supportive of women executives.
Reiff: "I think we have to work hard. I think we have to support each other. I think we have to assume best intentions. I think we have to be encouraging, secure, and know that we're in this together, and we're not pitted against each other. We need to support each other in a very big way."
Agather: "I give really tough, up-front feedback. I'm amazed at how women can go so long and no one has told them that [something they're doing is] irritating."
Ellis-Kirk: Ellis-Kirk cited a study she had read where researchers asked people between the ages of 24 and 36 how they would respond if they were offered a promotion. The options were: yes, let me think about it, I don't know, and no. She joked that 101 percent of the men answered yes. Only 3 percent of women, however, said yes. "I think that says it all," she says. "We have to understand that the opportunity is for us to take. We have to be willing to take it and run with it."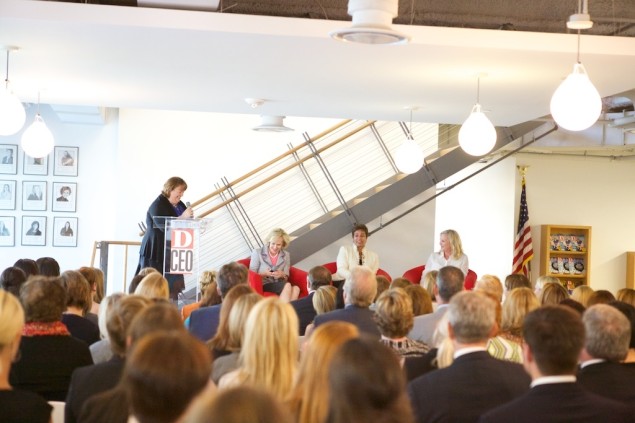 Get the D CEO Newsletter
Stay up to speed on DFW's fast-moving business community with weekly news reports, interviews, and insights.
Author