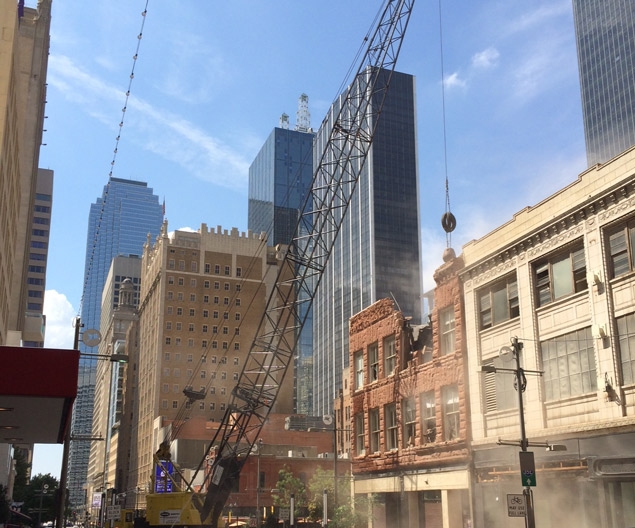 Tim Headington — oilman, movie financier, real estate mogul — is a very private man. He doesn't do press — at all. Here and there, he has been written about. But to my knowledge, he has never given an interview for a magazine or newspaper profile (please correct me if I'm wrong). We've asked for time with him. In fact, a couple years back, we killed an innocuous story about a very small part of his empire after his people told us that the timing was bad (it was) and that a look at the bigger picture would serve Dallas better (they were right). We were told that it would be possible to get time with Headington to tell the larger story. That never happened.
His penchant for secrecy is well and fine, when it comes to most of his operations. Check out the website for Headington Companies, for example. In how little it reveals about the organization, it feels like a repudiation of our selfie society. It is brilliant. But this secrecy fails him when it comes to demolishing old buildings.
Mark Lamster, the architecture critic for the Morning News, had some very harsh words for Headington yesterday, calling his actions vandalism. Preservation Dallas called it "wanton destruction." I respect Lamster very much, but for the purposes of this post, I will refrain from jumping to his side of the argument. Maybe the razings are deplorable. Maybe not. Maybe they are unavoidable if we want to see downtown rejuvenated. I've seen private correspondence from a highly placed Headington employee that makes me want to hear their side of the story. Perhaps these buildings had structural failures that none of us are aware of. Maybe there are good reasons why those buildings couldn't be repurposed.
But here's the thing: no one from Headington's organization will talk. We asked the highly placed Headington employee to explain the company's side of the story, expressing our genuine interest in learning more. In response, we got an insulting, imperious email declining an interview.
Before the wrecking ball made its first swing, someone from the Headington Companies should have stepped forward and explained what was about to happen and why. With all the backlash to the demolitions, someone really needs to step up and explain what's happening. If the people at the Headington Companies don't trust that the local media will give them a fair shake, then they have the means to get out their message unfiltered. They have that website, just waiting for a button that could take visitors to a detailed explanation.
This isn't like drilling for oil or making movies. This is reshaping a city, altering a public space. Faced with only silence and secrecy, why wouldn't people assume the worst?
Get the D CEO Newsletter
Stay up to speed on DFW's fast-moving business community with weekly news reports, interviews, and insights.