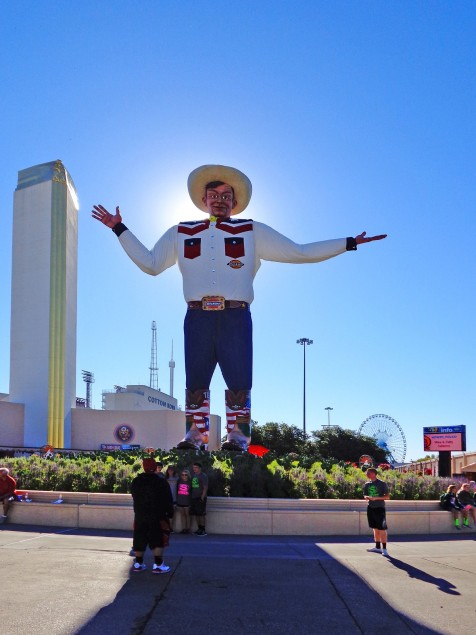 Either that, or he's realized he has no hope of ever reclaiming the job, because almost a year and a half after Bill Bragg was fired as the voice of Big Tex at the State Fair of Texas, he's taking to his Facebook page again to decry the injustice of it all.
You may remember that Bragg's contract for the gig, which he'd held since 2002, wasn't renewed in March 2013. State Fair officials wouldn't discuss the specific reasons for their decision, but they did imply that Bragg's misuse of their trademark — presenting himself at other events as the voice of Big Tex — had much to do with it.
Well, now Bragg wants the world to know that the president of the Fair had no problem with Bragg calling himself Big Tex when it suited his own purposes:
BREAKING NEWS!!!

To recap, I became a cancer survivor after a 3 year battle with colon cancer over 20 years ago! So when The American Cancer Society asked me to wave the Starting Flag at the "Race For The Cure", I requested permission from Sue Gooding! And that request cost me my job as THE VOICE OF BIG TEX!

Since the President of the State Fair of Texas had ALREADY asked me to make a "BIG TEX" Announcement so his son could get a date for the Senior prom; I thought it would be OK to "just" ask permission.

Guess I was wrong?

SEE THE e-mail REQUEST BELOW!!
—————————–

September 11, 2012

Bill,

I need a personal favor… My son would like to ask a girl to homecoming in a unique way. Would you be willing to record the message below and send to me as an audio file?

I would like for it to be in the regular Big Tex cadence, if you don't mind.

Thanks!!!!

"Howdy Madeline, this is Big Tex from the State Fair of Texas. My friend Thomas Glieber would like to know if you would be willing to go to Homecoming with him. If the answer is yes, please come outside right now to see him. I hope you have a great time!"

Mitchell Glieber
State Fair of Texas
Get the FrontRow Newsletter
Get a front row seat to the best shows, arts, and things to do across North Texas. Never miss a beat.