Update, 1:27 p.m.: From Pete: "As expected, all four defendants entered not guilty pleas and were released today with travel restricted to Texas."
Update, 12:05 p.m.: From our Peter Simek, who was at the press conference:
Spent most of the time outlining what's in the indictment, namely a conspiracy to commit bribery stretching back 10 and a half years, plus tax evasion counts related to efforts to cover up transfer of funds from Neely to Price in exchange for favors.

Multiple accounts and witnesses made for a massive paper trail that took investigators two years to comb through. Also looks like there is overlap of the charges and time of investigation, suggesting JWP continued to run business as usual even while under investigation. Could face a max of 140 years plus fines and penalties.

JWP arrested this morning at [Harry Hines and Record Crossing] in the Medical District on way to work. He's under custody here at the court house and will appear before the judge at 1 p.m. Judge Linn has been assigned to the case.
Pete also sent over a fun flow chart, which outlines some of the scheme I detailed earlier: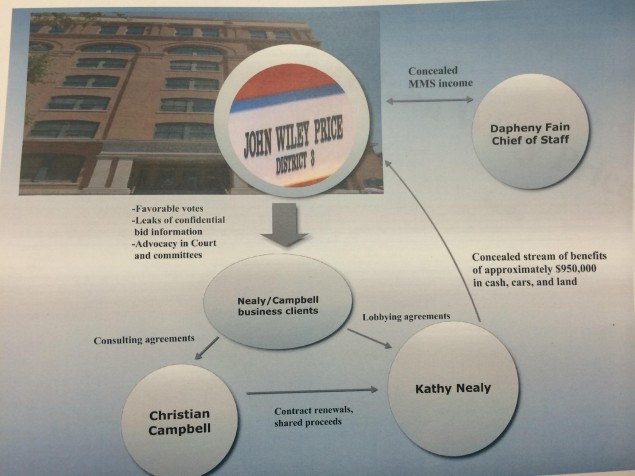 Update, 11:51 a.m.: And here's the Van Zandt County property, out near Canton:
Four acres, one small commercial building. In the words of Liz Johnstone, "Why would anyone want to own that in Van Zandt County?" I imagine we'll all find that out in, eh, a year to 18 months once everyone starts taking the stand. Here's the tax record. Plot is valued at $73,000.
Update, 11:23 a.m.: From a statement by U.S. Attorney Sarah Saldaña:
"The indictment unsealed today alleges that for more than a decade, in a shocking betrayal of public trust, Commissioner Price sold his office on the Dallas County Commissioners Court in exchange for a steady stream of bribes. While the vast majority of public officials are honest and maintain high ethical standards, it is unfortunate that some, as alleged in this indictment, choose to serve themselves," Saldaña said. "I thank the hardworking men and women of the FBI and IRS Criminal Investigation who have spent countless hours, indeed years, investigating this case, dissecting his and others' alleged schemes. Abuse of the public trust cannot and will not be tolerated."
Update, 11:05 a.m.: Rough sketch of how things would typically shake out, bribery-wise. This is what happened in a 2001 incident, according to the indictment:
– Christian Campbell was employed by a business as an account manager, assigned to handle Dallas County matters.
– After submitting a bid, that company hired Kathy Nealy "for her access and influence with Price," in an attempt to persuade him to sponsor the business in the bid selection process.
– Price made several motions in commissioners court to advance the business through the selection process, leading to its eventual selection. The contract ran from 2001 to 2004, during which time the business earned $40 million.
Nealy was initially paid $60,000 by the business, in eight $7,500 installments. After the business advanced in the selection process, it hired Nealy again, paying her $5,000 per month, plus a "success" fee if Dallas County awarded it the contract. (This was for an IT outsourcing contract.) All told, Nealy earned $258,000 from the business. During this time period, Price allegedly leaked internal contract documents to Nealy, in an effort to inform the business of the city's negotiations and dealings. Price also signed a recommendation letter for the business when it was seeking contracts in Florida.
Update, 10:15 a.m.: This is a rough screengrab of the three Dallas properties in question:
The plots are 2402, 2408, and 2410 S. Lancaster Road, near Cedar Crest Golf Course. One, as you can see, is developed with a small office building, while the other two sit vacant. All of the plots are registered, according to the Dallas Central Appraisal District, not by some acronym-heavy suspicion deflecting LLC, but by Kathy Nealy herself.
Update, 10 a.m.: The breakdown of that $950,000:
– $447,217: checks, cash, and transfers from Nealy's bank accounts to Price's bank accounts.
– $191,130: "Nealy also provided to Price the full use of a new Chevrolet Avalanche approximately every four years and a BMW 645Ci convertible, which Nealy titles and insured in her name and on which she made monthly car payments and insurance premium payments."
– $198, 284: "Nealy secretly funneled [the money] to Price through four purchases of real property for Price, with Nealy serving as a straw purchaser. Nealy paid for the properties' purchase, monthly mortgage payments, property taxes, insurance, and repairs." One of the properties was in Van Zandt County, while three others sit adjacent on South Lancaster Road in Dallas.
– $113,600: "Nealy provided Price rental payments totaling approximately $113,600 from a tenant occupying a building at one of the Lancaster Road properties and operating as Business T (a business known to the Grand Jury)."
I'll break this down a little more throughly later, I hope.
Update: 9:35 a.m.: Here's the indictment. We're splitting it up here at the office, and should have more to come:
[d-embed]
[/d-embed]
Update, 9:20 a.m.: John Wiley Price, Kathy Nealy, Dapheny Fain, and Christian Campbell were all arrested. Price allegedly took $950,000 in financial benefits from businesses with action before county commissioners.
Original post: Three years after the FBI raided his home and seized $200,000, Dallas County Commissioner John Wiley Price was arrested and taken into custody this morning:
[d-embed]
ARRESTED: After a multi-year investigation, the FBI has arrested Dallas Co. Commissioner John Wiley Price. #jwparrest

— Jason Whitely (@JasonWhitely) July 25, 2014
[/d-embed]
WFAA has a lot of the details here. There's supposed to be a press conference later on today, so we'll update this if/when anything goes down. Mooney also lives right around the corner from JWP, so maybe we'll send him over his fence or something.
We've written about John Wiley Price in some capacity 258 times since 1978. The first story? Titled "How to Steal an Election."
Stay tuned.