10 Reasons You Should Attend Best of Big D Live
Get your tickets now.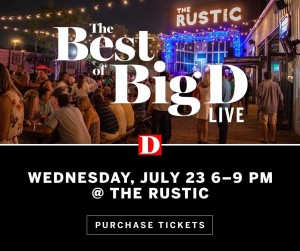 1. You'll get a sneak peek at some of this year's winners in our annual Best of Big D issue.
2. Guests will enjoy complimentary beer, wine, cocktails, and sample menu items from some of the best bars and restaurants in town.
3. DJ Sober and singer Sam Lao will perform.
4. The Rustic is a swell place to spend an evening eating and imbibing outdoors.
5. There's a Jackopierce concert right after the party.
6. You can get 20% off an UBER ride to and from the event with the promo code 'BOBDAL.'
7. Tickets are only $50
8. Tickets are only $65 if you want to attend the Jackopierce show too.
9. It's an opportunity to swear at Tim Rogers to his face. (NOTE: Offer not valid after the Jackopierce show has begun.)
10. You know you don't have any better plans for 6-9 p.m. Wednesday, July 23.
So get your ticket now. While they're still available.