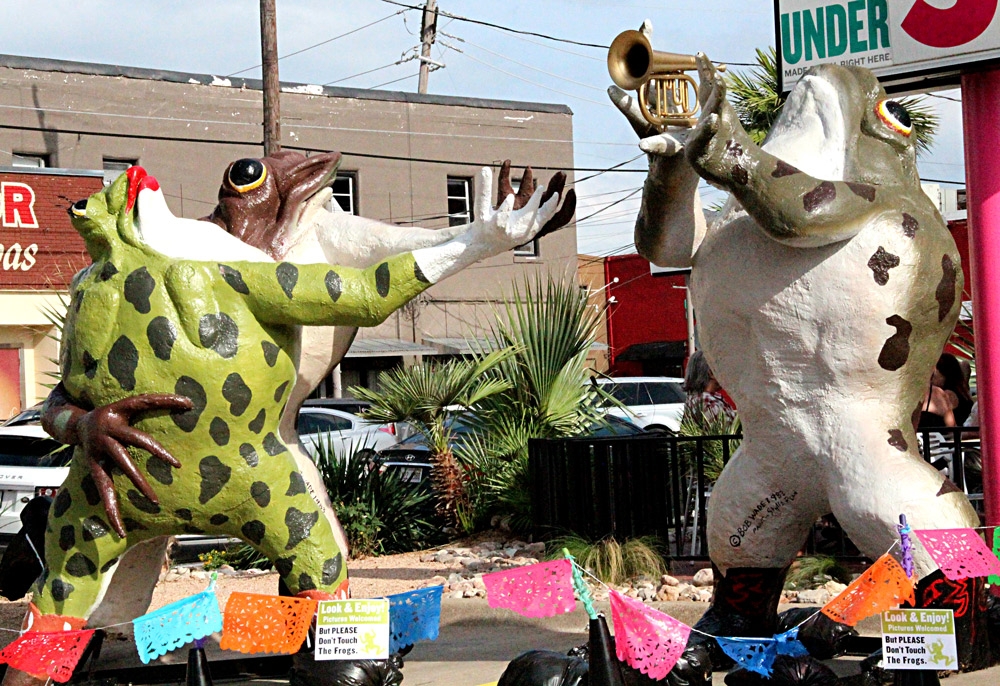 Tango Frogs Return to Lower Greenville
After nearly 30 years, they're back at their original address.
Have you heard of the Dallas family of frogs that survived a city ordinance threatening their home, and then narrowly escaped a deadly fire and hurricane-strong winds knocking them down to an almost certain death? And in the midst of it all, they were split apart, an emotional heartbreak leaving three in Nashville and three in Hillsboro?
Well, even if you haven't, thanks to a few kind-hearted Texans, the Dallas half of these amphibious creatures will have happier days ahead of them. And if you drive by Taco Cabana on Lower Greenville today, you can see them, returned to their original home, nearly 30 years later.
Made with tubular steel, wire mesh, and sprayed urethane foam, these frogs are larger-than-life pieces of art that will catch anyone's attention. In the parking lot at Taco Cabana, these frogs (two dancing, another playing his cornet horn) will now delight onlookers in this Dallas entertainment district yet again. Although it's not the site of the Tango nightclub anymore, the Tango Frogs have returned to their original address, 1827 Greenville Avenue, and the Mexican restaurant chain hosted an '80s-themed patio party on Thursday in honor of their return. The creator of these massive 10-foot creatures, Texas artist Bob "Daddy-O" Wade, and many others who have been part of these frogs' lives in one way or another, gathered there.
Wade is a bit of a legend himself, and just as many people wanted to take photos with him – he has works in display in cities across Texas, including his 40-foot-long iguana at the Fort Worth Zoo – as they did with the frogs. "It's like a reunion," he told me. "Great weather and jovial atmosphere everywhere, which is the way we started this thing back in '83."
In the 1980s, Dallas restaurateur Shannon Wynne opened Tango nightclub on Lower Greenville and commissioned the frogs. Wynne then arranged the cold-blooded romancers of the night atop his roof, but after the club closed in 1984, he auctioned off the frogs. Carl Cornelius won the auction, and took the frogs to live at his Carl's Corner truck stop in Hillsboro.
Shortly after they arrived there, three of them toured the state as part of an outdoor sculpture exhibit. Afterward, they reunited at the truck stop with their amphibious kinfolk, but a huge fire at Carl's Corner, in 1990, forever separated the six frogs. For a time the truck stop was closed, and so Cornelius sold off three to live at a Chuy's restaurant  in Houston, who've since sent them to a Chuy's in Nashville (where they remain.)
The Texas three stayed at Carl's Corner for several more years, until he sold off the truck stop and moved them across the highway to live in his yard. Before that though, a strong gust of wind sent the three siblings for a near death fall from atop their truck stop sign perch. "If I'd taken a dollar for every person that came and took a picture with the frogs, I'd be wealthy," he said. "The frogs served a purpose…people love weird stuff."
Now that the frogs are back in Dallas, where their rocky life began, even more people will come out to see them. At least that's Cornelius' theory.
Together, the Texas three have logged more than 2,700 miles, touring the Lone Star state and surviving anything thrown at them. Fast forward to 2014. Tim Taft, CEO of Fiesta Restaurant Group Inc., Taco Cabana's parent company, decided that it was only right to bring the Tango Frogs back home.  After tracking down Cornelius, the frogs made the journey from Cornelius' yard back to Greenville Avenue, where their crazy adventure began three decades ago.
Aaron Claycomb is a D Magazine intern.