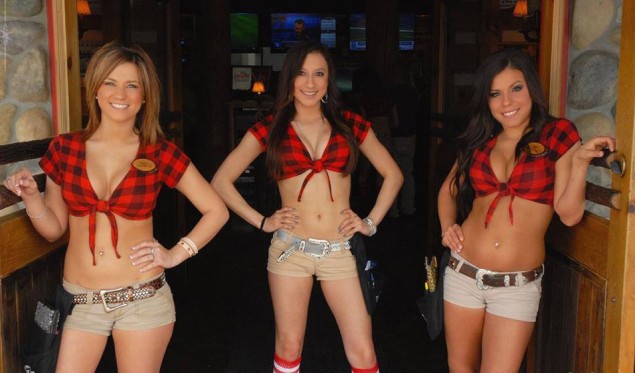 When I had breakfast with Randy DeWitt, the CEO of Front Burner Restaurants (no relation to this blog), several years back, he used a wine industry metaphor to explain the competitive advantage he believed his Twin Peaks restaurants had over the big dog in the "breastaurant" space, Hooters. Twin Peaks, he said, is like the  Kendall Jackson label to Hooters' Turning Leaf. In other words, Twin Peaks is a cut above.
The New Republic writes this week about the other advantages the DeWitt's chain has over its wheezing Florida-based rival and its garish orange shorts:
Before he founded Twin Peaks, DeWitt owned a struggling seafood franchise called Rockfish; while he poured his heart and soul into that operation, he says he couldn't figure out why Hooters, which he considered well below average in terms of food and service, was killing it. "I thought, 'I don't get it, their food is terrible, their operation is hit-or-miss, their facilities are the pits.' It became pretty clear to me that that was a niche we could enter."

Nobody at Hooters had figured out that the brand was broken, so he would fix it before they did. He started with the beer. "Cold beer is like catnip. Those working guys like their beer really cold," DeWitt says. "Hooters' slogan at the time was 'coldest beer in town.' I thought 'big deal.' It's just a sign, just an empty claim. So we worked with a manufacturer to serve beer below freezing. It comes out at 29 degrees! And we put a digital temperature display so we don't ever say 'coldest beer in town,' we say 'look at the thermometer, you decide.'" Then he took on the menu: Everything down to the ice cream was to be made fresh in each franchise; nothing was to be frozen or carted in ready-made. (Order the shrimp cocktail at Hooters to see why that's a good idea.) And focus on comfort food, not bar food: Hooters serves only burgers and sandwiches; Twin Peaks has pot roast with green beans and mashed potatoes and green chile meatloaf.

DeWitt's logic translates perfectly to this moment in American dining. Twin Peaks was named one of the country's Top 10 Franchises to Watch by Nation's Restaurant News. In DeWitt's current "rapid growth mode," they have 40 locations and plan ten more in the next two years. They're as far west as Las Vegas, as north as Wheeling, Illinois, and as east as coastal North Carolina. They are turning down offers from potential franchisees—at an estimated start-up cost of $1.3 to $2.3 million including construction, furniture, fixtures, equipment, and other expenses—because they don't want to expand any faster. They usually situate near a Hooters on purpose. "The average location takes in about $4.3 million, and the average Hooters is about $2.3 million," says Brooks. "When we open near a Hooters we typically ding them 25 to 30 percent. Sometimes they recover but most of the time they end up with a permanent 10 to 15 percent reduction." Talk to DeWitt and Brooks long enough, and you don't want to take these guys to task so much as you want to buy a franchise.
Get the D CEO Newsletter
Stay up to speed on DFW's fast-moving business community with weekly news reports, interviews, and insights.