On Monday night, Sir Richard Branson dropped into town to address the latest front on the airline war, Virgin America vs. EveryoneElseThatWantsThoseGatesAtLoveField. The airline hosted a party at The Rustic in Uptown. Three of us—me, Cristina Daglas, and Glenn Hunter—attended. Each of our individual thoughts follow. The common thread: tequila. There was a lot of tequila.
The fight over who gets the two gates that American Airlines is being forced to surrender at Dallas Love Field has turned into a public relations battle recently, with more back and forth ploys than you'd see at a championship tennis match. A few weeks ago, Southwest Airlines—which already has 16 of Love's 20 gates—gave each of the hundreds of attendees at the annual meeting of Downtown Dallas Inc. a $100 Southwest flight voucher. Days later upstart Virgin America Airlines flew a Virgin plane into town and began selling tickets for Love flights this fall, seemingly confident after signing a Justice Department-approved sublease agreement with American. Then a report commissioned by the city, which owns Love Field, came out recommending that Southwest—not Virgin or Delta (which technically is still in the running)—get the gates instead.
Last night Virgin ramped up the PR battle, throwing an outdoor, Texas-style bash for several hundred people at The Rustic, Pat Green's red-hot restaurant/bar in the West Village. The evening's star attraction was Sir Richard Branson, the charismatic English entrepreneur whose Virgin Group is a minority investor in the business-oriented, California-based airline. While partygoers downed tequila shots and knocked back cold beers, Branson held court in a roped-off VIP area that included two Dallas City Council members. (On Wednesday, the council is scheduled to get a briefing on the Love gates before the city manager makes a final decision. )
Working on a beer inside the VIP area, City Council member Philip Kingston said that, since Virgin has already signed a sublease agreement with American, the issue to him is strictly a legal one. The city would have to decide that "a reasonable person" would not give Virgin those gates—and that's a loser argument, said Kingston, who's a lawyer. As a result, "we're going to waste some time Wednesday," he said. "Then maybe we'll waste some more time."
Not far away, Branson had just made his case to the three of us. Besides having the DOJ and American on its side, he said, Virgin has circulated a petition that 20,000 people have signed in just a couple of days favoring "more competition" at Love. Virgin is David versus Southwest's Goliath in this instance, Branson contended, and a Virgin victory would be good for the public and good for other airlines as well. "As much as I respect Southwest," Branson added, "why shouldn't the public have a choice? … We need more Virgins to keep the other airlines honest."
A few minutes later Branson and Virgin America CEO David Cush took to a raised wooden stage, like yell leaders at a big-game pep rally. "Everybody who's had at least one beer, raise your hand and yell!" Cush shouted to the crowd. "Everybody's who had at least one tequila shot, raise your hand and yell!" After some more talk about how Virgin is a maverick and a business disrupter and is merely asking for 10 percent of the Love business to Southwest's 90 percent—who, after all, could argue with that?—the pair fired off another loud volley in the PR war, presenting an oversized check for $55,000 worth of Virgin tickets to KIPP Dallas, a public charter school. Then more tequila shots were produced, with Branson and Cush leading the toasting with a cry of "Free Up Love Field!" With that, Sir Richard fell backwards and began crowd surfing as the sound system blasted out "Sweet Home Alabama"—a song beloved by mavericks everywhere.
—Glenn Hunter
Before Sir Richard Branson did a tequila shot on stage, crowd surfed, and made a beeline for the exit Monday night, he sat at a tucked-away table in a cordoned-off area, occasionally making eye contact but shooting straight. His responses came back to something pretty simple: this whole issue—you know, the one with those two gates at Love Field, the two gates the Department of Justice said Virgin America should get and the two gates that the city of Dallas' commissioned report put in Southwest Airlines' corner—comes down to the law. And Virgin, Branson says, is the only airline with the lease in its grip. So what's the issue?
The short of it: American Airlines has to give up the gates as part of a lawsuit agreement stemming from the American-US Airways merger. The DOJ told American it wanted the gates to go to Virgin, so American started working with Virgin to sublease the gates. Then A.C. Gonzalez and the city of Dallas stepped in, because the city owns the airport. Still, if the law holds, Branson says, the gates will be Virgin's. So he's not terribly worried about all those tickets folks have scooped up or the public relations nightmare this could become should the gates be turned over to another airline.
Or so he says. He did, after all, spend his Cinco de Mayo at the Rustic in Dallas, Texas, with a red carpet, a step and repeat, and a cordoned-off VIP area. Inside the red rope? Some very important people and a couple of politicos—councilmen Scott Griggs and Philip Kingston, who also made some comments about the law and his general confusion over this Wednesday's City Council briefing/hearing/non-vote. As for why the city commissioned the study? He'd like answers. As for where the rest of the council stands? He doesn't know, and he hasn't lobbied anyone. But he's with Virgin.* He and the 20,000 or so Branson said had signed the Virgin petition as of Monday night.
So perhaps Branson is right. Maybe this is all that simple. And if not, well gosh, the goodwill toward the city (a $55,000 check to KIPP, for instance) and that clip of Branson crowd surfing, which is sure to play over and over again on the news, is putting the city's back pretty firmly up against the wall. So good luck, Dallas. No pressure.
CLARIFICATION: Kingston says he's not with Virgin per se but rather with upholding the law and the lease, which would point to Virgin.
—Cristina Daglas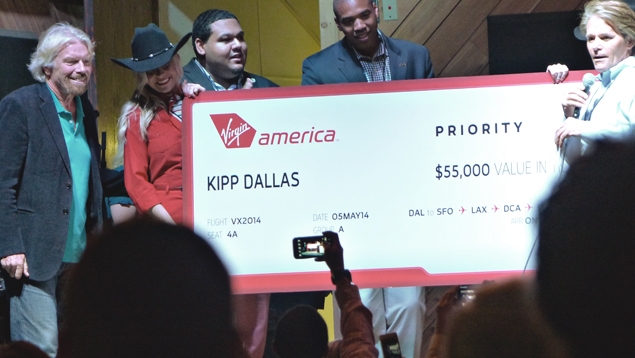 Richard Branson was on time. I think that's important to point out because, if I was worth nearly $5 billion, I'd never show up anywhere on time. But there he was, at 8:12, hopping over a rustic-looking rope at the flamboyantly rustic Rustic.
"He needs a haircut," chirped the person behind me in line.
Once inside, Branson slid behind an outcropping of velvet ropes and worked his way up a quick hill. Every three or four minutes he'd wander down to the rope, take a picture with an onlooking gawker, then amble back up, to the comfort of his Dos Equis. On one of these trips, a guest gave him a pint of Blue Bell ice cream, Rocky Road.
"It's Texas ice cream, Richard," emphasizing the last word as if, in some bizarre world, the two of them were friends and often shared pints of ice cream together with one spoon. Branson thanked him, but the look on his face read What in the bloody hell am I supposed to do with a pint of ice cream, mate?
The party itself was a clinic in public relations mastery. Virgin-y red carpet, signs blaring "FREE LOVE FIELD," free food, free drinks, women dressed in cartoonishly Texas attire, more free drinks. Oh, and there were free drinks.
When we sat down with Branson, it became incredibly clear to me just how in control of the situation he was, and how invested. There's a Virgin commercial that says "Here's Richard Branson, and he's here to service you." It's a sophomoric wink, but it's true. During our conversation, he was frank but deliberate, and while clearly pitching an idea, his responses never felt canned. He believes 100 percent that Virgin America not only should get the gates at Love Field, but also that the airline has a legal right to the gates. He spoke in declarative absolutes.
"The Department of Justice has said Southwest can not fly from these gates, Delta can not fly from these gates…so we started selling [tickets]," he said.
After our conversation, Branson took the stage to address the then-drunk crowd. (The bar was divided into two sections, the Have Richards and the Don't Have Richards, but it's safe to say that, on Cinco de Mayo, there were a bunch of people who were absolutely blotto. This was readily apparent to me as I took notes with someone screaming "DRINKO DE MAYO BABY" into my ear, over and over.)
Branson flew onto the stage, arms stretched into airplane wings, flanked by two red-encrusted flight attendants. Faux-mustached waiters delivered free tequila shots to everyone at the bar, as Branson repeated his pitch for everyone to hear. He presented a check to KIPP charter school—for $55,000 in tickets, not cash—raised his tequila, and summoned up a toast.
"What should we toast to?" he asked. "How about 'Free Up Love Field?'"
It didn't matter that he bungled the Free Love Field catchphrase. After he downed the shot, he attempted to crowd-surf then wandered into a selfie-rabid crowd. Duckfaced girls and Bransonphiles ran after him, extending their arms to their fullest lengths to capture the moment.
The message had clearly been received.
—Bradford Pearson
Get the D CEO Newsletter
Stay up to speed on DFW's fast-moving business community with weekly news reports, interviews, and insights.