[d-embed][/d-embed]
Conan O'Brien and his pompadour brought Team Coco to the Majestic Theatre for a few days' worth of tapings, a run-up to the Final Four later this week.  Monday afternoon's show filled the Majestic to capacity, every seat taken, even the second balcony. The audience was a mix, 20-somethings through people in their 50s, with more than a few old enough to collect Social Security.  The applause signs over the monitors were hardly needed as the crowd went wild every time the former writer and producer for The Simpsons pointed their way. Did I say wild? Let me rephrase: wild and LOUD, clapping and screaming with enough volume to rattle the fillings in your teeth.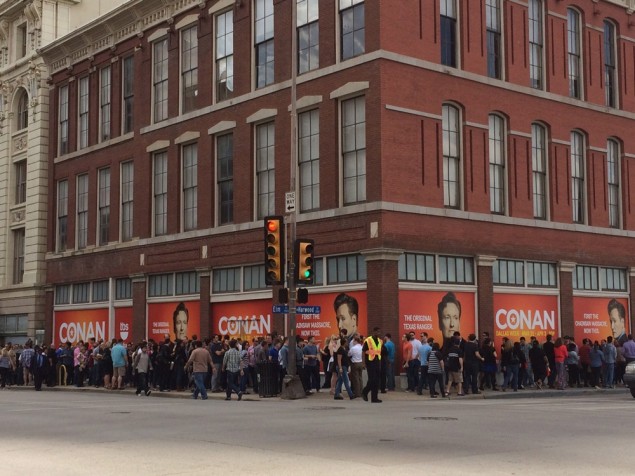 Keeping the show running was an entire division of stagehands, makeup artists, and coffee-cup-fillers, enough people to invade Crimea. Little known fact: Conan's forehead needs repowdering during every commercial break. This is a difficult task as Conan is extremely tall and in constant motion, like a lanky windup doll that's taken too many diet pills.
Because Dallas is all about longhorn steers and cowboy hats, the hoopla surrounding the shows promised to be chock-full of Texas stereotypes. You know, the ones we all embody so well here—the aforementioned steers and hats as well as cows and guns and big hair.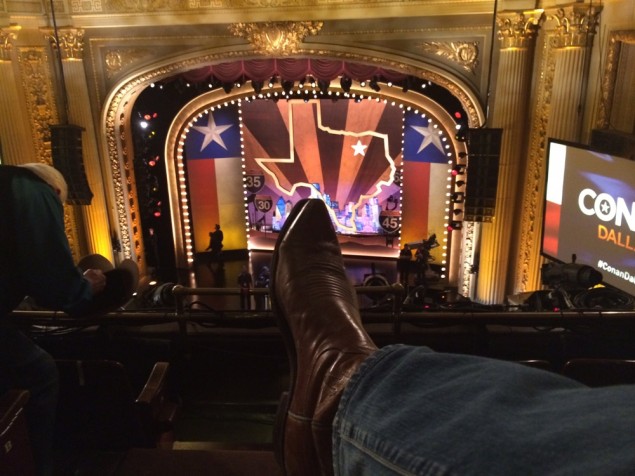 For the most part, Monday's monologue and opening bits lived up to that promise, Coco delivering jokes about firearms: "I'm going to work extra hard tonight. You know why? Because all of you are armed." Hair: "Finally, I'm in a city where my hair is big enough to fit in." And beef: imagine a bunch of 72-ounce steaks, a catapult, and a basketball goal—much funnier to see than read about.
I wanted to not like the Texas schtick, but I couldn't help myself. It was funny. Because Conan's funny, and—here's a word you don't often apply to late night comedians—respectful. Yes, he poked fun, but he also seemed to have a deferential air when it came to his visit. Whether he was shooting an unarmed suspect in a training video with the sheriff of Johnson County (a reality star waiting to happen, that man) or taking a Texas Citizenship Test administered by surprise guest Dirk Nowitzki, O'Brien seemed to genuinely like where he is spending the week, as well as the people.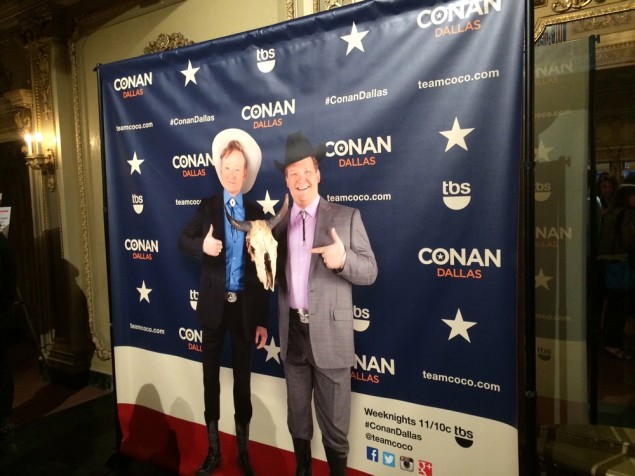 Conan's first guest was Adam Sandler, who told a brutally incomprehensible story about playing basketball with an elephant's penis and getting semen on his shoes.  Pretty sure he was referring to the elephant's semen, not his own.
Oh, well.  Not everyone can be as funny as Conan. Set your DVRs. He's here all week.
Harry Hunsicker's fourth novel, The Contractors, was published in February.
Get the FrontRow Newsletter
Get a front row seat to the best shows, arts, and things to do across North Texas. Never miss a beat.