First Look at the Proposed Boy Scout Hill Restaurant Overlooking White Rock Lake
I like a meal with a view as much as the next guy, but ...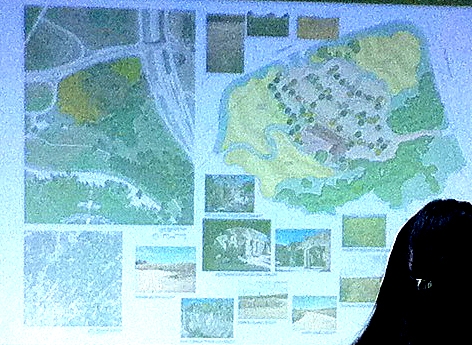 Jim Schutze has written something that you should read. It's about the proposed restaurant at White Rock Lake. The hopeful developers are Lyle Burgin and Rick Kopf. I've had lunch with these guys, and I like them. Kopf rides his bike at the lake, and he seems to appreciate the natural beauty of the place, which is one of the reasons, he told me, he wants to build a restaurant there. But I'm afraid Kopf and his friend are a bit like Lennie in Of Mice and Men. They don't know their own strength. They just might crush the thing they love. And Schutze is right. Opposition seems to be building steadily in the neighborhoods around the lake (I live in one of them).
One active neighborhood person tells me that some folks have spent more than $1,500 on yard signs against the restaurant. That same active person sent me the image you see here, taken at a meeting where Burgin and Kopf made their pitch. When I met the developing duo, they showed me some very preliminary drawings. The conversation was off the record, though, so the drawings and the ideas they represented stayed at that lunch table. But what I saw jibes with what you see here. I apologize for how low-fi it is.
The section of the image at the top left is where they want to build. Buckner cuts through the top of the image on its right side, and that's Mockingbird intersecting it, running horizontally across the top. That area is called Boy Scout Hill. The curvilinear white portion at the bottom is East Lawther, running along the lake's edge. To the right of that image is a larger detail of the area where they want to build, with the pink portion being the restaurant's footprint, including parking. Oh, and that dark mass you see in the bottom left is the back of someone's head. (Again, sorry.)
A restaurateur I know who has heard the Burgin-Kopf pitch told me that the restaurant would be 8,000 square feet, with an additional 6,000-square-foot patio. The developers plan to park all that with 160 spaces. My restaurateur friend scoffed at those figures. He said if you cut the square footage in half and doubled the parking, then the numbers might work out.
It'll be interesting to watch this develop — or not. Schutze, per usual, has some interesting conspiracy theories about how the developers could triumph over the opposition. Me, I wouldn't bet against the neighborhood.