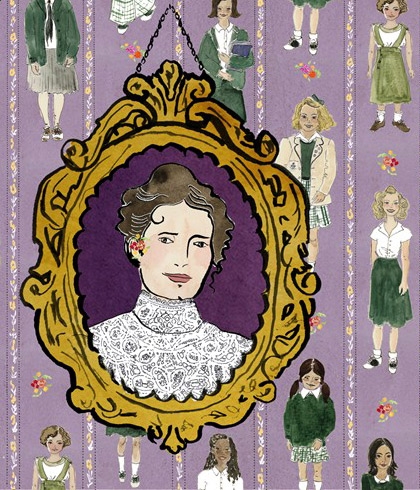 All through the 2013-2014 academic year, the Hockaday School in North Dallas has been celebrating its 100th anniversary. The prestigious institution for girls held its first classes on September 25, 1913, after some of the city's leading citizens had summoned Miss Ela Hockaday to Dallas to establish a college preparatory school for young ladies.
Sixty-five years later, Prudence Mackintosh (who'd earlier taught at Hockaday) wrote about the history of the school, which opened first in a small house on Haskell Avenue, soon moved to a campus on Greenville Avenue at Belmont (then part of the Caruth farm on the outskirts of Dallas), and later to its current home on Welch Road along Forest Lane. Her story is one D Magazine's 40 greatest ever.
This week the school is celebrating Hockaday Centennial Week. Among the events to mark the occasion, there will be a 5K "Daisy Dash" on Saturday to raise awareness and funds for the ALS Foundation, and on Friday night Reunion Tower will be lit up in green and white (the school's colors) with a flashing "H" and "100."
In reading Mackintosh's story, I smiled to note how much times have changed for the school financially since the article appeared in the June 1978 issue of D. At the time Hockaday had an endowment of $3.5 million (about $12.6 million in 2014 dollars). As of 2012, the school boasted an endowment of $122 million.
And then there's the change in tuition. In 1978, sending a child to pre-kindergarten at Hockaday would run you $1,075 per year ($3,871 adjusted for inflation). A senior in high school cost $3,205 ($11,541 adjusted.) If the student was boarding at Hockaday, you'd pay about $6,000 ($21,605).
The prices now?
Pre-k: $21,415

Senior day student: $26,150

Senior boarding student: $47,555
Miss Hockaday's legacy seems to be in good shape.
Get the D Brief Newsletter
Dallas' most important news stories of the week, delivered to your inbox each Sunday.