Last night was something. As I said yesterday, last night was the final opportunity for the public to voice an opinion in an open forum on the issue of the Trinity Parkway. Thus did I journey to the Kay Bailey Hutchison Convention Center Arena, a place once rocked by The Beatles. Led Zeppelin played it three times. The latter bit of trivia I offer without bothering to verify because Robert "Fingers of Fury" Wilonsky told it to me. There is no higher authority.
FoF got there around 6:30, by which time I'd already realized my mistake. Open house from 5 to 7, at which point public comments begin. That's what I thought. Dumb, dumb, dumb. I got there at 6 and wandered around a bit during the open house, gawking at the reams of paper laid atop folding tables that displayed in Halff-happy detail the elevations and other particulars of Alignment 3C, aka the Trinity Parkway design that the Federal Highway Administration hates the least and that the Army Corps of Engineers might — might — approve in December if we move the river. And if we can find someone to pay the $1.5 billion to build it.
What I saw and heard and smelled in the Kay Bailey Hutchison Convention Center Arena: older people; guys with bad shoes; citizen guys with enormous amounts of rolled-up handouts stuffed into their rear pants pockets; a citizen lady carrying not one but two purses and, improbably, a 128-ounce Sonic cup filled with an unidentified liquid; a TollTag table; a bag of free peppermint candies spilled across a table manned by a Halff dude; other Halff dudes; additional Halff dudes; very few Halff ladies; the sort of hushed silence you'd normally expect to encounter at a funeral; and a dankness that still lingers from Jimmy Page's crotch. Just a guess as to the source on that last thing, obviously.
Eventually the aforementioned FoF arrived, striding through the arena in his motorcycle boots as if there was a child at the other side who had been warned about its bad behavior and who now needed a spanking because said behavior had continued unabated. That's how I found former councilwoman Angela Hunt, the lady who did her damnedest to kill the Trinity roll road and failed. Alas. I tracked FoF right to her. And it was Hunt who told me that I should go talk to Bob Meckfessel.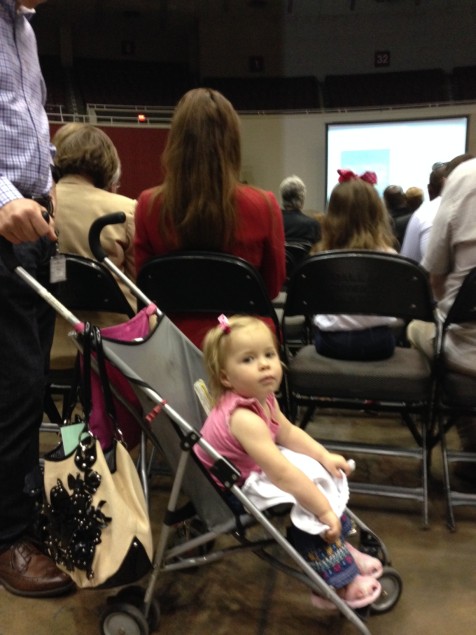 Who is Bob Meckfessel, you might ask? Meckfessel is a big-wheel architect, former president of Dallas AIA, current president at DSGN Associates, board member at the Trinity Trust. Too, Meckfessel was one of the most vocal supporters of the Trinity Parkway. He publicly debated Hunt over the issue.
Hunt said, "You should talk to him. I think he might be here to speak out against the toll road."
By this point, I'd learned that public comments would not begin at 7 o'clock. At 7 o'clock, a bunch of Halff-TxDOT-NTTA-generated jibber-jabber would commence, accompanied by PowerPoint slides, so many of them that a 20-minute recess would be required at their conclusion. And then folks would get a chance to air their grievances. More than one person told me that during the last such public hearing, Josh Hamilton hit four home runs, and the meeting was still going when the Rangers finished their game. Man, did I feel like a rook.
So when I found Meckfessel and asked him what he intended to say, and when he said, "You can wait till the public comments and hear for yourself," I told him, "No way, pal. I want to catch the Human Scale screening at Main Street Garden."
"Okay," Meckfessel said. "Here is what I'm going to say. I stress that I will say this as a public citizen and not as a member of any organization. I'm just a public citizen tonight."
"I get the sense that you're here as a public citizen tonight," I said.
"You understand that correctly," Meckfessel said. I didn't have a recorder. This is from memory. But here's what he said: "I supported the toll road. But now, as a public citizen, I do not. There are three reasons why. First, no matter what anyone tells you, this is not the road we voted on. It is wider and bigger and more intrusive.
"Second, we were told that the toll road was needed to make possible the other amenities in the Trinity River Corridor. We now know that is not true. In fact, the toll road has become an impediment to the other things we want to do.
"And, third, we're smarter now than when we approved this road. We've learned more about inner-city highways and the damage they do."
I'd like to stress that Meckfessel said this as a private citizen and that there's no way I can prove that the dankness of the Kay Bailey Hutchison Convention Center Arena is due to Jimmy Page's crotch. For the record.
So as not to appear rude, I stuck around until, oh, 7:12 before I made my exit. Poor Claire Cardona. For all I know, she could still be at the Kay Bailey Hutchison Convention Center Arena, waiting for something noteworthy to happen. As one person later said to me, the road people know how to conduct a public meeting. They front-load it with jibber-jabber and Led Zeppelin crotch. Then, by the time the mic opens for comment, most of the people who wanted to speak have grown tired of waiting and decamped to follow more pleasurable pursuits, like hitting themselves in the coccyx with a hammer.
Or, in my case, having a Dirty Dusty at City Tavern before screening a movie at Main Street Garden. Funny thing about that: two twentysomething dudes who had stood out (to my mind) at the public hearing walked into the bar behind me. Actually, it wasn't really funny. If one of them had been a rabbi and the other had been a nun, I think I could tell you a funny joke. Instead, I can only tell you that they had walked from the Kay Bailey Hutchison Convention Center Arena, and I had driven. Nonetheless, as I say, we arrived at about the same time. The dudes made fun of me for leaving the meeting early. I made fun of them for leading such miserable lives that they had attended a public hearing for a toll road on a Thursday night.
Then it was on to Main Street Garden. Again, I drove. Again, the two dudes walked. Again, we arrived at the same time. My conclusion: I should have asked for a piggy-back ride from one of those dudes. Also: cars!
Here's what you don't want to do after having come from a public hearing about a toll road: watch the movie Human Scale, the thrust of which is that cars and roads have already created the most dystopian future that anyone from 1900 could ever have imagined. It reminded me of Koyaanisqatsi, only with more talking.
Deeply depressed (or perhaps just overcome by the smell of dog urine, since Main Street Garden, owing to overuse, is now just one giant patch of dead grass and dirt and piss, demonstrating just how desperate Dallas is for parks), I went for a beer at City Park Cafe, which really needs to step up its beer selection. There I again ran into one of the twentysomething dudes who walks as fast as I drive. We struck up a serious conversation (that FoF totally tried to horn in on).
I'll leave you with this: the guy's name was Thomas Simpson. He graduated from Woodrow Wilson and went on to Princeton. He works at bcWORKSHOP. His dad was on the first DART board. For his undergrad thesis, Simpson wrote a 112-paper titled "Seeds of Sprawl: Street Planning and the Automobile in Dallas, Texas, 1900-1940," a paper he was kind enough to email me and which I look forward to reading over the weekend. That's the Dallas I want. The one where walking makes as much sense as driving. The one where density creates social interaction that fills your brain with smart ideas (and, yeah, a little ethanol). The one where life is organized on a human scale and not around automobiles, where rivers don't get walled off by toll roads, and where — above all else — former Senator Kay Bailey Hutchison can jam out to "When the Levee Breaks" without shedding a tear for having helped to drop a toll road in a floodplain.
UPDATE (4/27/14): Bob Meckfessel and I exchanged email. He confirmed that I did, indeed, quote him faithfully. He also let me know that he saw Jimi Hendrix, The Who, and Led Zeppelin at the Convention Center. He did not specify whether he saw those acts as a private citizen or as a member of a professional organization.
Get the FrontRow Newsletter
Get a front row seat to the best shows, arts, and things to do across North Texas. Never miss a beat.