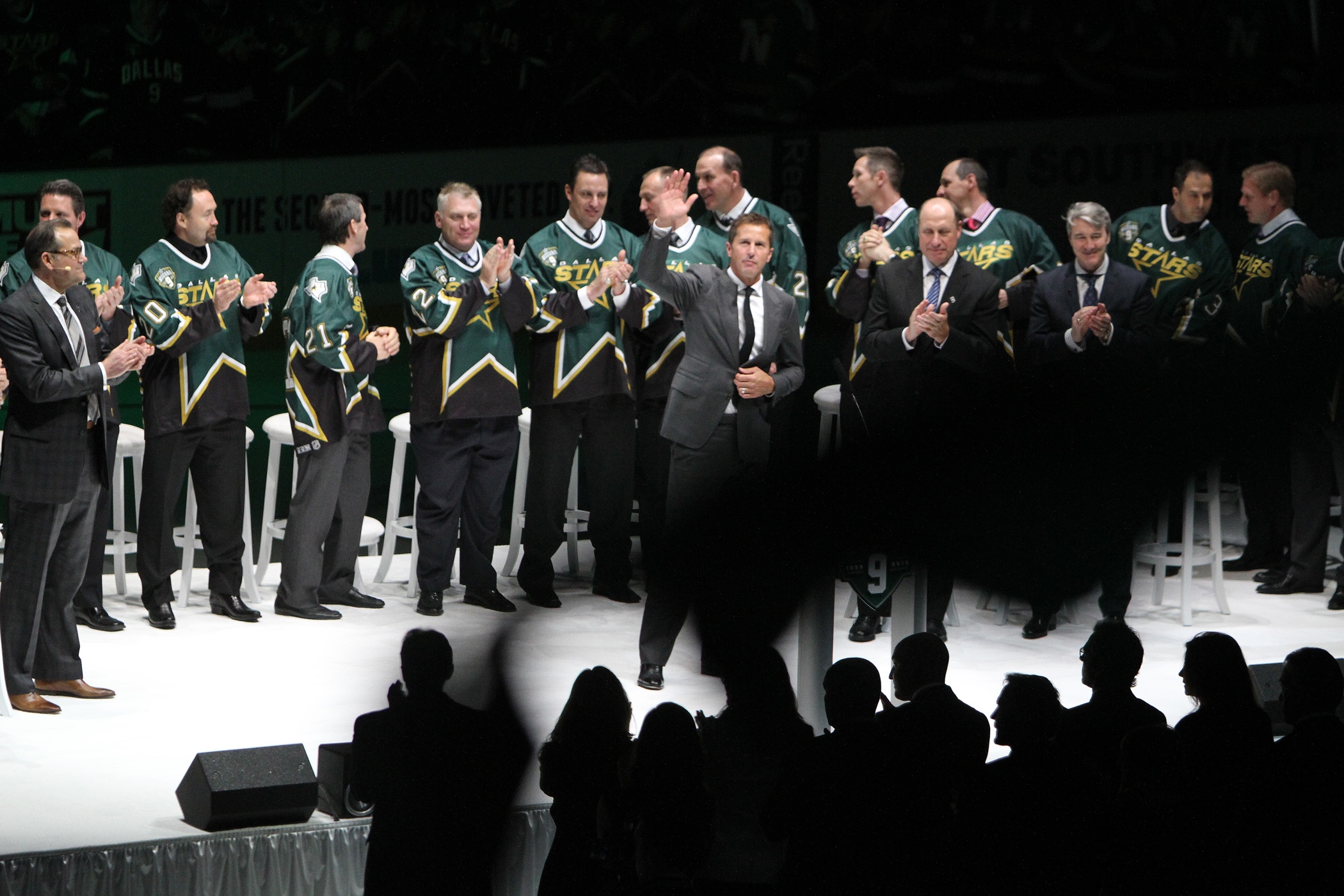 Why Dallas Loves Mike Modano and Why He Loves Us
As the Dallas Stars retire an all-time great's number, we count ourselves lucky to share our city with him.
Unsurprisingly, it was the Dallas Stars' long-time TV play-by-play man, the ever-eloquent Ralph Strangis, who summed up the finest night of Mike Modano's long and celebrated hockey career.
"For all these people in the building today, we love you," he said, sweeping his arms to encompass the sellout crowd of 19,000-plus gathered Saturday at the American Airlines Center. "Everybody here loves you."
Roughly an hour later, Modano, the finest player in franchise history and almost assuredly a permanent installment on our city's mythical Mount Rushmore of sports, watched his famed No. 9 jersey hoisted to the arena rafters, now retired in thanks for more than two decades of on- and off-ice excellence. It's the highest honor the franchise can bestow, and he joins Bill Masterson (19), Bill Goldsworthy (8), and Neal Broten (7) as the only players in team history to receive it.
The gravity of the moment wasn't lost on him; if anything, it overwhelmed him. When Modano, the most prolific American-born player in NHL history, finally stepped to the podium to speak after two hours of festivities, the resulting roar immediately swallowed him. It took a full minute and a half before the crowd stopped cheering, and even then, he could only manage a "Thank you" before the cascade started again.
What followed was like a bizarro presidential state-of-the-union address. Surrounded by old teammates, Mo would get through a sentence, only to be overcome by emotion, and the crowd would come alive in support; another sentence, another hand-to-mouth, another thunderous roar. Back and forth it went for a full half-hour, the love-love relationship the player and city have long shared on display like never before.
When he finally closed his comments with a heartfelt and tearful thanks to his family and fans, he was met by fellow Dallas legends Michael Young, Rolando Blackman, Dirk Nowitzki, Roger Staubach, and Troy Aikman. When Dirk bent down to give Modano a congratulatory hug, the Main Street-and-Main Street intersection of the moment sent the crowd into hysterics. Up the jersey went, and Modano, who holds dozens of different franchise records, entered the history books yet again.

I caught up with Mo later in the evening; he looked drained, but happy, and I almost offered him a chair when he started to lean into the wall we stood by outside his family's suite. I shook his hand, marveling at how a 43-year-old man with 21 years of NHL hockey on his resume could still look a decade my junior.
"These are not things that you put on the to-do list when you first start hockey," he said softly. "But it's funny how things work out, and you feel like you've been in one area for such a long time, your impact you feel like you had on two cities and two states for the game of hockey, being with one organization for so long …"
He trailed off briefly, then mentally worked his way back to the present. "It doesn't happen very often, but I've been pretty lucky."
It's no secret that Dallas is often a fair-weather-fan city — winning makes you a king, and losing just the opposite. But Modano's magic never seemed purely dependent upon his laundry list of successes. Indeed, though the crowd on Saturday roared at every mention of 1999's marvelous run to the Stanley Cup, those moments paled in comparison to fans' visceral reactions when he spoke of how much he loved the city. Our city.
That's why he came to mean so much of us here in Texas. He actually wanted to be here. And after more than 20 years of Dallas residence — even during his last full season, with the Detroit Red Wings — that passion was still evident. From his first date with us way back in 1993, the relationship was love at first sight.
"The way the people treated me, it was just a good mesh from the day I got off the plane," he said. "I just had a good time. I loved it. People treated me like one of their own, and I kind of grew up with the city, sharing knowledge and teaching the game of hockey to people, and introducing them to a sport that hopefully they will grow to love."

We did grow to love it, though sometimes that passion wanes when the team struggles, as it has as of late. Mo, who's now working with the team in an advisory capacity, spoke to that, too. He knows, as he seemingly always has, what the city needs from its hockey team, and sure enough, the Stars scored a badly-needed victory against the Wild a hour or so later.
As we wound to a close, and he prepared to leave for what was sure to be a memorable after-party, I stopped him for one last thought.
"I want to tell you a story," I said, gauging his reaction. "Years and years ago, you dated my now-wife's best friend."
I paused, a pause so pregnant you could have thrown a baby shower for it. The rest of that statement can go either way depending on the caliber of man you're saying it to, but Modano's face was untroubled, and I smiled, because I could tell him the happy truth.
"My wife and her friend both said you were nothing but a perfect gentlemen, and you treated all of them so well. They speak so highly of you … I always wanted to thank you for that."
He smiled, and we shook hands as he (correctly) remembered names and faces of all involved. We parted ways, he to the can't-miss event of the evening, me to my Dallas home for writing and a nightcap.
I wormed my way through the crowd awash in No. 9 jerseys and glittering breast pocket pins, the end of our conversation still tumbling through my head.
"I can't really see anything changing for the foreseeable future," he said. "It'll be status quo for me. I love it down here. My family is going to be raised here, so I enjoy it."
Just before I stepped away from the warmth of a Stars family 19,000 members strong, into the night's chill, I recognized that statement for what it was: exactly what I tell myself almost every day. Turns out we aren't that different, he and I.
And I think I can speak for an entire city on that one.