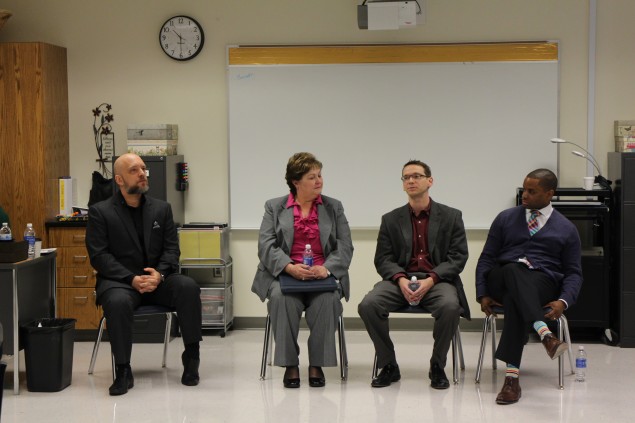 Today is D Academy's education day. We're holed up in a classroom at Barack Obama Male Leadership Academy. Students were telling me how they're learning Chinese and might go to Japan. I would like to do both of those things, but no such luck. In any event, as part of the day, Eric Celeste was set to moderate a panel with Mike Morath, District 2 Dallas ISD board member; Rena Honea, Alliance AFT president; and Tarik Ward, who is literally a rocket scientist but now works at Commit! I'm sure this panel would have been perfectly interesting if it had occurred a few weeks ago. But holy hell, it got interesting in light of the current home-rule discussion. Video to come, but for now, here are some highlights.
As we've discussed, last weekend brought news of Support Our Public Schools' creation and its push to turn DISD into a home-rule district. A 1995 state law makes that a possibility, but there are no home-rule districts in the state. Dallas would be the first.
Celeste, looking rather snazzy, kicked it off. It was impassioned from the intros, stats rolling off Morath's tongue – Only eight out of 100 students are ready for college coming out of DISD; 89 percent of students receive free or reduced lunch, an indicator of poverty and a statistic that puts DISD higher than anywhere else in the state. One positive: graduation rates are up. Wonderful, but everyone agreed something needs to change. How that should happen, however, was a point of contention.
"We've got to talk about what we can do for our kids," Morath said, mentioning that the school board is typically stuck debating things like vendor contracts for seven hours rather than talking about education. "Thank God this opportunity has come along for a city because it will give us a chance to do that."
Honea's response?
"Adults are playing games with children's lives." Legislators, she said, need to spend time in the classrooms to get an actual understanding of what education is rather than dictating from the top. The games, she said, stem from the lack of transparency surrounding the formation of this group and the entire petition endeavor.
"Why has this process been so secretive? When was the discussion started? Why wasn't it brought out to a whole lot of people?" she asked. No one answered. She continued. "If you're going to have a conversation, you don't bring it to the public first. The people are being asked to vote on something they know absolutely nothing about."
Like that, the unraveling began. To be fair, Morath has been studying up on this law for months. He knows it inside and out. Honea hasn't had that luxury. She found out, it seems, just like the rest of us this weekend. But there is no voting yet. And by the time it would come to a vote, voters would theoretically be informed of the proposal. How the process would work: petitioners must collect some 25,000 signatures. From there, the school board would appoint a 15-person panel, which must have at least four classroom teachers. That commission would draw up a constitution of sorts, and then it'd be put to a vote. Twenty-five percent of registered voters would need to show up at the polls, and a majority of that 25 percent would need to approve the suggestions. Then DISD would become a home-rule district.
"This is a great exercise in local democracy," Morath said, mentioning that to get this through, more voters than have ever showed up for a school board election would have to venture to the polls. Home rule would allow DISD to change its governance structure, would exempt the district from certain labor laws, and would allow for simple things like starting the school year before the fourth week in August. But what else? It's, as Morath said, a "big open question."
As with most complex issues, the conversation ended, though we could have asked questions for days, and the room was divided. People could sympathize with the plight of the teachers, who as Honea said, are blamed for everything and haven't been invited to take part in the conversation just yet. At one point, she appeared to be in tears. The teachers union and teachers contracts could both be up for discussion by the commission. That's a scary place for teachers to be.
I, myself, was tempted to call B.S. on a number of Morath's claims toward the end. Support Our Public Schools has been criticized for its lack of cooperation with the media since announcing the endeavor, to which Morath said the members perhaps lack media savvy and have been too busy working their day jobs to respond to every request. I find that hard to believe.
Regardless, this is a conversation worth having. Getting those 25,000 signatures would allow for that. The school board members Dallasites have elected would appoint that commission. And at the end of the day, if you don't like what that commission recommends, you could make that known with your vote.
Still, it's all just a little frightening. As most change is.
Get the D Brief Newsletter
Dallas' most important news stories of the week, delivered to your inbox each Sunday.