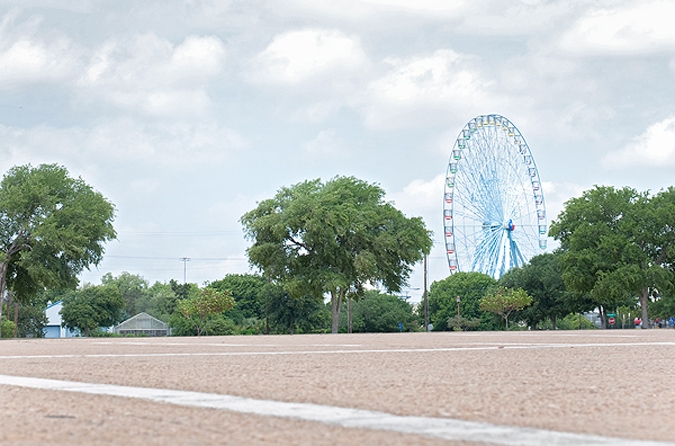 The 5 Goals That Should Top the Mayor's Fair Park Task Force's Agenda
We've been talking about Fair Park for so long, the agenda to fix it is really already laid out. All the task force should do is implement these five initiatives.
As someone mentioned in the comments to today's Leading Off, the Dallas Morning News reports that Mayor Mike Rawlings has created a new Fair Park task force, which will try to tackle one of Dallas' tired, old challenges: what to do with Fair Park. Never mind the fact that folks like the Friends of Fair Park will corner you with a knife in a dark alley and force you to admit that millions of people showing up every year to watch Scarborough Fair-types bludgeon Celtic blades in makeshift blacksmith shops somehow constitutes vibrancy (and deny that the Fair Park Comprehensive Plan has been rendered moot by 10 years of institutional leakage). I think anyone who actually goes to the park will immediately recognize what Jim Schutze recently described as a, "dusty, cobwebby Miss Havisham's wedding cake aura." And then there was that whole summer amusement park idea, which surprised a whopping no one when it turned out to be big, fat failure.
But this new task force sounds promising, particularly the mix of get-'er-done types it brings to the table (though I would have liked to see a few more representatives from, you know, South Dallas). I'm sure they're all stewing on some interesting ideas, but I'm going to make their job a lot easier. We've been talking about Fair Park for so long, the agenda is really already laid out. All the task force should really be doing is figuring out which goal should come first and how to muster the political will to tackle them all.
So here it is, the five things that will fix Fair Park:
1. Get a Mexican soccer team to play in the Cotton Bowl. Perhaps a surprising item for number one, but if you want to know why this is so important, check out this argument I make in the March D Magazine. And if you want to see the Cotton Bowl's potential as a top soccer venue, go see what happens when Real Madrid and A.S. Roma play there this summer.
2. Build mixed-use developments on the parking lots. As Patrick Kennedy wrote some time ago, the parking lots surrounding Fair Park isolate the public space and destroy any inter-connectivity with the surrounding neighborhoods. That kind of available land mass so close to downtown should be prime for development. Well-designed (ahem, this is the key) in-fill development would both bridge the park to the neighborhoods and provide a critical mass of people for whom Fair Park would be their front yard.
Neighbors will (rightly) fear that dense development around the park is going to ruin the surrounding neighborhoods through gentrification, so any development must be paired with a public housing initiative that promotes turning renters into homeowners, offers homeownership assistance and education programs, and grandfather-in existing property taxes. Oh, and if you say that the State Fair needs parking, I'll just counter with the fact that what the State Fair really needs is parking income. Back before those parking lots were built, temporary parking was created by local residents offering up their front lawns for fair-goers, injecting a few extra bucks in the neighborhoods. That, along with the requisite shared parking garages from the development, street parking, and increased transit use will take care of any fair-related parking issues.
3. Recruit a university, or a department of a university (preferably an art school) to take over some of the empty buildings in Fair Park. Fair Park is a campus, but its institutions have fled. Dallas needs more universities and more art schools. Jose Bowen, the dean of SMU's Meadows School of the Arts, is on the mayor's Fair Park task force, and he should be pushing to move some or all of the Meadows out of the Park Cities bubble and into the inner city. A large and well-funded artists' residency (located in the of the old museum facilities) would also work. The best case scenario would be a Meadows-funded artists' residency as well as a relocated art school. After all, before the recession, Savannah College of Art & Design was looking to relocate to Dallas. Time to pick up the phone and make some calls.
4. Tear down Interstate 30 and re-route it around South Dallas. We've been banging this drum for some time, and expect it to get louder as the conversations about tearing down I-345 heats up. The fact is, most American cities now realize just how detrimental inner-city highways have been to their urban vitality. It's time to take them out. The spur must go, but also I-30 through downtown and East Dallas. The best option is to re-route the road around the south of Dallas, so the park and the surrounding neighborhoods can be reconnected to the city. From what I understand, this was actually TxDOT's initial suggestion when it began work on rethinking the I-30 corridor a decade ago.
5. Green space. Fair Park isn't a park; it is a concrete campus. Campuses attract people when activity is programmed into the space. To attract people when the giant events aren't taking place, Fair Park needs green space: sports fields, meadows, places to picnic, run dogs, lounge and look at the skyline and do nothing. Plenty of the concrete in the park could be reclaimed and turned into green space. This was, after all, one of the goals of the shamefully under-implemented Fair Park Comprehensive Development Plan.
Okay, there it is, task force. Your five goals. You're welcome. Now get 'er done.