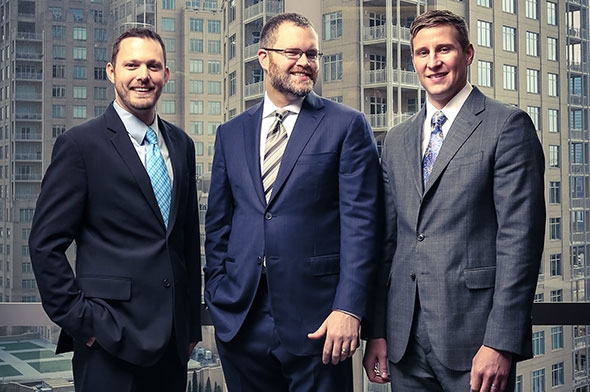 A year ago, when thirtysomething trial lawyers Brad Caldwell, Jason Cassady, and Austin Curry decided to break away from established law firm McKool Smith to start their own boutique firm in intellectual property, they had a very powerful marketing ally on their side: technology bloggers. Because the attorneys, now partners in Dallas-based Caldwell Cassady & Curry, had already won some high-profile verdicts against the likes of Apple and Microsoft, they had earned quite a following on the web. Devoted tech bloggers have charted the lawyers' every move, helping boost them to superstar status in the IP trial world. "It's been an unexpected but interesting source of publicity for the industry and for us as a firm," says Caldwell.
Bloggers are so fascinated by the lawyers' moves that they recently set the Internet ablaze when they thought Curry had missed a deadline to file a certain motion. When it turned out that the motion had been filed in time, everyone relaxed.
The interest is fired by the firm's client, Nevada-based security-software firm VirnetX Holding Corp. Caldwell, Cassady, and Curry were instrumental in securing the largest judgment ever against Apple—$368 million—after a jury found that some of Apple's technology infringed on publicly traded VirnetX's network security patents. And, in 2010, Microsoft was ordered to pay VirnetX $105 million in another patent infringement case.
Caldwell, Cassady, and Curry became fast friends as young lawyers at McKool, often going up against counterparts in court that were twice their age. "The key is to have respect for the older lawyers you are arguing against," Caldwell jokes, "even as you are tearing them apart." Adds Curry: "Yes, I was very respectful when I tore a professor to shreds in one VirnetX trial."
After the trio made a name for themselves, they were asked by VirnetX to break away from McKool, since potential conflicts of interest were looming with some of McKool's other clients. Leaving was a tough decision, but the split was so amicable that Caldwell, 35, went on to argue two pending cases alongside his former McKool colleagues. Cassady, 35, and Curry, 31, also each argued one case with McKool after they'd left, a situation which the three say is fairly unusual in the industry.
But as Caldwell Cassady & Curry, which has eight attorneys and three staffers, marks its one-year anniversary in January, the three partners are focused on settling in and growing their firm, which they hope to double in size someday. Meantime, they're content burning the midnight oil and eating tacos together in the kitchen of their new office in Uptown's Rosewood Court, as they discuss the status of cases for VirnetX and other big-name clients, including US Synthetic Corp. "What we do is stressful," Caldwell says. "But when it comes down to it, we're a family."
Get the D CEO Newsletter
Stay up to speed on DFW's fast-moving business community with weekly news reports, interviews, and insights.