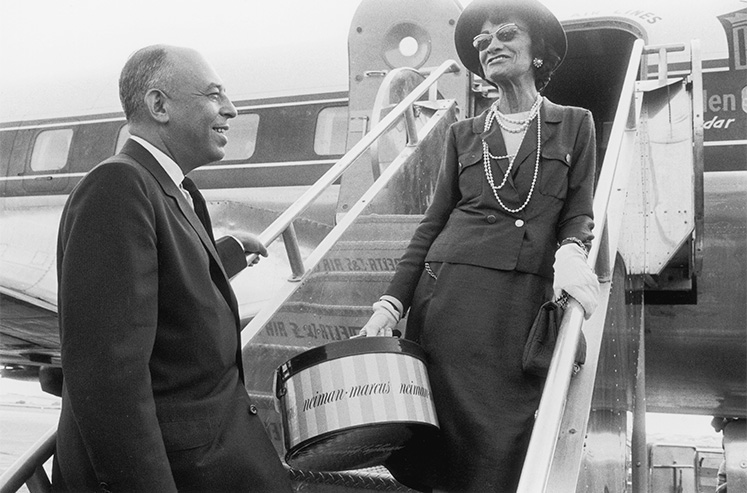 An alert FrontBurnervian pointed me to a story titled "When Stanley Marcus Invited Nazi Collaborator Coco Chanel to Dallas." It appears in Tablet, billed as "a new read on Jewish life." It was written by a fellow named James McAuley, a Marshall Scholar at Oxford. He's from Dallas. Ringing a bell? Yes, that McAuley. He wrote a recent essay in the New York Times about the JFK assassination with which some people took issue.
I knew about her liaisons with troubling characters (Hugh Grosvenor, an anti-Semite, and Hans Gunther von Dincklage, an operative of the Reich intelligence ministry who was 13 years her junior). But we've all made bad decisions driven by our pants, right? What I didn't know was how anti-Semitic Chanel herself was. And how she benefited from the war. As McAuley writes about Chanel's effort to drive her two Jewish partners out of the business:
[S]urvival was hardly the desired end of Chanel's wartime opportunism. Quite the contrary. In fact, the abandoned orphan who had fought her way from the strictures of a Catholic convent to the upper echelons of Parisian society seems to have seen in the war yet another opportunity for profit and self-promotion. Now was a moment in which she could finally capitalize on an anti-Semitism that had long been part of her worldview but had only recently become acceptable to advertise in public.
Now that Métiers d'Art has come and gone, and we've all had a good time line-dancing, the entire McAuley piece is worth a read.
Get the D Brief Newsletter
Dallas' most important news stories of the week, delivered to your inbox each Sunday.