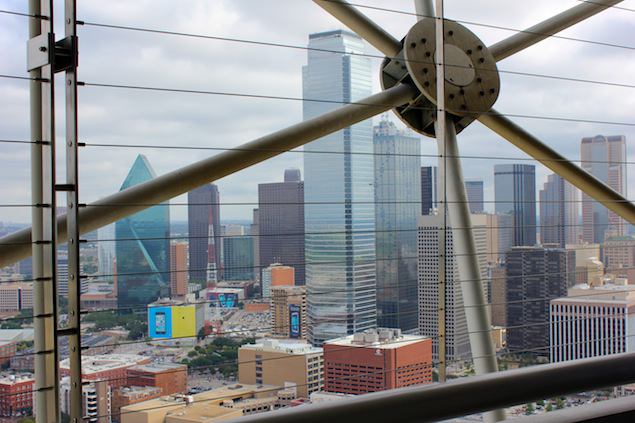 "Hi, welcome to the Reunion Tower," a woman in a blazer said when I got out of my car. She pointed me to the main entrance, where another woman in a blazer greeted me. I received instructions from two more blazer-clad employees to find the check-in for this morning's media preview of the observation deck at Reunion Tower, reopening this Saturday after being closed for renovations since 2007.
And it's got a new name: the "GeO-Deck," which, as Zac Crain noted, kind of sound like something built out of off-brand Legos). I learned that it was named for architect Buckminster Fuller's "geodesic sphere," but since if I've been referring to Reunion Tower as the "Dallas light-ball" for the past few years, I'm certainly not going to catch the homage.
A representative from the Richards Group, who handled the publicity for the event, guided me through the main floor. This is "how the guests will experience it." Don't get too excited. You walk to an elevator, but along the way you're photographed so they can Photoshop the Dallas skyline in the background. I stopped and awkwardly posed. This was much worse than that time I was way too old but my mom still made me pose with Cosmo the dolphin at the Atlantis resort.
Finally, I reached the elevator. I scurried in and enjoyed the view on the way up. Once we arrived at the GeO-Deck, more blazer-clad ambassadors welcomed us. They were very attentive.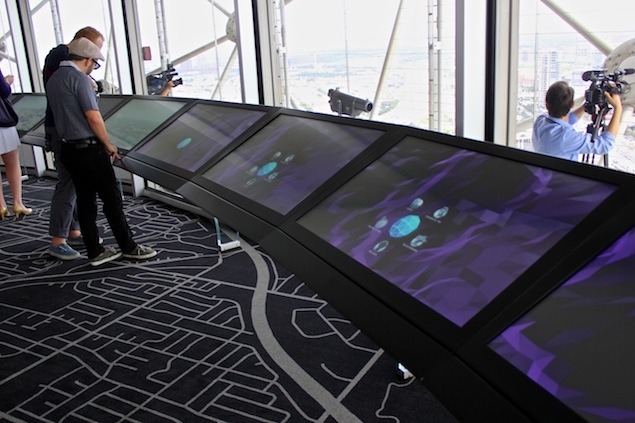 I turned the corner to find beautiful interiors. There are modern lighting fixtures that mirror the crosshatched exterior of the tower. The screens alongside the windows operate a system that allows guests to zoom in and out on live shots around Dallas. It's bizarrely addicting. Even if you can't yourself see window washers on a building in the distance, you have the capability to zoom in on them. How not creepy is that?
I hit a button and started playing a loud video when I realized that I'd become so overwhelmed by what was happening inside that I wasn't experiencing what I had come there for: the view. You know, what people paid for when Reunion Tower was just a concrete observation area and not the palatial "GeO-Deck."
I suppose this is just another drawback to technological enhancements. It detracts us from noting what we're experiencing in the moment, kind of like whenever you go to a Dallas Cowboys game and you find yourself watching that obnoxiously large television screen the whole time instead of the actual field.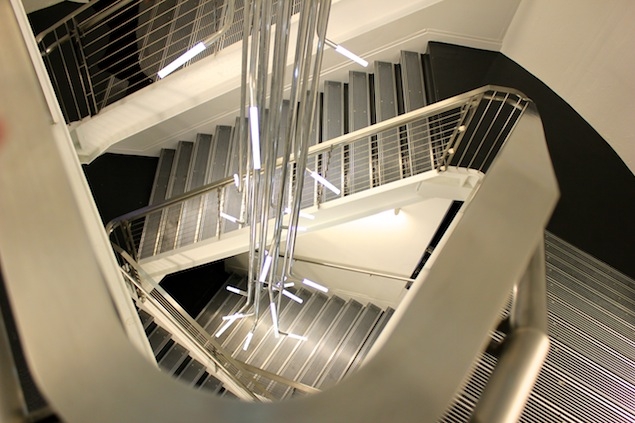 I stepped outside and walked alongside the railing. The mesh wire has been removed so guests can clearly see sights across this metropolis of ours. I breathed in fresh air and enjoyed being part of the Dallas skyline. Below, cars sped along congested highways, and ant-sized people shuffled down streets. Up here, it was perfect. If only my complimentary Photoshopped photograph of me in front of the overcast Dallas skyline could have realistically captured the moment.
Nina Bolka is a D Magazine intern. She graduated in May 2013 from the University of Missouri with a degree in science and agricultural journalism. She has written for Vox Magazine, interned at Vogue in New York City, and worked as a chef's apprentice in Florence.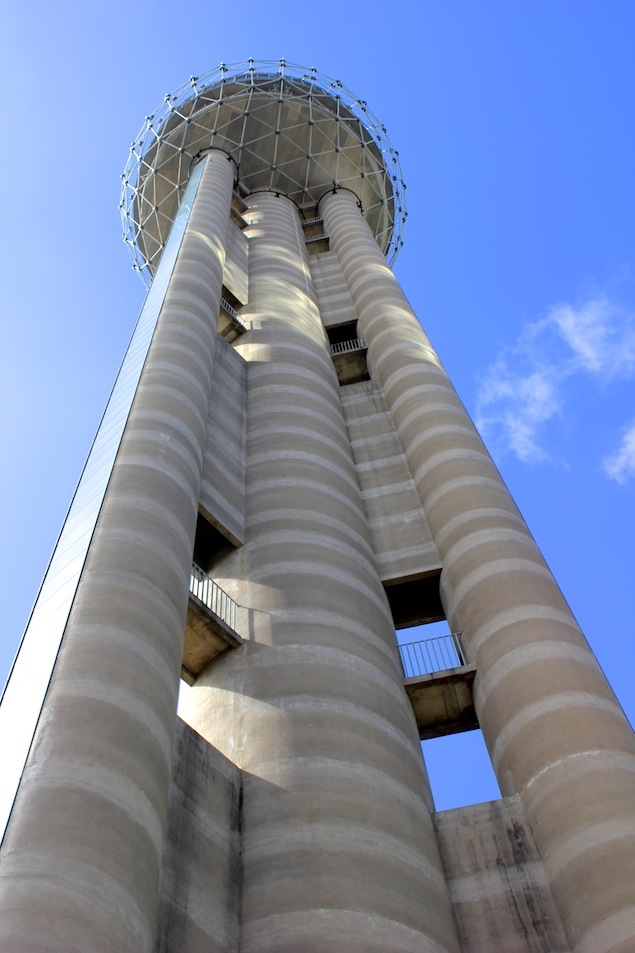 Get the FrontRow Newsletter
Get a front row seat to the best shows, arts, and things to do across North Texas. Never miss a beat.