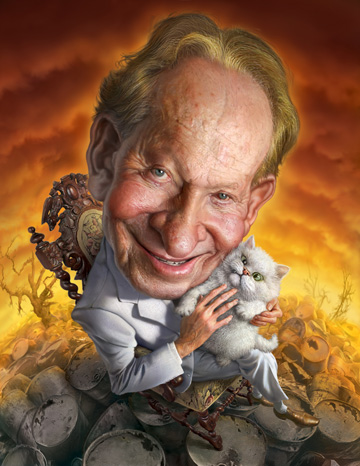 A bill filed recently by San Angelo Rep. Drew Darby would limit challenges to the West Texas radioactive waste dump owned by Dallas billionaire (and evil genius) Harold Simmons. The bill, according to the Texas Observer, is "a grab-bag of measures that would put up roadblocks for groups or individuals challenging the company even as it allows Waste Control to bring in 'hotter' waste."
"It guts the protections of that assure citizens get a fair hearing on any changes in the radioactive waste dump," Tom Smith of Public Citizen told the paper.
Darby has received $20,000 in campaign contributions the past two years from the dump's parent company, Waste Control Specialists. Darby's chief-of-staff characterized the bill as aiding "operational flexibility." Complicating the site's regulatory process is the fact that while it sits in Andrews County, the closest and most affected town is actually in New Mexico. (Here's a Google Map view of the Waste Control location, and Eunice, New Mexico. There's also a review of Waste Control that calls the dump's owners "Possibly some of the biggest criminals in the history of our state.")
"The upshot of this is that it allows the dump to be quickly filled by highly profitable radioactive materials from out of state," Public Citizen's Smith told the Observer, "enriching Harold Simmons now. As a result when we need the dump 30 years form now for the South Texas Project nuclear reactor or the Comanche Peak reactor, there won't be space."
Get the D Brief Newsletter
Dallas' most important news stories of the week, delivered to your inbox each Sunday.