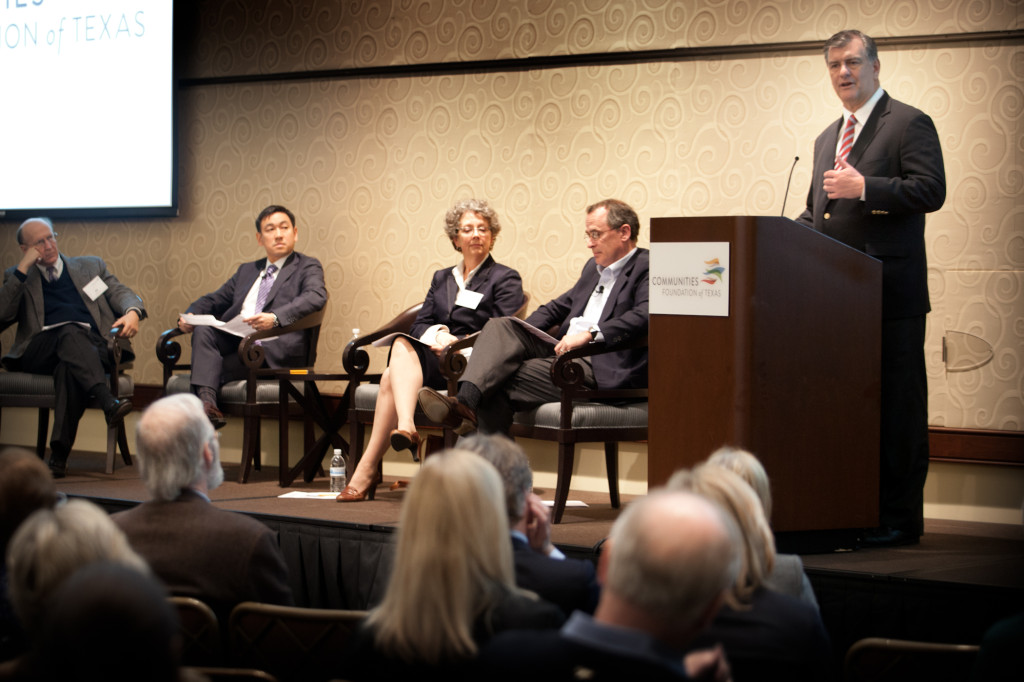 In celebration of its 60th year of fundraising and Dallas-area social investment, Communities Foundation of Texas launched a yearlong series of civic-oriented events yesterday with a panel discussion on Dallas education. Introduced by Mayor Mike Rawlings and moderated by Dallas Morning News columnist Bill McKenzie, the first of three "Cause-Minded Conversations" addressed how the public and private sectors are partnering to improve college and career readiness among Dallas students.
According to the CFT, only 20 percent of Texas students today achieve the post-high-school credentials that will be prerequisites for more than 60 percent of American jobs by 2025. It's numbers like these that must be publicized in order to enlist the public's support in achieving necessary and urgent change, argued panelists Regina Nippert, of SMU's Center on Communities and Education; George Tang, of Educate Texas, a project of CFT; and Todd Williams, of Commit!, a nonprofit aimed at improving school performance among Dallas County students. The major imperative of this generation of thinkers and workers in Dallas' education sector is how to avoid—in Rawlings' words—the "trap door" of a miseducated next generation.
McKenzie focused half of his questions on how specialists in the sector are using data to improve outcomes for Dallas students. Williams noted that numbers are crucial in unearthing trends—both favorable and disturbing—and pinpointing major leaks in the education system. This enables stakeholders to concentrate energy and resources where they can have greatest impact and to avoid an appealing, but wasteful, "spray and pray" method. Data, the panelists agreed, are how to scale individual success stories into system-wide best practices.
Oftentimes, this includes defying conventional wisdom. Williams discussed an experiment with single-gender middle schools in Grand Prairie ISD. The results were surprising (and, yes, a little amusing): in the single-gender schools, discipline issues declined significantly, attendance shot up, boys checked out more library books, and girls performed better on fitness tests (supposedly because they no longer dreaded breaking a sweat in front of the boys).
Problems abound in Dallas-area schools, but the panelists were confident that coordinating the resources and expertise of all stakeholders — public and private — and building strong working relationships among schools, nonprofits, experts, and philanthropists could yield tangible improvements. It is a time-intensive and sometimes maddening process, Nippert admitted. But, in the end, all parties must do everything to avoid that "trap door."
There will be two additional "Cause-Minded Conversations": on Wednesday, April 10, concerning disruptive innovations in K-12 education; and on Wednesday, October 9, on transforming higher education. Both discussions are free and open to the public. Dallas Public Schools Week is also taking place next week. Head here for more info.
Farraz Khan is a D Magazine intern.
Get the D Brief Newsletter
Dallas' most important news stories of the week, delivered to your inbox each Sunday.