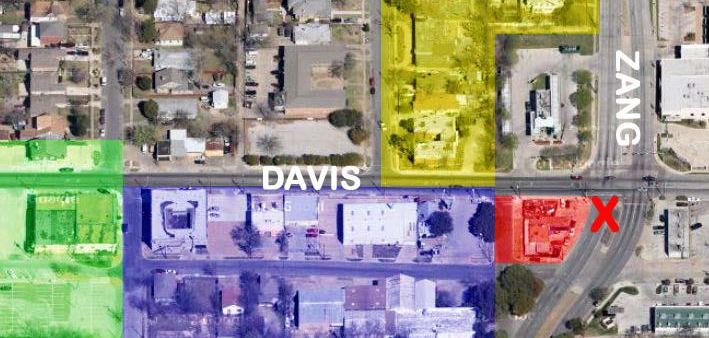 Last week, Roy Appleton reported that a stalled deal to purchase an old transmission shop at Davis Street and Zang Boulevard in North Oak Cliff was seemingly heading toward resolution. The city had been trying to purchase the property from Roy Smith, for use as a gateway park, welcoming folks into the burgeoning Bishop Arts District. Smith currently owns a transmission shop on the plot, which he bought in 1994.
David Spence, who owns commercial and residential property throughout North Oak Cliff, objected to the proposal last night, via Facebook:
GOOD SPACE OBJECTS, IN THE STRONGEST TERMS, to city hall's misguided plan to create a "Bishop Arts Gateway" at Zang & Davis, future location of a stop on the new streetcar line. The only failed component of Bishop Arts' streetscape project of 2000 is the district's graffitied, trash-strewn, abandoned "pocket park." We can guarantee the same result in this even more remote location: a "public space" which, in fact, belongs to and is maintained by no one. If the city has right-of-way it doesn't need and money to purchase and remediate an old filling station, then COMBINE THEM and entrust the new development site to private investors to create something swell to greet tourists disembarking from the streetcar. Mini-plazas produce weeds, not excitement or taxes.
Get the D Brief Newsletter
Dallas' most important news stories of the week, delivered to your inbox each Sunday.