Since sports and sports franchises are largely the result of people having eyeballs, liking what they see with those eyeballs, then paying to see those things again and again with those eyeballs, much of this post will be in video form.
There was the Delonte/Haywood tunnel dance:
The Two Dudes, One Carter night:
The strange report about a former Rangers reporter having a six-way, consensual gangbang in the showers at the ballpark:
Dez Bryant was in a bar fight, and maybe hit his mom with a hat. Meanwhile, Terrell Owens is still just sad. We learned that Jerry Jones can't clean his own glasses, or get into his own locker rooms. (Those same locker rooms may contribute 6.2 percent of the world's global warming, BTW.) A man shouted "GO COWBOYS" during his execution, meaning that, yes, the Cowboys are definitely still America's Team. And we learned that Tony Romo is only an average NFL quarterback.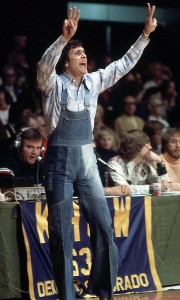 The Mavs couldn't sign Deron Williams, or re-sign Jason Terry or Jason Kidd, yet no one was sad when Lamar Odom left town. Someone claiming to be Dirk Nowitzki's brother filed a restraining order against Mark Cuban, stating in said claim that Cuban "put his tongue in my ear, and put his hands down my pants." There was also a lot of talk about Miller Lite in that restraining order.
Lance Armstrong basically said "YUP, you finally caught on," and the White Rock Marathon changed its name and its course.
The year really belonged to Josh Hamilton, though. He relapsed, he might've been the inadvertent star of a sex tape, then he shot out of the box in the opening months of the season. Then it all went to hell and he blamed it on chewing tobacco. When he was struggling, at least he was still meeting with George W. Bush, in the nude. But then he dropped that ball in Oakland, and he dropped the Rangers altogether.
At least we still have this shaking set of buns.
Get the D Brief Newsletter
Dallas' most important news stories of the week, delivered to your inbox each Sunday.