Local Defense Industry Invites You to the Trough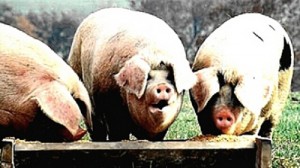 A cute invitation arrived last week for the annual North Texas Commission luncheon.  Wrapped in a manila folder and labelled "Classified," it announced the theme of this year's meeting: "Protecting Our Country. Defending Our Economy." The two presenting sponsors are Lockheed and Bell Helicopter.
"Protecting Our Country" means, of course, protecting our profits and our CEOs' salaries. "Defending Our Economy" means, do not under any circumstances cut the government spending that keeps our companies afloat. Most corporations have a fond attachment to government spending, but only the defense lobby is able to raise it to the level of Moral Imperative. (See this excellent analysis by the Economist entitled "Always More, or Else".)
We all know U.S. military spending outstrips the rest of the world combined. But since our $16 trillion debt does not seem deter Congress (or Mitt Romney, who has promised an increase) from spending more, perhaps a little satire will help. At the luncheon on September 20, some frugal patriot should donate copies of Christopher Buckley's latest novel, They Eat Puppies, Don't They, for the goodie bags. The great thing about a novel like this, centered as it is on the defense industry, is that people at the luncheon can play a game of which fictional character in it they resemble the most.