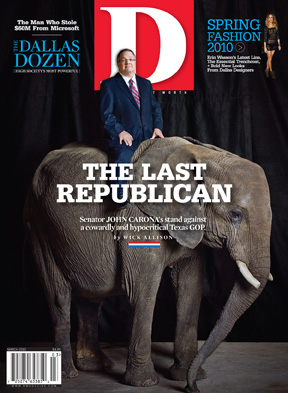 State Sen. John Carona of Dallas, the only man ever to appear on the cover of D Magazine astride an elephant, was accused by State Sen. Dan Patrick of Houston of spreading rumors about Patrick's marriage. Carona fought back with a dig about Patrick's sexual orientation as well:
"Though I have heard rumors regarding your marital status and sexual preferences for a while now, at no time have I told anyone that you are either separated, divorced or gay," the Dallas Republican said. "As you know, if you truly believed I had said something unflattering, you could have simply asked. I've never been shy about sharing my dislike and distrust of you. Put bluntly, I believe you are a snake oil salesman, a narcissist that would say anything to draw attention to himself."
Usually we have to listen to politicians speak in nothing but bland non-statements, so this is a nice change of pace.
Get the D Brief Newsletter
Dallas' most important news stories of the week, delivered to your inbox each Sunday.