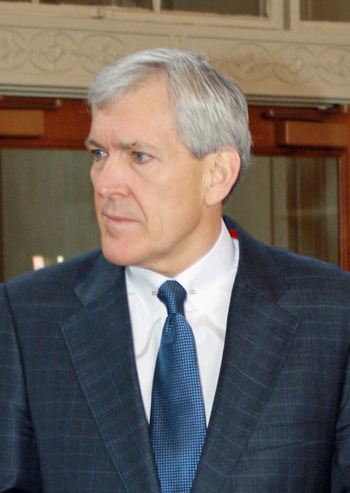 An advance copy of a new book about the failure of Washington Mutual says the giant S&L sought to off-load subprime and other risky loans as the housing market was unraveling and later suffered a crippling bank run, quietly losing nearly $17 billion in deposits en route to becoming the biggest bank failure in American history.
The account is timely and instructive because Tom Leppert, who's running for the GOP nomination for the U.S. Senate in Texas, served as a WaMu director and has touted his acumen as a businessman in the race. When we asked to interview the former Dallas mayor about the book and about his role at WaMu, spokesman Daniel Keylin said, "Tom would be more than happy to talk to you, but he'd obviously like to read the book first, which I understand hasn't been released yet. Tough to talk about the contents of the book unless you've read it."
Leppert joined the Washington Mutual board in 2005, before becoming mayor, and left it in 2009. He was a member of the company's audit and corporate relations committees and also chaired the board's governance committee. In debates and elsewhere Leppert has deflected blame for WaMu's failure, pinning it mainly on a sharp, unexpected drop in housing prices and on federal regulators taking over the bank even though it was still solvent. Those regulators seized WaMu in 2008 and promptly sold its assets to JPMorgan Chase. Meantime, investors in the bank lost at least $30 billion.
According to the book by reporter Kirsten Grind titled The Lost Bank, due to be released in June, Seattle-based WaMu morphed from an old-fashioned, Main Street savings bank into an aggressive purveyor of high-risk mortgage loans including subprime loans and so-called Option ARM loans, for which many borrowers did not have to provide any documentation. (Option ARM loans often start with low teaser rates, but can quickly demand substantial payment increases with negative amortization.)
At the end of 2005, nearly half the loans in the bank's $70 billion Option ARM portfolio were negatively amortizing, and an internal review found an "extensive level of fraud" in mortgages made at two of the bank's offices. That same year, according to the book, the bank's chief risk officer wrote to the executive committee that if the bank continued to make high-risk loans, the results for the company could be disastrous.
A year later, as the subprime housing market deteriorated, WaMu's chief financial officer ordered the bank's trading division to look at off-loading recent batches of subprime and Option ARM loans, Grind writes. As the "window" for such sales began closing, the bank's CEO also encouraged executives to sell off as many Option ARMS as possible. By July of that year, Grind says, the bank's bad loans had reached $5.5 billion, while its offloaded subprime securities had high default and loss rates — contributing to losses by the likes of investment banks, hedge funds and pension funds. Meanwhile, WaMu's stock price plummeted 60 percent in 12 months.
During its final days in 2008, Grind writes, the bank suffered a "crippling" but largely unreported bank run, as depositors withdrew $16.7 billion. One official said WaMu did a "good job of keeping the bad news quiet." In the fall, JPMorgan Chase snapped up what was left of the bank for $1.9 billion.
According to Grind, the bank's board of directors during these years leveled "criticism infrequently … and board members rarely punished executives for wrongdoing. They sat through numerous audit reports and internal reviews detailing fraud in WaMu's subprime mortgage division. They … approved [the CEO's] higher-risk lending strategy."
The directors were well-paid (Leppert's 2007 compensation from WaMu amounted to $137,676, the Dallas Morning News reported) and were amply "warned over the years about the possibility of a real estate market crash," Grind writes.
In the end, she says, a "review conducted by the Offices of Inspector General for the FDIC and the U.S. Treasury Department concluded that WaMu failed because of its high-risk loan strategy, a strategy made worse by the bank's liberal mortgage underwriting and poor oversight of its operations."
So, had he been willing to answer them, our questions for the former Dallas mayor would have gone something like this:
–How aware were you of the fraud problems noted by the internal review and, if you were aware of them, how did the board deal with the problems?
–What was your reaction to the CRO's warning against the bank's higher-risk loan strategy?
–Were you aware of, and did you approve of, the moves to off-load the subprime and Option ARM loans to other buyers?
–What was the board's response on learning of the billions of dollars lost during the bank run?
–If you were not aware of these various warnings and developments, do you think a deliberate effort was made by the bank's management to keep you and other board members in the dark?
–In general, what level of responsibility do you think board members bear for a company's success or failure?
–Should committee chairmen have a higher level of responsibility than other directors?
Answers to these questions, I guess, will have to wait until the former mayor reads the book, presumably sometime after next Tuesday's primary.
Get the D Brief Newsletter
Dallas' most important news stories of the week, delivered to your inbox each Sunday.