Curiosities From the Current Issue of FD Luxe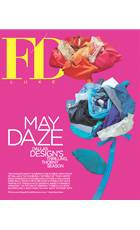 I'm thumbing through the May issue of FD Luxe. No kidding, it looks swell. But something(s) caught my eye.
PAGE 16: Full-page advertisement for Museum Tower. Headline: "The Consummate Expression of Artful Living." Ad copy: "Destined for international recognition, Museum Tower offers a selections of elegant residences each with floor-to-ceiling windows and panoramic city views. Lavish designer appointments and state-of-the-art appliances add character to each gracious living area …"
PAGE 20: Full-page story by Christopher Wynn about the three interior designers at work in Museum Tower. Subhead: "What are Dallas designers doing inside the city's most buzzed-about residential building? See for yourself." Accompanied by pictures of interiors. Copy notes that residences start at $1.4 million.
PAGE 40: Two-page story by Scott Cantrell laying out the problem with the light and heat reflecting off Museum Tower and how it's "frying its neighbor" the Nasher. Excerpt: "Frankly, Museum Tower is just what the Dallas Arts District didn't need: a giant, walled-off tower for the rich, reinforcing notions of the district as a playground for the elite."
One wonders if Museum Tower got what it bargained for in the pages of the May FD Luxe.