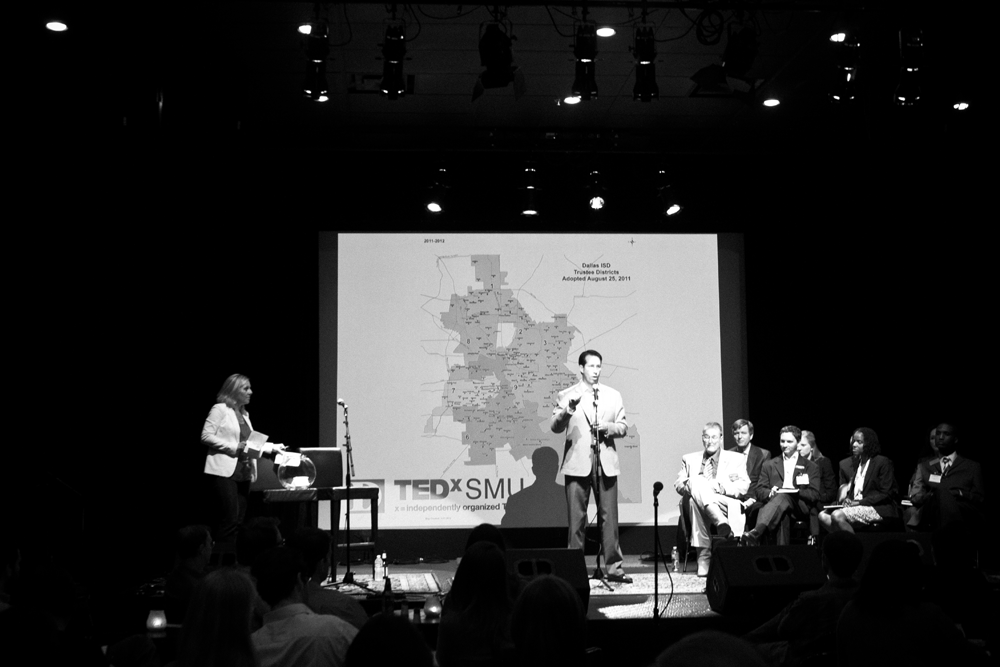 We handed out scorecards to the 100 or so people who went to last night's education forum at the Kessler Theater. We asked the audience to grade the candidates on their answers to their randomly drawn questions. They were given only three minutes. Here's how the candidates did:
District 1
Michael Greenberg: 85.31Â Â Â Â  Elizabeth Jones: 84.98Â Â Â Â  Jennifer Levy: 78.78Â Â Â Â  Roland Love: 79.48
District 3
Dan Micciche: 82.98Â Â Â Â  Bruce Parrott: 68.49
District 9
Bernadette Nutall: 82.56Â Â Â Â  Damarcus Offord: 35.81
To read the questions and answers and to decide how you would score them, jump.
Roland Love
Tim Rogers: Tell the one thing that you can change in the first six months that will make a big impact on DISD. It has to be practical. No philosophical answers, please.
Roland Love: Since I was an engineer, I'm not very philosophical. I do think that there are a number of things that we can do in the first six months, but some of them are pretty simple. I think we need to review what we have on Ross–what we have in the way of administration; where we have extra capacity; where we have redundancy; where we have accounting software; where we are running separate programs that should be integrated. There are a lot of things we can do on an efficiency basis, which will address the primary issue we're going to have, which is the shortage of funds. That is going to be the number one issue that DISD has to face. We're going to have to develop a working relationship with the superintendent. I would begin by finding deficiencies within our systems. Probably right there with it, is start putting very top-notch principals on our campuses, because that's where it needs to be at the end of the day–strong principals with good teachers. I think that's why I was able to go to A&M. When I got there, I felt like I was prepared as anyone else because I had come from a high school that had great teachers and a good principal.
Jennifer Levy
TR: DISD made headlines recently when a teacher was suspended for sending a critical email to trustee Edwin Flores (not running) about the board's decision to extend teacher workdays. The teacher wrote: "We get dumped on by administration each day, cursed out by students, (TR: My mother's a 35-year retired DISD teacher, I can tell you this happens all the time) yelled at by parents, receive very little respect from the community, work long hours, and receive meager pay. First, how would you handle such an email? Second, what will you do to support teachers and boost morale?
JL: I think what I would do is I would understand, as a school board trustee, that people react a lot of times out of emotion rather than thinking. And I think that's one of the things that as a trustee, we have the responsibility to do. When getting an email like that, I can completely understand, as a parent, how they feel. If someone should threaten your family or your livelihood, we react emotionally to that. I think as a school board trustee, what I would try to do is really step back from the equation, give myself some time, and figure out what the best way to react to something like that is. I think the message from this question is what am I going to do as a school board member to improve teacher morale? I think the answer to that is we need strong leaders within our schools. We need strong leaders in every school, not just a couple of them, but all of them. And we need them to be there. We need them to be involved. We need them to be on the front lines of education. The other thing we need in DISD right now is we need a strong human resources department. If you start to look within the district, you'll see that our human resources department is very slim right now, even the number of employees. We need a good way to recruit teachers. We need a good way to recruit all school staff and to retain them over time. We are using talent pipelines right now, such as Teach for America, which is a great opportunity for Dallas and provides a lot of great teachers, but it's not the answer. Because we need people who are there long-term and we need teachers that can mentor these new teachers that come in from such a great, unique program.
Bernadette Nutall
TR: Mayor Rawlings has spoken passionately about his support for charter schools. DISD board president Lew Blackburn has said he wants to see more of them. In fact, he wants to turn one of the recently 11 shuttered DISD schools into a charter school. A lot of people don't see the logic here. Should DISD be competing with charter schools or working with them? Either way, how should DISD do it?
BN: Yes, Mayor Rawlings has talked a lot about charter schools. I think it's going to take all of us working together. Parents have options. And it's a parent's choice where they choose to send their child. I think we can learn from charter schools. I think working and learning from the culture that charter schools create. I served on the charter school ad hoc community. I had the opportunity to go to L.A. and the opportunity to go to Houston to see what Houston is doing as far as their charter schools, as well as L.A. L.A. has it figured out. They're working together with charter schools, and figuring out how they work. You have to realize we have 157,000 students, and we've lost, in the African American population, over 10,000 students. They're leaving us. So we have to figure out how do we work together? We can't continue to work against one another. We have to figure out how to work together. We have to look at the best practices of charter schools. Look at what they're doing good. There are some good things we're doing at DISD, and share that resource and work together. One thing I know, a lot of my girlfriends' children attend charter schools. They create a culture. And we can learn from that culture. A culture like Teach for America. A culture that every child can learn, and they believe in that. So those are some things that we can figure out and learn. But we have to learn to talk to one another. Children are hurting when we don't talk and communicate and collaborate and work together.
Damarcus Offord
TR: Fifteen years ago, DISD had 60,000 Hispanic students. Now it's 105,000. That means 68 percent of the district is Hispanic, with half of those kids–more than 50,000–classified as ESL. They hear only Spanish at home. How does DISD meet the challenge of educating these kids?
DO: The thing about it is, number one, we must educate all students, regardless of the backgrounds of those students. I can't give you specific details. A lot of times, candidates don't have information that other trustees are given. So I can get back to you on that question.
Michael Greenberg
TR: Certain members of the school board and the superintendent have, let's say, not always enjoyed the warmest of relations. The new superintendent (assuming he gets the nod), Mike Miles, has had an interesting arrangement with his board in Colorado Springs: there, the board's communication with the public is restricted by a code of conduct approved by the board. Board members are barred from making negative statements about the superintendent or the district's staff. The idea is to "criticize privately, praise publicly." Would you be comfortable adopting such a code of conduct here in Dallas?
MG: I would not be in favor of that. What I would expect is the trustees have an agreement to work together. I think there are some freedom of speech obligations that are important in public office. I think there are times when trustees have the responsibility to say and represent their feelings and their beliefs. I know of one trustee in particular that would be very against that particular policy. It shows a lack of trust that you can't trust the trustees to keep their mouths shut in certain situations. I think, with the board, you've seen some episodes where they'll freely go to the press and say something they wish they hadn't. I think there has to be a responsibility for the trustees to be responsible for what they're doing. And they always have to remember that the first thing to do is to get the best teachers in the classroom for the kids. If they feel like they have to go out into the public and to the media to bash a fellow trustee, I think that's misplaced, and it doesn't push the goal of educating our students. I would not be in favor of it. I understand the intent. I would be happy to talk to superintendent Miles about that experience and what that was about. But my initial reaction would be to not support something like that.
Bruce Parrott
TR: What role–if any–should local business leaders play in helping to improve DISD? Be specific in your answer.
BP: Well, business is always telling us they want to get involved. I think they have a real big role. I would appreciate it. One of the things we can use is their input. Dialogue with the trustees. In my case, my door is always open. My phone number is on the website. I'm the only trustee that has my home phone number on the Dallas ISD website. It would be great if they could get involved and help with fundraising. Good example, I would love for them to help raise some resources so we could bring in Teach for America, rather than the district using operating funds to bring that group in.
Elizabeth Jones
TR: Middle schools are a major problem for both student behavior and performance. A recent Harvard study–you're on the board of MIT? We're going to expect you to have read this. A recent Harvard study showed a huge drop off in performance when kids made the transition from elementary to middle schools. Districts across the US have dealt with the problem by simply eliminating that transition. They've closed middle schools and gone just K through 8. Whether or not you've seen the Harvard study–again, we expect you've read the Harvard study–is this a course DISD ought to take, and what would the hurdles be?
EJ: That's a terrific question and I've got one of the foremost experts sitting right here in front of me, who's been very passionate about this issue and who has not only researched it but has provided us with some very good data. And, yes, I have taken a look at the study. I think there are a couple of things to bring about. One is that it really depends on a number of factors. We have, for example, K Montessoris right now that function as a wonderful way in which we embrace the learning that starts early and keeps kids centered in the community. And I think the first issue to bring out is that, to the extent that anything enables students to be vested in a community, we have an opportunity for real growth and development and learning. Part of our challenge, if you look at the matrix of our city, actually of the district–not just Dallas, but the 16 jurisdictions that flow through it–you also have the challenge of where middle schools are located, where elementary schools are located, and where people are located. And right now part of the challenge in moving people around and in changing demographics is that we tend to lose kids from the feeder patterns as well as where they end up living because we don't have a middle school that appropriately would be geographically a place where they can find a good balance transitioning from the elementary school to the middle school. So, yes, I think there is a lot of merit to wanting to keep kids in one place, and to help them make those transitions.
The second thing I would say is we do have some creative programs in middle schools that do help kids get better traction. Marsh Middle School up in north Dallas has a tremendous relationship with the elementary schools, but, more importantly, has programs geared toward kids to keep them in school and also surrounds them with a very strong sense of community. So I think that, to the extent we can align our feeder patterns, starting with the high schools, going all the way back down to the elementary schools, we have an opportunity to do a much better job of serving our students more productively and also keeping them from dropping out. That alignment between the principals as well as the communities is a critical part of that, and that is another opportunity, or another innovation, that we could be looking at with respect to our current situation. But I do think there is a lot of merit, studies do say that we should consider taking it on, and I know with Dealey Montessori, for example, some very great results.
Dan Micciche
TR: Do you think the Mavericks signing Lamar Odom was a mistake?
DM: No, I don't. I think he'll come around.
TR: Okay, here's your follow-up question. In light of the subpar performances of many DISD schools, would you consider cutting athletic budgets and shifting those funds to teacher salaries and math and science enrichment programs?
DM: I think we have to take a look at all of our spending priorities, but I think that one of the things that we really have to do to help deal with the budget gap is to involve the nonprofits and the businesses into our school system to help fill the gaps that are there both in terms of money and lack of parental involvement and parental engagement. I think when you look at the athletic budgets, there's a lot more to being in school than just studying and studying the basic subjects, that part of being at a school, and part of the athletic program is to build school spirit and learn teamwork. I think I would take a look at it, but don't think that I would automatically just cut that out from the bottom.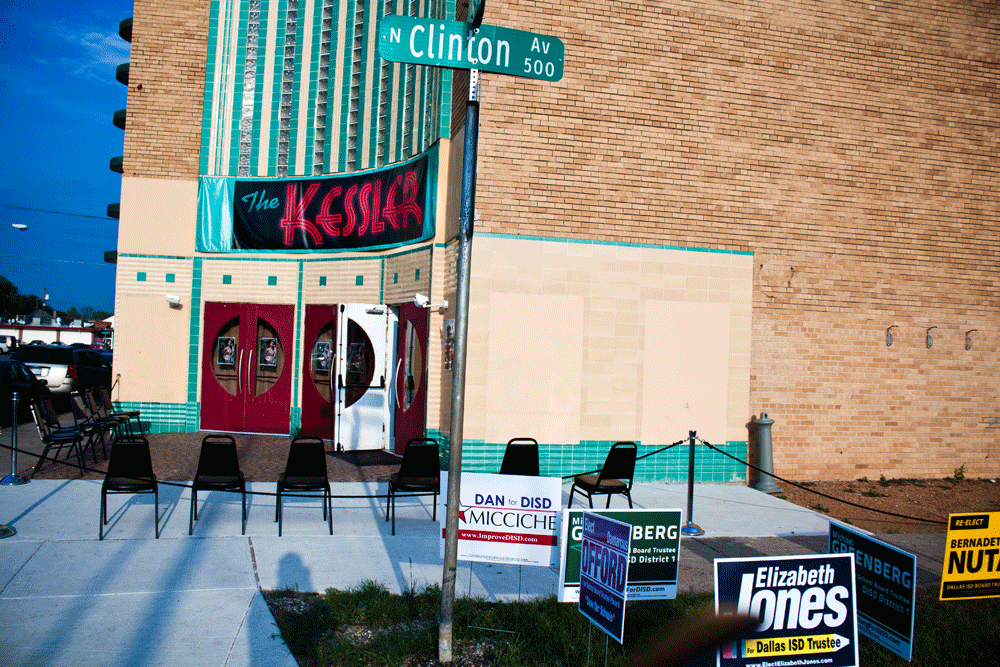 Get the D Brief Newsletter
Dallas' most important news stories of the week, delivered to your inbox each Sunday.