When someone proposed naming something like a street after him, Stanley Marcus used to decline with thanks. He'd hate to hear, "Man murdered on Stanley Marcus" on the evening news, the retailing legend would chuckle. Then he'd add, "I'd much rather have a statue" — which only the pigeons could desecrate.
Mr. Stanley's view came to mind when businesswoman Ebby Halliday helped dedicate the relatively new Ebby Halliday Elementary School in southeast Dallas today, on the occasion of her 101st birthday. That school, you might recall, was rocked last year by allegations of abuse by staffers against some of its Hispanic students.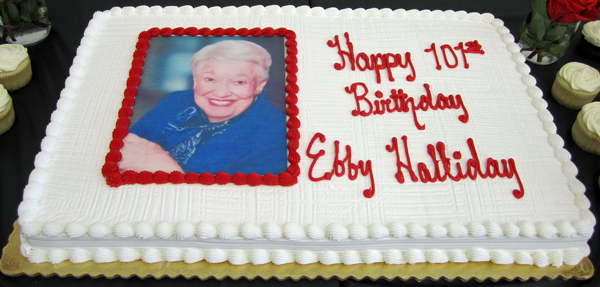 Given the scandal, has Ebby had any second thoughts about lending her name to Ebby Halliday Elementary School? "No," the real estate doyenne replied as she walked into the school off Teagarden Road this afternoon. "I thought that it would be ironed out."
Inside the auditorium, school staffers, students and parents, officials, and friends and associates from Ebby's real estate company had packed the hall for a 30-minute program. The school choir sang "Happy Birthday." State Sen. Royce West said Ebby was a good inspiration for the students, since she had overcome adversity in her life by doing the best she could.
It was announced that $6,500 raised at another birthday celebration for the Realtor would be donated to the school. Ebby's company presented the students with old-fashioned rulers saying, "Follow the Golden Rule. — Ebby." Half Price Books, someone added, would be giving the school library 1,000 books.
Then Ebby stood up and addressed the gathering herself. "I attended a one-room school near our wheat farm in Kansas," she recalled. "All eight grades were taught in one schoolroom.
"Thank you for the privilege of having a wonderful elementary school named for me. What a marvelous facility this is, and what a wonderful education you will receive," she continued. "I encourage you to go on learning, as I have, all your life.
"Thank you for having my name on this wonderful school, and good luck to all of you. We are so proud of you and the people that made this school possible. Thank you, thank you, thank you."
After that everyone adjourned to the cafeteria, where they cut a sheet cake that Dwana Smith from Par-T-Trayz Catering had made for the birthday girl.
Get the D Brief Newsletter
Dallas' most important news stories of the week, delivered to your inbox each Sunday.