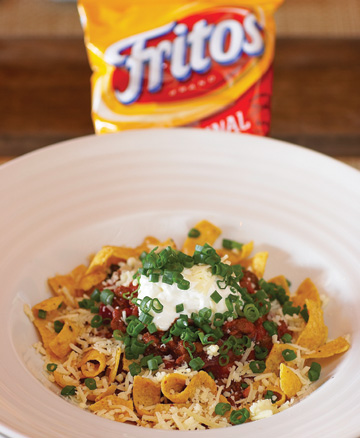 While the organizers of last year's North Texas Super Bowl are wondering why the football gods couldn't have delivered us the weather we're having this week in 2011 – instead of the Snow-and-Ice-Mageddon we got –Â Smithsonian.com reflects upon another Texas contribution to our country's annual orgy on football and new television commercial campaigns: the Frito.
Those little fried corn chips were given birth in San Antonio in the 1930s, and they remain a cornerstone of business for the Plano-based Frito Lay company, which owns the trademark for the "Frito Chili Pie": officially a "packaged meal combination consisting primarily of chili or snack food dips containing meat or cheese corn-based snack foods, namely, corn chips."
But Smithsonian traces the true roots of Fritos much further back in the history of the Americas:
As much scorn and derision as today's leading nutritional gurus heap onto processed foods, it's worth noting that Fritos arrived here by way of a Mesoamerican staple and their invention and flavor owes a debt to one of the greatest food processing technologies ever invented: nixtamalization. The 3,000-year-old tradition adding calcium hydroxide–wood ash or lime–so greatly enriches the available amino acids in masa corn that Sophie Coe writes in America's First Cuisines that the process underlies "the rise of Mesoamerican civilization." Lacking this technology, early Europeans and Americans (who considered corn fit for slaves and swine) learned that eating a diet exclusively based on unprocessed corn led to pellagra, a debilitating niacin deficiency causing dermatitis, diarrhea, dementia and death.
Just a little something to think about as you're dipping your chips this Sunday.
Get the D Brief Newsletter
Dallas' most important news stories of the week, delivered to your inbox each Sunday.