Gen. Richard B. Myers, who led the U.S. into war in Iraq and Afghanistan, thinks the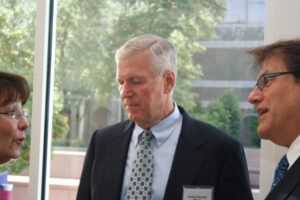 government ought to be better organized to fight "the war on violent extremism." Speaking at the Belo Mansion in Dallas today, the former chairman of the Joint Chiefs of Staff said the secretary of defense, for example, has no authority over the state department, or the justice department. That means that "we don't have anybody in charge," Myers said. "It can't be the president," because he has too many other things on his plate.
The country's founders "didn't want our government to be very efficient," Myers said. "So they ought to be very happy right now."
The retired Air Force general (pictured above, in middle) also said that Iran is a serious threat to funnel nuclear weapons to terrorist groups like Hezbollah. And he warned that, unless it's resolved, the U.S. fiscal crisis could greatly diminish the country's status as a world power: "We may not need to be the world's policeman, but we have to play a significant leadership role if we want the world to be a better place." Myers was speaking at a luncheon benefiting MediSend International, a Dallas-based group that sends medical supplies and biomedical repair equipment to developing countries including Haiti, Uganda and Kazakhstan.
Get the D Brief Newsletter
Dallas' most important news stories of the week, delivered to your inbox each Sunday.