Traditional-country-music icon Johnny Bush, who penned the Willie Nelson anthem "Whiskey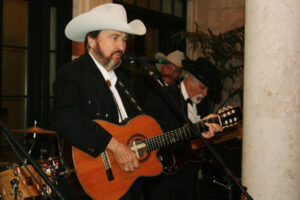 River," says today's Nashville producers have "tied the hands" of C&W songwriters. "You can't say anything bad about the woman. You can't talk about drinking anymore," Bush said. And that's a problem because true country music has traditionally been about such "real-life situations," he added.
The Houston-born, longtime resident of San Antonio (pictured) was in Dallas Saturday to play a private fundraising party for Dallas' Museum of Biblical Art. During the party the art museum unveiled a series of 14 planned, life-sized religious sculptures by artist Gib Singleton. Bush said the backyard bash for 275 guests–held at the spectacular, Desco Drive mansion of charity benefactor Faye Briggs–was "probably the biggest private party I ever worked, of this stature. … This is a pretty high-class soiree." Read more in the Q&A with Bush that follows.
FrontBurner: How did you happen to play this party?
Johnny Bush: Gib did a sculpture of "Whiskey River," and it was presented to me in Dallas about four or five years ago. It doesn't look like me–it's not supposed to–it's a cowboy with a guitar. I have it in my den. It's about 24-inches high.
Have you previously been associated with the biblical art museum?
Yes, with Paul Zuger [an art-gallery owner who represents Singleton]. I met him in Denver, and worked for him in Santa Fe. And his good friend, [art patron] Dr. Wayne Yakes, is a good friend of mine. [Coughs.] It's cold out there! I can't feel the strings. I came down with a cold last night.
I promise to keep this short. How did you come to write "Whiskey River"?
I'd just signed with RCA, at the time the largest record company in the world. My new producer there was Jerry Bradley, the son of Owen Bradley. He said, 'Well, what we gotta do now, Johnny, is for you to write a song.' I said, 'I was never known to be a songwriter. Of all the songwriters in Nashville, like Willie Nelson and Hank Cochran and Harlan Howard and Bill Anderson, you want me to write a song?' He says, 'Yeah.' Well, the ball was in my court. So goin' back home [to San Antonio] from Nashville for the disc jockey convention that year, we had a date in Texarkana, Texas, coming back. And on the way back home I woke up with the idea and wrote that song.
You just woke up with it?
Well, I was kind of forced to do it. Usually a writer has to be inspired first. If that was an inspiration, it was a forced one! When I got back to San Antonio, I called Willie and sang it to him on the phone and he liked it. To me, he's the greatest songwriter of our time. He says, 'It's great.' I said, 'It only has one verse and one chorus.' Usually a song has more than one verse. He said, 'Well, you've already said what you needed to say. Just turn it around and say it again.' So I did. And I had a No. 1 song with it, and I put it with his publishing company. Since that time, he's recorded it about 27 times. So he must like it.
Has it been lucrative for you?
Oh yes, very. Very. Very.
How many days a year are you out on the road, playing dates?
Not as much as I did in the '60s. And not like Willie, of course. But, enough. Probably 100, 150 days a year. I'm 77 years old, and everything's paid for. So if the money's right, we go. And if it's not, we don't go.
What do you think about the contemporary country music scene?
The new country? I'm trying to keep a positive point. I think it's pretty obvious, the big change. There's no traditional country out there anymore. And true country music is about real-life situations. And, that being said, that's why the divorce rate is 50 percent. So half of that, somebody's hurtin.' The new producers in Nashville have tied the songwriters' hands. You can't say anything bad about the woman. You can't talk about drinking anymore. But that's life, you know. So when they start writin' and recording things like, 'She thinks my tractor's sexy,' you've lost me.
But you're still upholding the tradition.
Yeah. I've got two new CDs out now. I still record traditional country music, and I will as long as I'm able to breathe.
Get the D Brief Newsletter
Dallas' most important news stories of the week, delivered to your inbox each Sunday.