It's a good thing today's sneak peek/"Topping Out Ceremony" at the George W. Bush Presidential Center on the SMU campus took place early in the morning. Because that's when the guy who served as the main tour guide–world-renowned architect Robert A.M. Stern–really comes alive. "I'm an early-morning person, so you've caught me at my best," Stern said, walking toward the mammoth, still-under-construction site with an army of media in tow. "At 2 o'clock in the afternoon, don't even talk to me."
Stern (pictured in photo by Jeanne Prejean) has served as the architect for a couple of projects in North Texas: a swanky manse in Preston Hollow, and the residences at the Ritz-Carlton. But the Bush complex is his biggest here to date. He said the 226,000-square-foot structure on 25 acres has been "designed like a federal building or an embassy." (In other words: really, really secure, with back-up systems for the back-up systems.) Since it will house the Bush library and museum as well as the Bush Institute, though, it was also designed to be accessible to many types of visitors, Stern said, from sophisticated travelers to tourists in RVs and moms pushing baby strollers.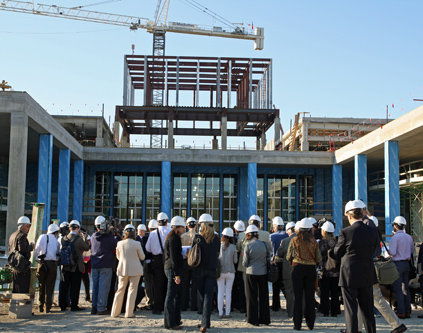 That eclecticism shows. Enveloping "the most urban presidential library in the country," the complex aims to blend in with SMU's other buildings while also showcasing the city of Dallas, Stern said. The Center's big dome (shown in photo by Prejean)–or "freedom lantern"–mimics Dallas Hall, the oldest building on campus, for example. From a south-facing terrace, Stern pointed out, you can also see the downtown Dallas skyline. (Though, truth to tell, some trees on the property this morning seemed to be blocking a big chunk of it.)
In addition, the Center's going to include a "perfectly exact" replica of the Oval Office–so that "you can stand behind the desk and understand what it's like to be president of the United States"–as well as a replica of the Rose Garden, Stern said. Also: statues of W and his father, Bush 41; a twisted and charred, 22-foot-long beam from one of the World Trade Center towers, on permanent vertical display; space for traveling museum exhibitions from the Smithsonian, say; and a 350-seat auditorium where the the likes of U.S. presidential debates could be held.
Toward the end of his tour, Stern gave way to former First Lady Laura Bush (shown with W in Prejean photo). She touted the Center's  green-building features–it's seeking LEED Platinum certification, the highest environmentally-friendly designation–and its use of locally and regionally sourced materials. Among them: Texas pecan wood paneling; coral "rough" stone taken from the Permian Basin close to Midland, where she and W used to live ("George was surprised" about that, Mrs. Bush said); and a roughly 15-acre park with a "North Texas prairie" feel and trees from the couple's tree farm at their Crawford ranch.
For the "Topping Out Ceremony" itself–that's where the building's topmost steel beam is hoisted into place with a crane, and everybody cheers–a relaxed-looking, wise-cracking W took the microphone, jacket-less in the mid-morning heat. Bush said he likes hanging out at SMU, where he once went into a classroom and a guy wearing a cap turned backwards looked at him and said, "You look like George Bush." He said he likes the fact that Manhattan Construction is putting up the Center, because "they built the Ballpark at Arlington, and it's still standing!" And he said he's looking forward to a "sym-by-ot-ic" relationship between the Center and SMU ("That's a big word here on the campus," he added, chuckling).
Today was the last chance to tour the Center prior to its opening early in 2013, the organizers said. Stern, the architect, said the multi-year design process has been "great and smooth," as well as "complicated and fascinating for me, as an architect." Has the project been his most satisfying? Just as it's problematic to name your favorite child, Stern replied, he couldn't say that. "But this is certainly one of the most important commissions I've ever undertaken," he said. "It's not only about the Bushes but about the American presidency and American democracy, and I can't imagine anything more important than that."
Get the D Brief Newsletter
Dallas' most important news stories of the week, delivered to your inbox each Sunday.