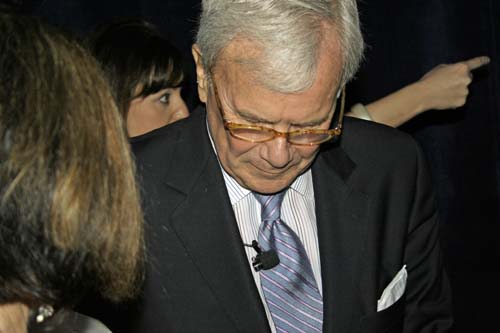 Unlike some, Tom Brokaw is declining to criticize the Obama Administration for its handling of the media in the wake of Osama bin Laden's death. Details are often a little fuzzy right after such events, the former NBC News anchor said in Dallas today, and the White House has been quick to correct its errors. In any event the flap is "not central" to the bin Laden story, Brokaw added. "The important thing is, people understand he's been eliminated. That was a tough move."
Brokaw made the comments after addressing the Genesis Women's Shelter's annual Mother's Day Luncheon, which raised $1 million for the nonprofit. In his talk to the 1,900 attendees, he said he learned about the bin Laden raid Sunday night after 9, when a "senior member of the White House staff" called him and said, "It's a guy we've been looking for for a long time." Brokaw said he hung up the phone and said, "They got Osama bin Laden." He applauded the celebration by Americans that followed, and said he hopes the "wave of bipartisan approval … of what was accomplished" will continue.
Get the D Brief Newsletter
Dallas' most important news stories of the week, delivered to your inbox each Sunday.