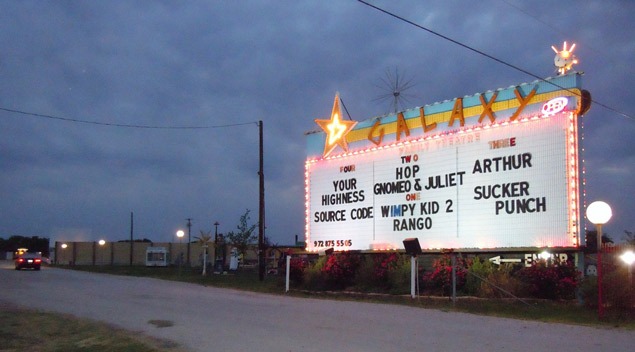 We were almost to Ennis by the time my friend started getting antsy.
"Have you ever seen Jeepers Creepers?" she asked me. "Because I don't wanna get Jeeper Creepered."
I haven't seen it, but I know what she's getting at. We were heading south to catch a Sunday night movie at the Galaxy Drive-In (to accomplish my ninth of the Things Every Dallasite Must Do), and the rural access road that we'd just turned onto was especially empty at the moment. Not that Ennis is some bayou backcountry where the purtiness of your mouth is a common conversation topic. It's just that it was dusk, and we've both seen more scary movies than is psychologically healthy.
But as I learned, hitting that countrified stretch of I-45 just means you're getting close. Because a minute later, the Galaxy's flashing roadside marquee came into view, with four massive, white rectangles — which turned out to be the theater's four screens — just beyond it.
Nothing at the Galaxy is new. The buildings are small and dated, and most things could stand a touch of paint. But there's something intrinsically nostalgic about going to a drive-in theater in the first place, so the wear and tear just adds a 60s-era charm.
The whole place is laid out fairly symmetrically: the screens stand on opposite ends of the land, each with a lot in front to accommodate a few dozen cars. There's a simple white building in the center that sells concessions, and a small miniature golf course out front by the highway.
Near the concession stand, we spotted a Smokey the Bear sign that warns patrons of the perils of sneaking in outside food and drink. The perils are, namely, putting the place out of business. Apparently, the Galaxy's chief income source is concessions, but they manage to keep the prices absurdly low — $2.50 for a cheeseburger, $1.50 for a hot dog, $2.25 for an order of tamales. They also sell chicken sandwiches, corn dogs, nachos, pizza, popcorn, and even a garden salad, all for $5 or less.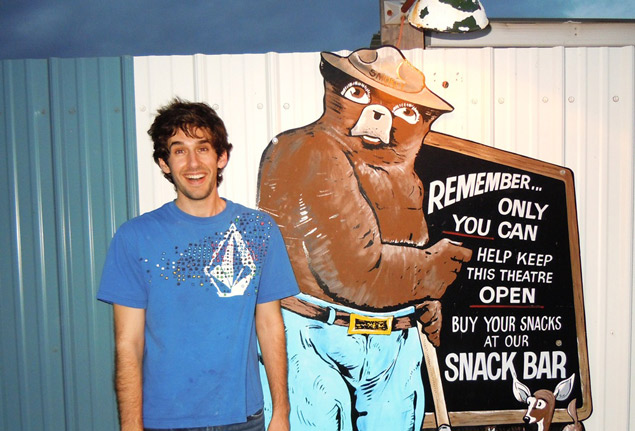 We made it back to the car just before the previews started (our chosen film was Your Highness), at which point we quickly discovered all of the advantages of outdoor movie watching. Each screen has its own FM radio frequency, so you can customize your volume level and constantly tweak as the movie rolls. Even better, you can do virtually anything – lean back, prop your feet up, take off your shoes, leave your seat, even talk – without bothering anyone around you.
But the price is what stands out most. You get a double feature for $6, which means you can catch the 8:15 show, then stick around for whatever's playing at 10 without buying another ticket. The only catch is that you can't switch screens at intermission, so if the second show you really want to see is across the lot, you'll have to pay twice.
Other than that, the drawbacks were minimal. Mostly, it's the lack of show time flexibility that causes the greatest inconvenience. The Galaxy only screens new releases, but each movie is shown exactly once each day, meaning you either make it at the allotted time or you're out of luck.
And yeah, the drive to Ennis is a bit of a trek, which might make the Angelika or the Magnolia more appealing options on nights when time is tight. But if you've got an evening to kill and a quarter tank of gas to burn, I'll readily vouch for the Galaxy. It's a little outdated. It's a little rundown. But it's the best place I know of to watch a movie.
Get the D Brief Newsletter
Dallas' most important news stories of the week, delivered to your inbox each Sunday.