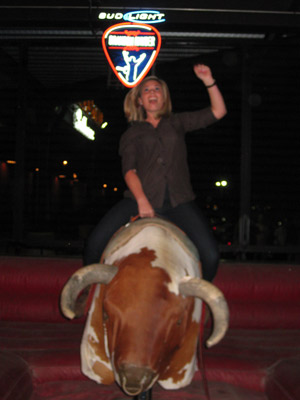 When I learned that the youngest mechanical bull rider at Gilley's was 15 months old, and the oldest 93 years, I had no choice but to accept the mechanical bull riding challenge and in doing so complete my 13th of the Things Every Dallasite Must Do.
In stepping up to the wooden booth where Jeremy, the mechanical bull operator, twisted, turned, and pulled the shiny levers, I was greeted with a startling question. "So what will it be today: Bubbles, Cupcake, or Whiplash?" I felt my gut sink. Whiplash? Definitely not. "Bubbles, please," I replied nervously as I beheld this three-names-in-one creature.
Gilley's is just one corner of the venue. Next door sits the Palladium Ballroom, Southside Music Hall, and The Loft. To get there, I had exited the music area where a band was playing something old in a new way – very trendy these days – and strode onto the patio. The dark crisscross caging combined with the black iron chandeliers, antique hanging lights, wooden table tops with barrel bases, and scarred wooden paneling creates a rustic atmosphere that momentarily gave me the feeling of being in the 1956 movie Giant. If only James Dean would have appeared…
I am snapped from my daydream by Jeremy's orders to "step up and sign your life away," pointing to the release form pinned down to an old clipboard. I marched to the center of the inflated red padding where Jeremy knelt to give me a boost. "Squeeze tight with your legs, one hand in the air, and lean back when his front end tilts down" are the simple instructions. After a moment's panic and confusion of whether I should hold on with my right or left hand, Jeremy starts the ride with a jerk of my torso. A dizzy combination of forward and backward, round and round got me smiling, but I was quickly ready for the ride to halt. I'm sure Jeremy went easy on me because of my gender, so I don't blame him, but the lack of speed of the bull made for an uncomfortable platform for someone who was not drunk or interested in seducing the crowd, cowgirl style.
Nevertheless, I succeeded in completing my goal and got some good entertainment out of the experience as well. The three women who followed my bull debut had me laughing out loud as they hooted and hollered like true rodeo pros.
As I left the patio, I took one last look at Bubbles, the friendly bull. Maybe next time I'll be brave enough to request Whiplash instead.
Tips for mechanical bull riding at Gilley's: Bring $5 for the ride, friends to laugh at you (and maybe even a video camera), and be sure to come on the weekend from 9-11 pm because they "pay him by the hour" and "send him home early" most nights (as I learned the hard way). Happy riding!
Katie Minchew is a D Magazine intern. She's previously written about sliding down the NorthPark planters and eating at Mecca.
Get the D Brief Newsletter
Dallas' most important news stories of the week, delivered to your inbox each Sunday.