It's called "It's Time." JJJJJJump.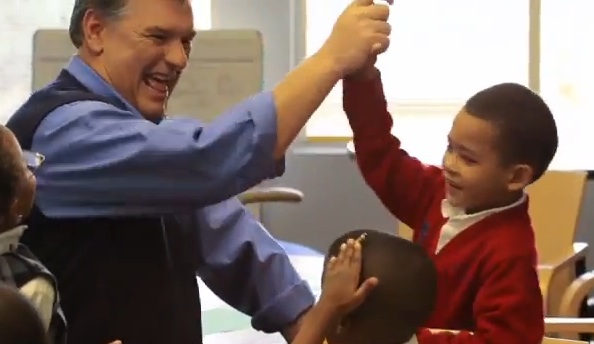 0:01 — AMERICAN FLAG. Finally time to take our city back!
0:02 — "It's time to become the safest city in America." Object lesson: tons of kids playing in a front yard, made safe by the natural force-field properties of a red-blooded AMERICAN Mike Rawlings for Dallas yard sign. We need more cops and more Mike Rawlings signs.
0:06 — It's time for a woman to make a dirty joke with a punch line that apparently involves masturbation, and it's time for her male friend to laugh at that joke.
0:09 — "It's time to embrace our neighborhoods, our diversity, and our sense of community." Which means meeting black people. Which means, obviously, we have to go to a barbershop, because in political ads you can only find black people at a barbershop, church, or on a stoop in Harlem.
0:12 — Natural segue: Roger Staubach, in an uncredited cameo, just mixing and mingling with the regular folks at some sort of regular-folks diner, while wearing his regular-guy polo shirt. DIVERSITY!
Then a few other sentences that begin with "It's time…" mostly having to do with making our schools better for the next generation. Which leads to…
0:24 — Rawlings in a classroom — in rolled-up sleeves because that is what you do with your sleeves when you are GETTING DOWN TO BUSINESS — doling out high-fives.
Get the D Brief Newsletter
Dallas' most important news stories of the week, delivered to your inbox each Sunday.